He Gave All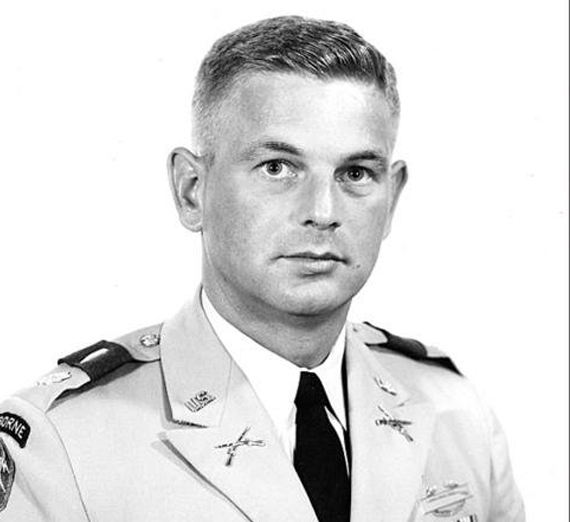 ---
"He really wanted to be an actor or writer," Bill Barker ('57) recalled about Major Lawrence D. "Larry" Acre ('55). "He would often talk about the outlines of plays." But a very different stage was set for Acre's future. Instead of chorus lines and applause, there were enemy lines and artillery.
Larry Acre (center) in the 1952 performance of "On the Bridge at Midnight." Photo courtesy of the Foley Library Digital Archives.
In the early 1950s, when Barker and Acre were students at Gonzaga, the Korean War was in full swing, which meant all men in their first two years at GU had to take military training.
"Every Wednesday we had to put on a uniform so that at noon we could drill on the wide streets surrounding the University and where Crosby is now," Barker described. He added, "All the veterans would line the area around the parade ground and laugh or cat-call us."
Acre seemed to take it all in stride. While other classmates were, as Barker described, "lapping up the ROTC," Acre was casual about it, which seemed fitting for his laid-back personality.
"We got thrown out of Rev. Thomas Larkin's English literature class for talking too much," laughed Barker. He reminisced about sharing picnics with Acre and letting him take a driving test in his car. "He went boxing with me and watched me get pounded. He was very bright, and worked at a tile store up on North Division. He ran around scarfing up any part time jobs he could find. He was on scholarship and didn't have any family that I knew of."
Originally from North Idaho, Acre graduated from Coeur d'Alene High school in 1951 at the age of 16. In addition to his membership in the ROTC at Gonzaga, he was president of the French club and acted in several plays. In 1955, Acre received his official branch assignment to the U.S. Army Infantry. At the same time, Barker was assigned to the Military Intelligence Corps. Later, with his law degree from Gonzaga, Barker switched over to the Army Legal Corps and returned to the Northwest to serve at Fort Lewis.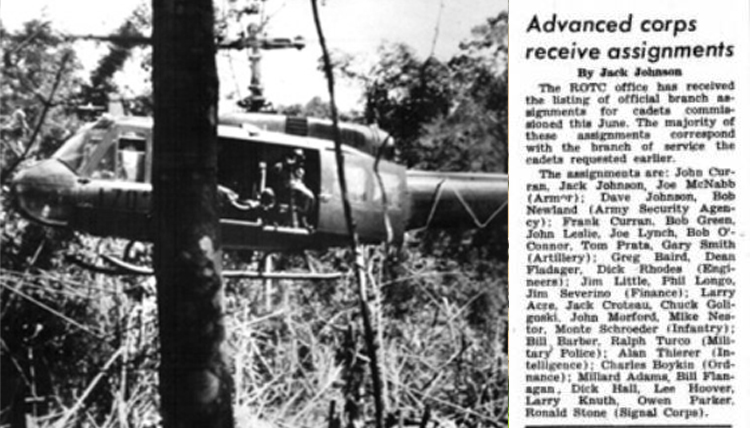 1955 Gonzaga Bulletin article announcing Lawrence Acre and Bill Barker's corps assignments; Vietnam helicopter photo courtesy of Maj. Lawrence D. Acre's profile at army.togetherweserved.com
Unbeknownst to Barker at the time, after Acre graduated from Gonzaga, he went to Airborne School at Fort Benning, Georgia. There, he trained alongside a Second Lieutenant Norman H. Schwarzkopf Jr., who would eventually achieve the rank of General and serve as commander of the United States Central Command, leading all coalition forces during the Gulf War. After Acre reached the rank of Major, he became Commander of the Army Ranger School, and then served as an Infantry Unit Commander in the 5th Special Forces Group, putting in 14 years in the Army in total.
"The last time I saw Larry, he had returned to Gonzaga looking every inch a soldier," Barker recollected. "He said, 'See ya later,' and those were his last words to me. I could not have dreamed when he said that in 1956 that he'd go on to have such a dangerous and exciting military career. The fact that he served three one-year tours of duty in Vietnam is remarkable. The four shorter tours sounded like some serious intelligence operations."
On October 9, 1969, Major Acre was traveling in an Army helicopter during a flyover of an Area of Operation in the Binh Long Province of Vietnam, near the Cambodian border. After this routine observation, Acre was to take over the site as commander in a routine rotation of officers once he had been familiarized with the area. The ultimate goal was a classified infiltration into Cambodia — but Acre's helicopter was shot down by enemy fire before reaching the border. There were no survivors.
"He was on a career path to attain a much higher rank had he not been killed during the scouting mission," said Barker. "Acre left his death benefit to Gonzaga University and I thought he had done a wonderful thing, because when he was here he had been living from hand to mouth, scrapping around for work and scholarships. The fact that he would leave that money for other people in the same position was just wonderful."
Barker contributed to the Major Lawrence D. Acre scholarship in memory of his friend, who was buried at Coeur d'Alene Memorial Gardens. Acre's name can be found on the Vietnam Veterans Memorial and as part of the National Gold Star Family Registry's Fallen Member Honor Roll. The scholarship was officially established in 1974 and provides aid to Gonzaga students who have financial need, just like Major Acre did.
Barker added, "It was a good thing I went to Gonzaga. That was a turning point in my life. I met some very fine people who went to law school with me and wish I could be more generous—but I do what I can."
Join Barker in remembering the fallen and honoring their sacrifice through support for scholarships and ROTC at Gonzaga.