Cannonball: A Gift to Gonzaga Grads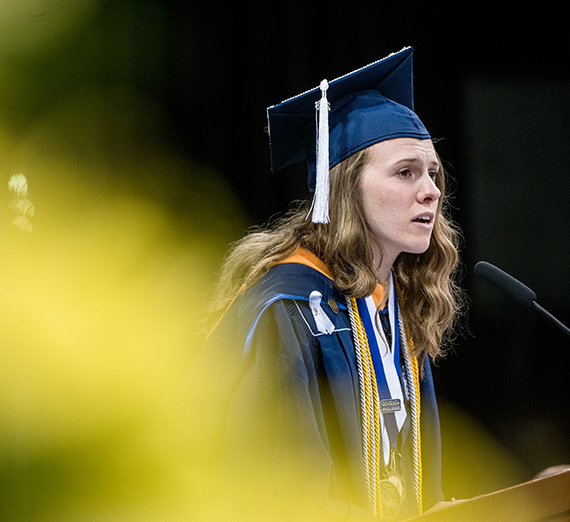 ---
by Molly Bosch ('18)
Student Speaker, 2018 Undergraduate Commencement
Class of 2018, it is a joy and an honor to be standing here with you on this day. I challenge everyone to grab your metaphorical seat belt and strap in, because we're about to go on a little journey through history.
The year is 1521. It is the Battle of Pamplona, and a young man named Iñigo Lopez de Loyola is gravely injured by a cannonball. A man that once had his vision centered on fame and notoriety is told that he must sit, wait, and find solace until he heals. In this time of healing, he underwent a religious conversion and decided to devote himself to God and eventually create an order of the Catholic Church founded upon ideals of education, exercising contemplative faith in action, and living for the greater Glory of God. Today, this man is better known as St. Ignatius of Loyola, and without him, I would not be standing here.


Without that cannonball, there would be no Jesuit order, and therefore, no Society of Jesus. And without any Society of Jesus, there would be no St. Aloysius of Gonzaga. And without any St. Aloysius of Gonzaga, there would be no Gonzaga University. Are you with me yet?
Without any Gonzaga, there would be no Iggy's pizza, no intramural championship shirts, no late-night talks in the halls of CM about our dreams and passions. There would be no Zombie Nation dances, no sitting in the BARC and avoiding homework with your friends until you get kicked out because "the BARC closed 25 minutes ago." There would be no $4 cookie nights, no Peachy Kay, GSBA, CCE, Ambassadors, UMEC, or Hem Den. The list could go on. Embedded in each simple example is a greater feeling of love that truly cannot be felt anywhere besides the 152 acres of our campus.

Without that cannonball, I would not have experienced moments of shattering heartbreak, speechless joy, awe and wonder of God's divine presence, and complete and utter warmth and love. Here at Gonzaga, we were the sculpture and God was the hammer and He hammered at our sharpest edges. It was miserable at times. But once He was done, the sculptures that resulted were smooth and strong.

We are the sculptures that are ready to take on the world.

We have been taught to enter the stories of the individuals that inhabit the world and say "Wow, that's interesting. Mind if I join you in that?" We are taught to find the places that no one is going and say, "There. That is where I want to go." We have been taught to walk with instead of by. We are taught to look at social injustices and not be scared to face them. We are taught not just to know about contemplation in action, but to actually see and tangibly feel it.
In a Hospital Hallway
That cannonball is the reason I left my evening clinical shift on a floor at Sacred Heart Medical Center last year crying tears of joy. I was following a nurse with a profound ability to articulate empathy. She asked each patient how she could best tend not only to their medical complications, but also to their identities. That evening, we were assigned to a lovely patient experiencing his last days of life. He and his family did not speak English, and we primarily cared for him through his translator. This nurse took the time to sit with the translator, find out the patient's highest desires for his last days of life, and learn how to best culturally care for him. During our next shift, we were not assigned to this man, and the other staff were uninterested in working with a patient who did not speak English. With astounding grace, my quiet nurse stood up, looked them in the eye and said, "He actually does not speak Chinese, Chinese is not a language. He speaks Mandarin. This is the name of his translator. His favorite foods are sorbet and apple juice, and he prefers to have his family care for him because it is culturally inappropriate for us to intervene during his last moments. Here's my extension number if you have any more questions on his identity."

I had never seen such a thing. I could have sworn I heard a mic drop. As she calmly walked out the door, she nodded for me to follow. I couldn't think of anything to say. For some reason, the only question I could think to ask was, "Where did you say you went to school again?" She smiled at me and said, "Oh, I went to Gonzaga."

And that was it for me. My Zag moment. Nothing amounts to the pride, joy, and connectedness that I felt being a Zag alongside a nurse who, in five minutes time, exemplified the entirety of the Gonzaga experience to a crowded room. She saw this human not for his circumstances, but rather for where he was coming from and where he wanted to go. Without that cannonball, she would not have attended a university that taught her that we are not being educated simply for our own benefit. We are being educated to be catalysts of positive change and love.

Isn't that why we are here today? To be catalysts of positive change and love in a world that is beautiful yet broken? Because I look around at you all and I can see the way that cannonball has both broken and formed you.

So, classmates, let's do this thing called life. But let's do it well. Let's be like that cannonball. The one that comes blazing out of nowhere and creates something that is long-lasting and embracing in love and passion. Fall. In. Love. With those we serve. With who we are. And with what we do. In the words of Pedro Arrupe, "fall in love, stay in love. And it will change everything."

Thank you, classmates, for who you are and for who you are becoming. Thank you, families and friends, for bestowing upon us this rich education. Thank you, faculty and staff, for living out the mission of this beautiful place. And finally, thank you, cannonball, for turning a traumatic experience into one that has created a legacy that has touched us all in some form. Let's go, Zags!
Molly graduated with a Bachelor of Science in Nursing degree. Following graduation, she is spending one year with the Jesuit Volunteer Corps in San Francisco.
Jesuits and professors raise hands to bless graduates of the class of 2018