Zags to Infinity ... and Beyond!
Commencement Weekend was filled with courage, excitement and joyful tears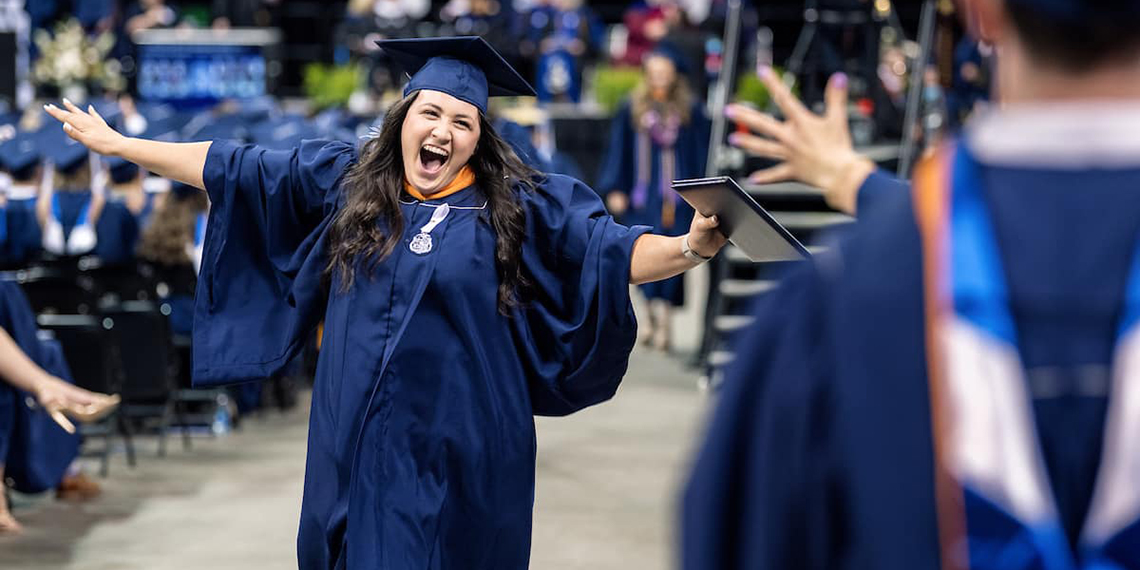 Every commencement speaker seeks to inspire and fire up new graduates as they prepare to take on the "real world." Few do it with the energy Rob McCann ('95 M.A., '05 Ph.D.) brought to Gonzaga's 130th undergraduate ceremony May 14, proclaiming this year's class a crew of superheroes that the world needs now to tackle its thorniest problems.

McCann certainly knows about that job. He's the CEO of Catholic Charities Eastern Washington and this year's recipient of GU's DeSmet Medal in recognition of his lifelong dedication to community and his relentless work improving the lives of marginalized and impoverished people.

After offering a Mother's Day shoutout and recognizing the work of his team at Catholic Charities, McCann explained his family's obsession with superhero movies. "Marvel, D.C., it doesn't matter," McCann said. "The family that nerds together stays together, you can believe that."

And while the movies the McCanns love feature all manner of superpowers, from the power of flight to super strength and more, the class of 2023, nearly 1,300 strong, has the "absolute superpower" of a Gonzaga education, he said. And the graduates have the responsibility to share that superpower with as many people as possible.

"One of the classic concepts of the superhero genre is the idea that 'with great power comes great responsibility,' " McCann said, noting that a GU degree opens doors to amazing careers.
"We Zags have a higher and broader calling and a greater responsibility. We have to tackle the tough issues of our world today. The gift of an education is something so few in our world have access to. You have that gift and that superpower now."
Their responsibility, McCann said, is to treat others well, fight for what they believe in, stand up for those who can't stand up for themselves. The past four years at Gonzaga, he added, have given them all the "knowledge and intelligence and expertise to succeed in a world that desperately needs champions of human dignity."

Where to focus their efforts? McCann suggested helping the "Uns."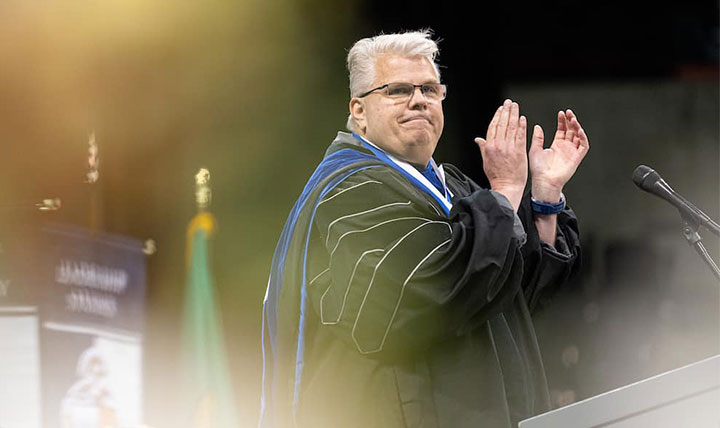 "You know exactly who the 'Uns' are," McCann said. "The unemployed. The uninsured. The unwanted. The undocumented. The unhoused. The unfed. The uncared for. The unseen. The unheard. The unincluded.
"Thanks to Gonzaga University's commitment to providing opportunities to all students from all backgrounds, it's likely that many of you sitting here today have had the experience of being one of those 'Uns.' You know what it means to be an 'Un' – you know how important it is to reach out to people in hard situations because you've been in those situations yourselves."
McCann warned the graduating superheroes that there will be obstacles along the way, people who tell them a problem is too big to solve, whether it's poverty and homelessness or economic and racial inequality or access to quality education and healthcare for all. "But your Gonzaga education has given you all the tools you will need to solve all of those massive, scary issues of our day," McCann said. "We can drop a Mars rover on a dime 60 million miles away. We can read the entire Library of Congress on our cell phones. Of course we can solve homelessness!"
McCann reminded the graduates to be the one who, "as St. Ignatius Loyola said, can set the world on fire with love."
"It really is that simple," McCann said. "Love will carry the day in every aspect of your lives if you let it. How you see the world. How you vote. How you stand up for the idea that every human person is made in the image and likeness of God and deserves to be respected and included. Love is at the root of all of it and will be how you can use your superpowers to make the world a better place."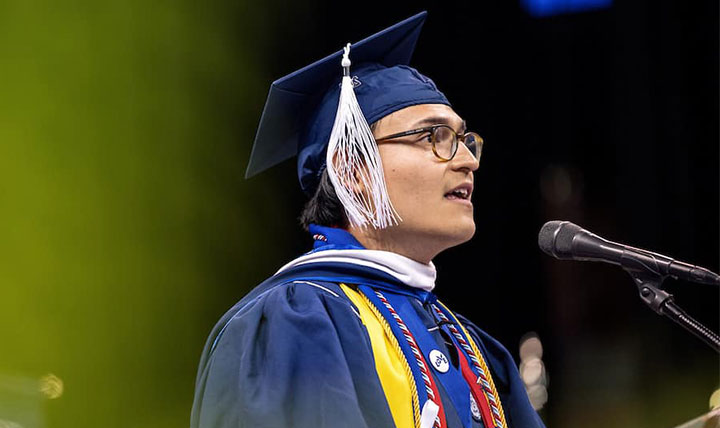 Onward With Courage
Class of 2023 Student Speaker Miguel Acosta Loza echoed McCann's challenge to improve others' lives using the knowledge earned during the class's time at GU.

"Why not just take the highest-paying job? Why not follow prestige and money from now on?" Acosta Loza asked. "Because we are Zags.
"I'm here to tell you that as Gonzaga grads, we have the responsibility to raise our hands and become the agents of change that we want to see out in the world. Our education has prepared us for the cutting edge, the places that require courage."
Acosta Loza recalled the myriad instances of courage he's witnessed on campus since arriving in Spokane from his native Ecuador. From the recognition of the often-difficult history of the campus residing on the unceded lands of the Spokane Tribe, to the difficult conversations undertaken by professors in support of students, to the students themselves who "stand up against injustice inside and outside the classroom," he said courageous things happen every day at Gonzaga. Now it's time to take that courage out to the world.

"Our Jesuit education calls on us to find God in everyone, every place, and in everything," Acosta Loza said. "We are courageous not because of our own sake but because we know people and our planet are worth fighting for. Our careers should be a symbol of this. The places that require courage are everywhere."


Celebrations Abound
While the undergraduate was the largest and last celebration of commencement weekend, it was far from the only event recognizing Gonzaga's superlative students and faculty in recent days. From the Academic Honors Convocation where more than 80 students and faculty members received awards, to special ceremonies celebrating Black and Native American graduates as well as the pinning of nurses, commissioning of ROTC cadets, and sending out those who have made year-long commitments to volunteer service, there have been plenty of opportunities to honor Zags.

At the Graduate Commencement May 13 held for 665 graduate students, guest speaker Janice Ikeda ('17) shared lessons learned working in her role as the founding executive director of Vibrant Hawai'i, a non-profit community-building organization. She called on the new graduates to recognize that "each of us is called to a specific purpose, or kuleana," and that as they pursue their individual purposes in life that they "endeavor to contribute to thriving and vibrant communities." Graduate student speaker Alex Meyer ('17 B.S., '23 M.B.A.) shared his inspiring story of overcoming "several world-class poor decisions," including dropping out of high school and a felony conviction, to earn a mechanical engineering degree and M.B.A., both at GU. He described "a long road" to redefining himself, one that started with small steps that eventually allowed him to make giant leaps into higher education, steady employment and having a family.

"As Gonzaga graduates, we are not only encouraged, but we are obligated to become and act like leaders," Meyer said. "I encourage you to set ever larger goals than the day before. Just start by waking up, then make the bed, and then change the world."

The School of Law commencement featured 132 graduates and speeches from graduate Kacy Tellesen and Judge Salvador Mendoza, Jr., the first Latino U.S. District Court judge for the Eastern district of Washington state, and now a member of the U.S. Court of Appeals for the Ninth Circuit. Kathleen O'Connor ('75, J.D.) received the Law medal at this year's ceremony May 13.
On April 28, Gonzaga's seventh Lavender Graduation celebrated the achievements of students who are part of the LGBTQ+ community on campus. Keynote speaker Anthony Boccaccio shared inspiration from his own Jesuit education: "To become a fully authentic and integrated person, you must always follow the deepest law of your own interior being, which is the truth of who you are. Do that, and you will succeed in many unexpected ways throughout your life."
Academics
Alumni
Faith & Mission
Global Impact
Student Life
College of Arts & Sciences
Online Programs
School of Business Administration
School of Education
School of Engineering & Applied Sciences
School of Law
School of Leadership Studies
School of Nursing & Human Physiology