2019 Magis Awards Honor Exemplary Graduates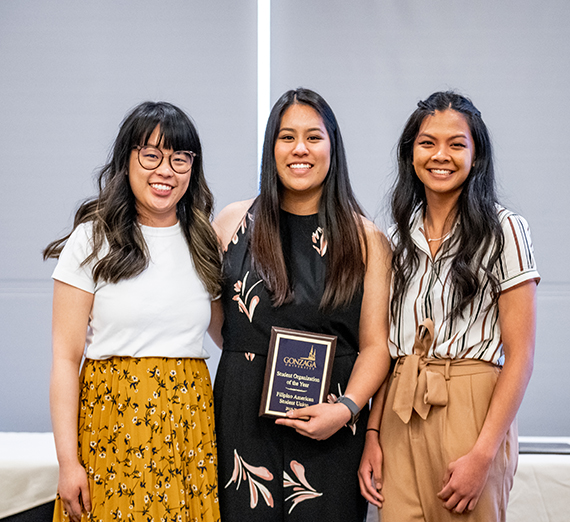 ---
Gonzaga's 28th Annual Magis Awards acknowledge a favorite Latin phrase of the Jesuits: "Ad majorem Dei gloriam," meaning the "greater glory of God." "Magis" alone means "the more or better."
"As a University rooted in the Jesuit tradition, our students strive for the Magis in and out of the classroom," said Judi Biggs-Garbuio, Associate Provost for Student Development. "The awards and recognition mostly represent achievement in the out-of-the-classroom experience. But each of the students here has excelled in all aspects of their Gonzaga experience."
University Awards
To be considered for the following six awards, graduating seniors must be nominated by a faculty or staff member. Those nominated are then asked to submit materials for review by a selection committee. Collectively, these nominees represent the "best of the best" in the senior class. This year, 23 individuals were nominated for consideration:
Alexa Rauvola, Athena Sok, Christina Briones, Daisy Montalvo, Danika Morrison, Devrey Martin, Francis Argueta, Gabrielle Fuller, Hailey Maher, Hawa Elias, Ivan Jimenez, Jamie Osborne, Jasmine McCarthy, Katelyn Doyle, Katherine Strong, Kimberly May, Madison Walters, Mayra Blanco, Morgan Smith, Nodiainez Rogers, Olivia Moorer, Sam Schrader and Zaineb Siddiqee
Congrats to them all, and to the following recipients.
The University Ignatian Award: Devrey Martin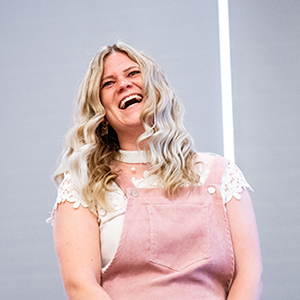 T
his award is presented to a graduating senior who has actively modeled the values of Ignatian spirituality with significant commitment to leadership and selfless service to the Gonzaga University community. Devrey wrote: "My Gonzaga experience has given me a greater desire and capability to serve the common good." She highlights the Search Retreat as a particularly pivotal moment for her spiritual development, Mission: Possible as a place for transformation in her cultural understanding, and ZagaThon as a time for leadership and emotional growth.
Sue Weitz Spirit of Gonzaga Award: Athena Sok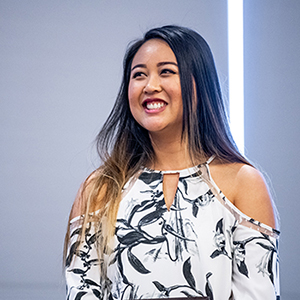 Named for a long-standing Vice President for Student Life, this award is given each year to students whose time at Gonzaga has focused on building bridges amongst constituents and working to unify the student body. Athena Sok received multiple nominations from staff in a variety of offices around campus. She wrote: "I can say for certain that the mission is what continues to ground me when I lose sight of why I came here. The mission statement has become more than a document that is posted in every class, or a string of words that are referred to at so many campus events. The mission has become a tool for accountability, not just for the institution, but for myself, and it has kept me accountable in developing as a whole person.
The St. Aloysius Award for Faith & Service: Hailey Maher
In the spirit of St. Aloysius, this award is presented to a senior who has distinguished themselves in leading a life of faith made visible in a commitment to justice, ministry, compassion, and service. Hailey has been an ambassador for the Admissions Office, involved with the Mission and Ministry Office, worked as a resident assistant, and a member of the President's Student Advisory Board. She volunteered for House of Charity, Garry Middle School, and Family Promise Open Doors Shelter. She started a program titled 'Jesu-what?' in which she invited students, faculty, and staff to engage in conversation surrounding what it means to live out our Ignatian values and practices.
The Gonzaga Award for Solidarity in Action: Nodia Rogers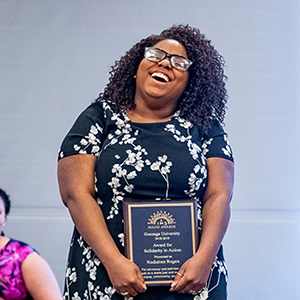 Solidarity in action is demonstrated by being a person with and for others. It is expressed in the cultivation of deep relationships and a desire to work with others to create a more just and equitable world. Nodia is a mentor, role model, scholar, activist and social justice advocate. She is not afraid to speak the truth to engage and lead peers in holding each other and the university accountable to the goals of being a just, equitable and inclusive community. Nodia wrote: "Following in the footsteps of leaders before me, I have worked within many spaces to better the Gonzaga experience. I am but one body in a large system working toward living out our common Jesuit mission."
Philomathea Loyalty Award: Katherine Strong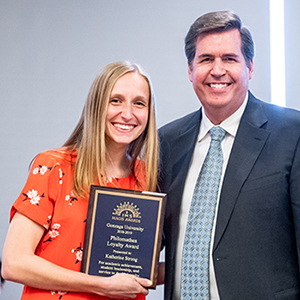 The Philomathea and Carl Lindberg Loyalty Awards are presented to seniors who have embodied academic achievement, student leadership and service to the University. Recipients must have committed to obtaining a holistic experience, graduating with a cumulative GPA of 3.50 or above, obtaining progressive levels of student leadership, and exemplifying a dedication to the Gonzaga community.
Katherine has been involved with the Center for Community Engagement as a GAME & SMILE Mentor; participated in First-Year Retreat leadership and as a Christian Life Community member in Mission and Ministry. She wrote: "Gonzaga University, while great at many things, is exceptional at ensuring that their students are carefully acquainted with the mission and underlying Jesuit values. I learned about cura personalis, men & women for others, servant leadership, and magis from my first year. My professors require reflections that integrate each of these notions into our coursework which creates a culture of shared mission. This has challenged me to be excellent in everything that I do."
Carl Lindberg Loyalty Award: Morgan Smith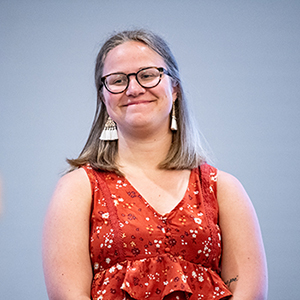 A nominator said, "Morgan truly models what it means to live a faith that does justice through service and involvement. She has a generous spirit and have shown a passion for and a commitment to being a person for and with others." She has studied abroad in Zambia, volunteered with Campus Kids, participated in Reality Camp, Justice in January, and Mission: Possible, led as a student assistant on the Search Retreat, and worked with the Institute for Hate Studies.
Morgan wrote: "It didn't take long for me to fall into the 'busy student' identity that the Gonzaga community can be known for. During my time in Zambezi, navigating a cross-cultural context for the first time, I was forced to slow down for the first time since stepping on campus. I realized that the 'magis' that St. Ignatius writes about could actually be found in the pursuit of less. In that moment, I began to pare down my involvement to those that I was passionate about and learned to be a better participant."
---
Departmental Awards
Career & Professional Development
Excellence Awards:

Agustina Perez Blua and Briana Luttge
Center for Community Engagement
Sister Virginia Claire Carvey Award:

Danika Morrison
Father Leo Robinson Award: Hawa Elias
Center for Student Involvement
Father Tony Lehmann Student Organization Advisor of the Year

:

Dr. Ellen Maccarone, National Society of Collegiate Scholars.
The Student Organization of the Year Award: Filipino American Student Union
Parent and Family Office
Mission and Ministry (read more about these, here)
St. Peter Faber Award: Alexa Schierman

and

John Hatton
Sister Laura Michels Award: Justin Blatner

and

Garret Wilson
Residence Life
Assistant Residence Director of the Year: Mireya Jiminez-Magana
Residence Life Staff Member of the Year: Tyler Wong
Student Media
Editor of the Year Award: Joseph James Thompson
Unity Multicultural Education Center (UMEC)
The Fr. Pedro Arrupe, S.J. Award for Unity, Excellence and Leadership: Ariel Bermúdez

Lincoln LGBTQ+ Graduating Student Award:

Christopher Barker
Work-Study
Off-Campus Work-Study Employee of the Year: Bryan Fischer, Spokane Falls Community College
On-Campus Work-Study Employee of the Year: Ethan Ching, Student Media
Sodexo Outstanding Student Employee of the Year: Zachary Bon
Your gift could make a difference for a future Magis Award recipient!
Diversity & Inclusion
Faith & Mission
Service & Community Impact
Career Center & GAMP
Center for Cura Personalis (CCP)
Community Action and Service Learning
Office of Mission & Ministry