Professor Beqiri: Top Students Inspire Faculty Excellence
Why Gonzaga? 'Truly Caring Faculty'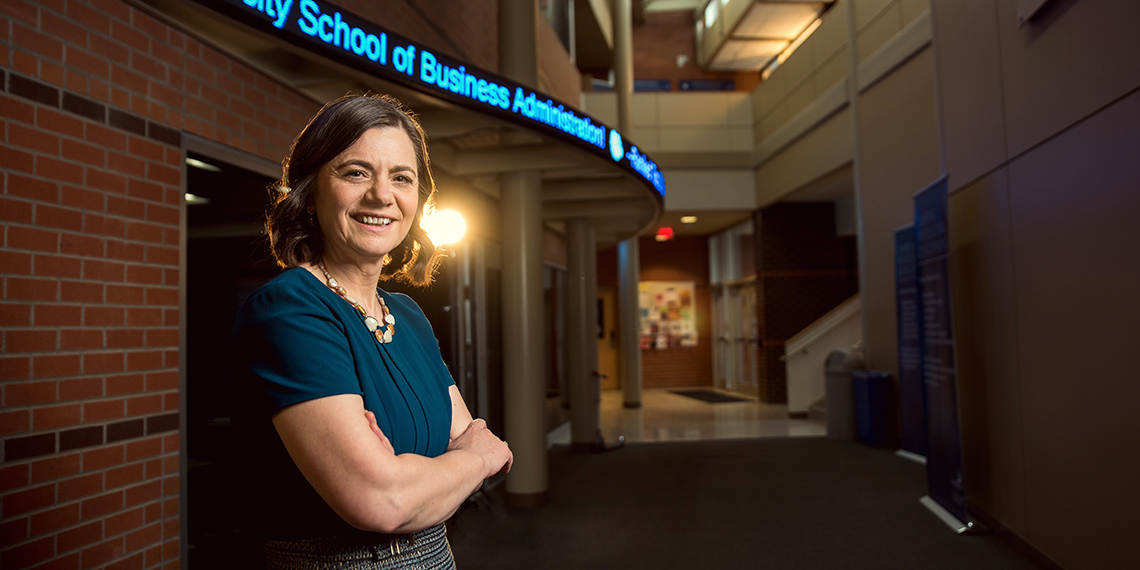 SPOKANE, Wash. — Mirjeta Beqiri, professor of operations management and director of MBA Programs in the School of Business Administration, turned first to her students to answer the question: What makes Gonzaga's teaching excellent?
"What they mentioned was that we have really truly caring faculty and I strongly believe that," said Beqiri who has chaired the Undergraduate Curriculum Committee for the past six years, is a member of the Faculty Senate and has taught at Gonzaga since 2002. "Students say that the time they spend one-to-one with faculty is highly appreciated and really makes a difference."
Danielle Noonan, a senior business administration major who starts the MBA program this summer, shared her response to the question, why Gonzaga?
"The inspiring teachers, the passionate students, the challenging courses that spark fires in your brain, and a club just for about anyone to join in," Noonan noted.
While acknowledging the talent and dedication of faculty, Beqiri is quick to credit the "passionate, motivated and dedicated students to work with" as a key reason why Gonzaga has been able to attract outstanding professors.
"Yes, we certainly have inspiring and caring faculty, but we have amazing students to start with. I am inspired by them and that makes a difference for me as a faculty member," said Beqiri who teaches in both the MBA programs and to undergraduates and has been honored many times by Gonzaga for her teaching and scholarly excellence.
Other aspects of a GU education that students have singled out include the enormous impact of financial aid and scholarships, the practical experience in industry that many faculty bring to their teaching, and the efforts of career and professional development in job-placement, Beqiri said. Gonzaga's career treks, now in their 20th year, provide students with opportunities to consider careers in cities nationwide. Most recently, students participated in Gonzaga's first international career trek, Jan. 3-4 in London, and Beqiri, who hails from Albania, was the faculty representative.
Community Engagement a Key
Community engagement is another distinguishing characteristic of Gonzaga's teaching excellence, Beqiri said. Nearly 100 community-engaged learning courses — in virtually all academic departments and the Law School — are offered to Gonzaga students. A typical community-engaged course involves 20 hours of service, providing exceptional reinforcement of classroom learning.
"That's one of the differences Gonzaga offers as a Jesuit school focused on service-learning and community engagement," said Beqiri. "Service-learning allows us as faculty to offer the best of both worlds. We give students the theoretical foundations for subjects, then they get to implement it right away. It allows them to see the value of statistics or accounting when they work in real projects. They can make a difference in the community and that brings out the best in our students."
Other factors Beqiri believes contribute to Gonzaga's teaching excellence include bringing the world into the classroom through guest speakers. For example, Thomas Hammer, the owner of Thomas Hammer Coffee Roasters, and Christopher Anderson, its district manager, speak to her service operations students every spring.
"They relate very easily with the students and it's a two-way street of learning," she said. "They learn about their customers and at the same time they provide our students with their views regarding customer service or quality — aspects of our service operations course."
Business students also gain real-life exposure to area businesses as well through field trips and other events.
"I work with Numerica Credit Union every year and they host a meal in which our students can meet their entire executive team," Beqiri said, noting there is no substitute for the face-to-face interactions with business leaders.
"The students, who are juniors and seniors, learn how to work and discuss issues in that kind of a setting, sharpen their skills and even learn tips for interviewing," she said. "Students get the best of both worlds in the classroom and in the community."
View all the stories about what sets Gonzaga's teaching apart
Academics
School of Business Administration
Academic Vice President
Accounting
Business Administration
Master of Business Administration
Master of Business Administration in American Indian Entrepreneurship
Master of Business Administration with Juris Doctor
News Center