MBA and MBA in American Indian Entrepreneurship Students of the Year 2022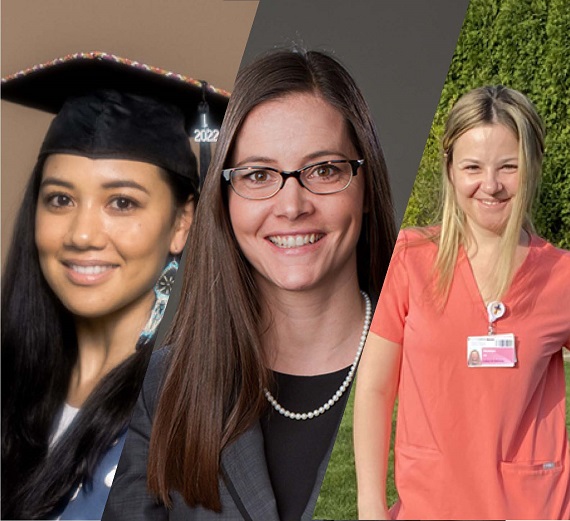 ---
The MBA Student of the Year Award and the MBA in American Indian Entrepreneurship (MBA in AIE) Student of the Year Award are voted on by MBA and MBA in AIE faculty respectively and recognize student excellence in academic achievement, leadership and service to those within and outside of the Gonzaga community.
MBA Student of the Year Award 2022: Natalya Terry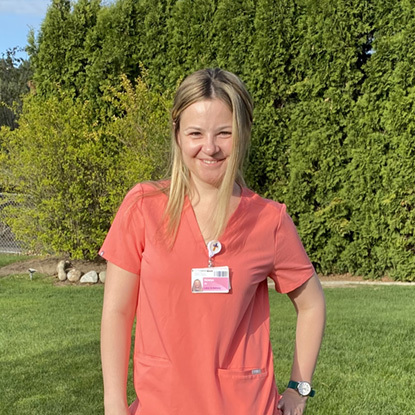 The MBA faculty that nominated Natalya cited her "…excellence in work produced, class participation, and team contribution…" as well as care for others. In addition to her academic schedule Natalya, like many other healthcare workers during the pandemic, has consistently worked rigorous schedules as a labor and delivery nurse in order to meet the needs of a very lean staffed hospital department.
Originally from Almaty, Kazakhstan, Natalya represented her country as a competitive figure skater from the time she was 7 years old until her early teens. Now she enjoys spending time outdoors with her two young children, Sofia and David - noting Priest Lake as a favorite destination for boating.
When asked about how her major contributed to her professional/personal development, Natalya said, "I was able to use knowledge learned from school in my current role as a nurse by helping my team to overcome challenges that arose due to the pandemic because of my increased confidence in myself. Working towards my MBA inspired me to set new goals for my career and it has prepared me for a future role in medical device sales."
Her proudest moment while at GU? "Representing Gonzaga at the ACG cup in Portland for the financial competition, I am fortunate to have had such an amazing experience. I am thankful to Gonzaga for the opportunity. I was somehow able to find a work / school / life balance while serving our community as a labor and delivery nurse during the COVID 19 pandemic."
---
MBA in American Indian Entrepreneurship Awards (MBA in AIE) Student of the Year Award 2022: Margaret "Meg" Miller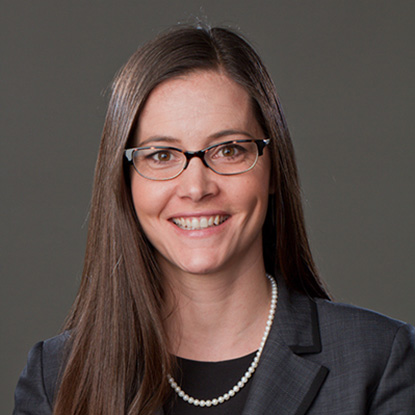 Meg Miller was noted by faculty as a top achiever who "put 100% into the program" and "takes the work of being a student seriously." While Meg works hard to achieve personal excellence, she works just as hard to help others reach their highest potential. "She is eager to help others in their educational journey," commented one faculty member, adding "…I would suspect that Meg's path in life will continue to lead her in the direction of serving others."
Fun fact! Meg overcame an extreme fear of heights (that her team knew about) and went sky diving as a thank you gesture to her team who earned the highest marks on a Forbes review.
In her downtime, she loves to read. She shared that her ideal Sunday is spent with the paper and finishing her weekly edition of the Economist. If a pot of homemade soup is also simmering on the stove, "then life is sublime!"
Proudest Moment at GU? "...during the MBA-AIE cohort graduation luncheon. Listening to my fellow cohort members talk about how we earned an MBA during a pandemic as a result of our commitment to one another brought tears to my eyes. I believe it was a great example of how community in education is worth the investment – no matter what stage you are in your career. Learning from the people in my cohort made a difference for me."
She said that the MBA-AIE program contributed to her development in practical and personal ways. The social justice aspect of the program expanded her outlook on what inclusion and economic development in Native America means. The core classes in the MBA in AIE program honed her abilities to drive productivity and operational efficiency. "Overall, my GU education positively influenced my values, beliefs and behaviors as a lifelong learner."
Where to from here? "The professors in the MBA-AIE program, Dr. Beqiri and my family inspired me to follow my dreams to pursue my PhD. I begin my PhD in Management Information Systems at Washington State University this August. My main professional goal is to become a business school professor."
---
MBA in American Indian Entrepreneurship Awards (MBA in AIE) Student of the Year Award 2022: Isabel "Izzy" Yasana Hawley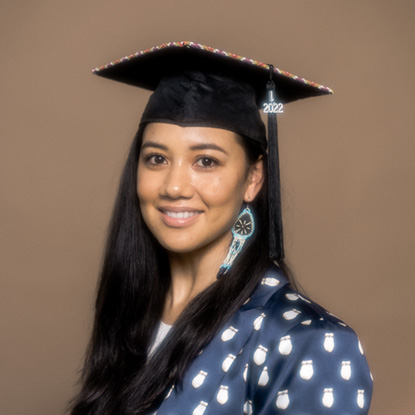 Izzy was noted as a passionate student who worked hard to master course material, and has "made a conscious effort at becoming excellent in all facets of her life." She was characterized as being the "caregiver" of MBA in AIE Cohort XIII, often putting the wellbeing of her peers at the forefront even during her busiest times. "She texts and checks in on her classmates, even when she has a lot on her own plate. Her care is genuine and her empathy for others is exceptional."
Hailing from Coos Bay, OR, Izzy is a proud member of the Klamath Tribe. She shared that she is Klamath, Modoc and Filipina. During her time in the MBA in AIE program, she and her husband, Kellen, welcomed their second baby girl into their family - just eight months before graduation!
She enjoys spending time with her family, gardening, running, hunting and fishing and when she's able to - play in All-Ndn basketball tournaments.
She is also involved in:
NikeUNITED Native American and Friends Network as the Chief of Staff
The Warrior Movement | Board of Directors
Next Gen Advisory Committee | American Indian College Fund
Asked about her journey here at Gonzaga, Izzy said, "The MBA AIE program has made a profound impact on my life both professionally and personally. The professors and cohort that I had the privilege to get to know and learn from, were each incredibly knowledgeable, inviting and provided a space for us all to be challenged and empowered. I hope to encourage others, especially coming from my communities and others like mine to be able to pursue a degree in business, feel empowered to share their voice, increase our visibility and Indigenize corporate spaces and beyond.
By obtaining the MBA AIE degree at Gonzaga, I hope to serve my community professionally for individual and collective needs. This has been my main goal as there needs to be stronger representation across the board for American Indian and Alaska Native leaders in all business sectors. My future plan is to pursue a collaboration with my family on creating a sustainable business project that is on our traditional homelands. Additionally, through the inspiration of the AIE program, my goal will be to works towards a Ph.D. in business or leadership somewhere down the road.
My proudest accomplishment was really completing the program with my fellow AIE cohort members! I'm honored and humbled to be co-winner of MBA in AIE Student of the Year Award! I felt a new sense of purpose and pride in pursing the completion of this degree and I feel forever grateful for the relationships and connections that I've had the honor to make as I continue on this journey called life. sepkeeca, thank you."
---
Curious about Gonzaga's School of Business Graduate Programs?
Curious about Gonzaga's School of Business MBA in American Indian Entrepreneurship Program?