Engineering Management Students Reflect on Case Competition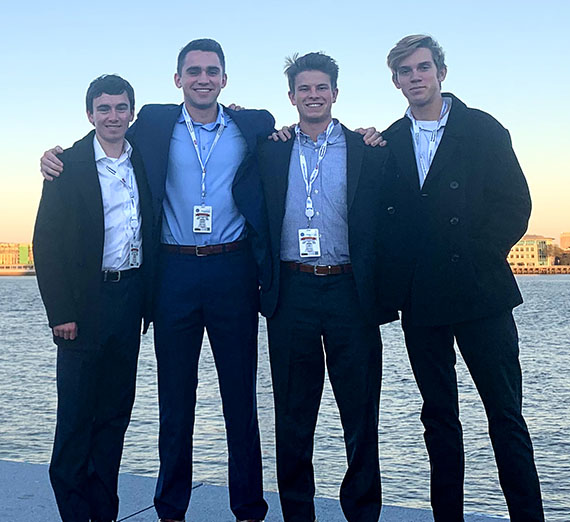 ---
Four Gonzaga engineering management majors participated in the 2019 American Society for Engineering Management (ASEM) Case Competition. Ten undergraduate teams traveled to Philadelphia for the national ASEM convention to compete in this test of technical and business analysis skills.
Each team learned about a start-up tech firm seeking investment. In the morning, the students learned about the start-up's energy-saving system that monitors use of commercial buildings and regulates thermostats accordingly. How could the team advise the founders to increase revenue and improve the brand name?
Gonzaga's Nick Vogt ('21), Zach Gerhard ('20), Thomas Detillion ('20), and Dash Cotton ('20) wrote about the challenge and its connections to Gonzaga's engineering management program.
---
As we explored the case, we found that there was a crossover between Gonzaga's engineering management course curriculum and the start-up. The company's marketing described how the energy-regulating hardware included an IoT (Internet of Things) system and Artificial Intelligence (AI) technology – our Management Information Systems and Principles of Marketing coursework introduced us to IoT and AI well before the competition. To understand the product, we were able to use our knowledge of power generation and energy conservation from Circuit Analysis I and Scientific Physics II.
Our general business curriculum proved to be advantageous. Principles of Finance, Accounting Analysis, Engineering Economics, and Business Law helped the team to analyze balance sheets, to understand the demand of and growth into domestic and international markets, and to create a Gantt chart illustrating a project timeline for the firm to abide by.
Those connections made for an exciting case study. We presented in front of professional engineering managers and Ph.D. students and answered their questions about our assessment and recommendations. Through this incredible experience, we collectively learned more about applying our coursework to real-world problems.
On behalf of the American Society of Engineering Management chapter at Gonzaga University, thank you to the donors who helped make this event possible. These types of experiences prove extremely beneficial to all involved and are opportunities for Gonzaga to grow recognition and increase in connections across the world.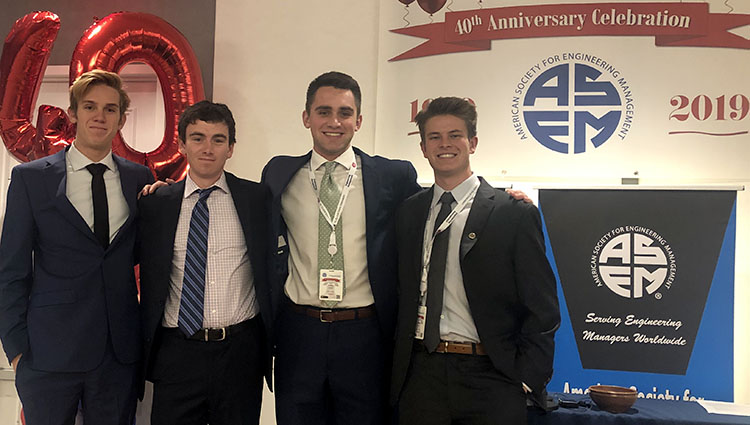 Gonzaga Engineering Management students Dash Cotton ('20), Thomas Detillion ('20), Zach Gerhard ('20), and Nick Vogt ('21) at the American Society for Engineering Management national convention.
More stories from Gonzaga's School of Engineering & Applied Science