An Engineer for Others: Siniva Areta
Zag Grads 2019
SPOKANE, Wash. — Siniva Areta, a graduating Gonzaga University mechanical engineering student, has been inspired by personal experiences to use her considerable engineering and leadership skills to help others.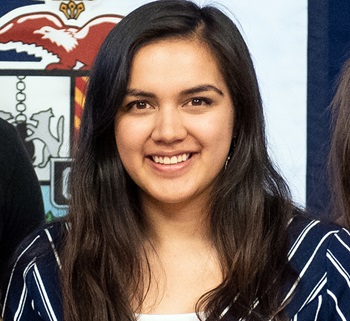 Areta, a graduate of Ferris High School in Spokane, was inspired to study engineering after witnessing the dependence of her father and two brothers on medical devices. One of her brothers was born with four severe, life-threatening anaphylactic allergies, eczema and severe asthma; to care for him, Siniva learned how to use the devices.
An Act Six Scholar, Areta has been deeply involved in community service work helping children through the Center for Community Engagement — and has been involved in Diversity, Inclusion, Community & Equity (DICE), the Unity Multicultural Education Center, the Society of Women Engineers and as secretary of Tau Beta Pi (Engineering Honors Society).
Last summer, she participated in a Research Experience for Undergraduates in Rehabilitation Engineering at Cleveland State University in Cleveland, Ohio, and worked to develop sensor and other systems to assist individuals with neurological impairments going through rehabilitation.
Areta said she first knew engineering was the right path for her when she worked on coding a robot to complete a game of chess. She loved the troubleshooting and researching challenges involved with the robot.
"Integrating multiple components, mechanical hardware, electrical hardware, and software is difficult but when you get to a place where everything works together seamlessly; the feeling is indescribable," she said.
Patrick Ferro, Ph.D., a mechanical engineering professor at Gonzaga who advised Areta, said she has a promising career in biomechanical engineering or any engineering field that she chooses. Areta is a leader who goes above and beyond the minimum requirements of helping others at every opportunity, Ferro said.
"Siniva is also a leader in her group of friends, who look up to her for the example she sets," Ferro said. "Words that people use to describe her include: friendly, positive, persistent, balanced, forward-thinking and just."
Because of her work in academia and dedication to the community, Areta was named this year's recipient of the School of Engineering and Applied Science Outstanding Senior Award.
In July, Areta will move to Sedro Wooley, Washington to work at Sedron Technologies, a company that creates systems and processors that turn waste into clean water, energy and ash. She is excited to work toward more sustainable practices to improve the lives of people and the conditions of the planet.
"Engineering is a very rigorous, difficult program, but I have learned so much and I'm very confident that when I go into my position at Sedron that I'm going to be able to recall things that I learned here because I was taught well," she said.
In the long term, Areta plans to return to Spokane and use the technical and design knowledge she gained at Gonzaga to develop affordable medical devices — especially for low-income people.
Academics
School of Engineering & Applied Sciences
Mechanical Engineering
News Center