Table Talk: Alumni Careers in Food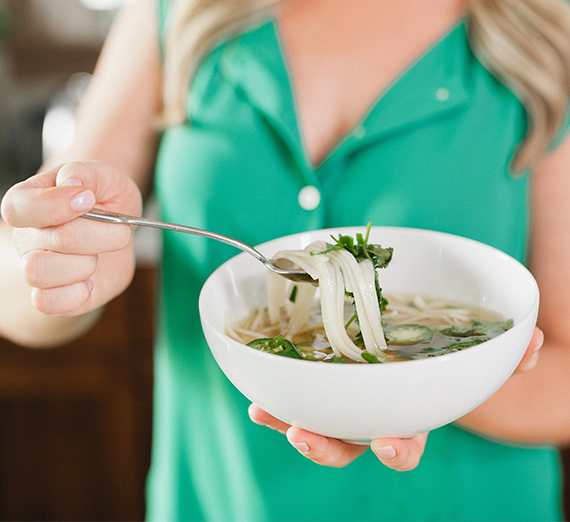 ---
Everything from Scratch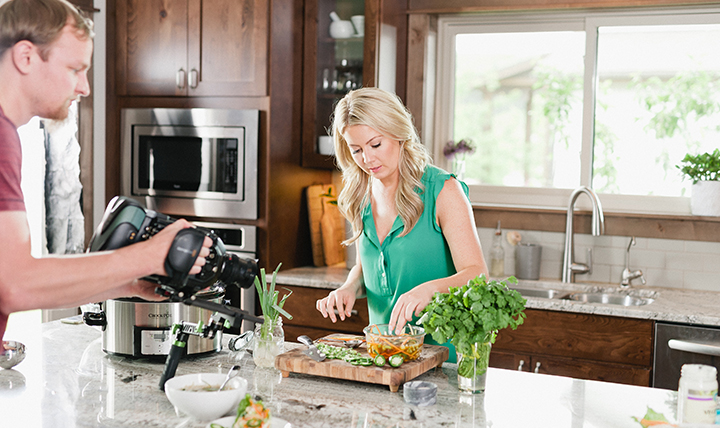 When asked, "What's your favorite food?" she laughs, which makes me smile, because I already know her answer: ALL cuisine from scratch.
I first met Elizabeth Rider, '04, during our sophomore year at Gonzaga where she was pursuing a B.S. in mathematics, which does not necessarily beget a certified health coach. Food blogger. Author. TV show host. These were far from her original career path.
Growing up in 1980s Montana, Rider's mom made everything from scratch. Budgets were tight and in that time, processed foods were more expensive than making meals by hand. When she ventured to college, she found herself surrounded by all sorts of processed goodies. One evening, a roommate introduced her to a phenomenon called Hamburger Helper. She called her mom to tell her about this incredibly easy meal she cooked for herself, and her mom's horrified response (and a subsequent stomachache) reminded her that processed foods often trade health for convenience.
After graduating, Rider moved to Denver where she secured a position with Ernst & Young's consulting practice. Describing it as "a job, not a career," she later took a risk and joined a wellness coaching company. In many ways, this career shift was much like her mantra about food – good things come when you start from scratch.
Now 10 years later, Rider's career and passion include forays into writing cookbooks, filming a TV show ("Elizabeth Eats"), blogging, and maintaining her original love – wellness coaching. With nearly 85,000 followers on social media, Rider has quite the fan base. As one such fan, I can say with certainty that what people love is her honest approach to cooking and the importance of self-care.
When our long overdue chat neared its end, I asked Rider what she would say to her 22-year old Gonzaga graduate self now knowing where her life has gone. Her answer? "It's going to be OK. You will be OK."
See "Elizabeth Eats" and search her helpful nutrition and wellness tips at: elizabethrider.com/elizabetheats


The Quinoa Queen
Elisha Joyce, an island girl from Guam and daughter of a professional bodybuilder, was a '93-'94 Gonzaga-in-Florence alum and, after graduation from Gonzaga with a BA in Sociology and Political Science ('95), she attended the UW School of Law and passed the Washington State Bar exam. In 1998, she married another fellow Zag, Ed Joyce, and they currently reside in Portland, Oregon with their three children.
In an effort to stay home with her children, Elisha flipped houses and worked as a Realtor from 2004-2010. Then, in 2011, she launched her food career when she created "SmartyBars" – a whole food energy snack. She took SmartyBars from her kitchen to market and, because of SmartyBars (which had a then unknown ingredient in them called 'quinoa'), she started making local TV appearances and became known as the Quinoa Queen. Elisha turned from local celebrity to national celebrity overnight when, in 2014, she made her primetime debut on the premiere episode of NBC's Food Fighters – a show where she beat 4 out of 5 professional chefs in a timed cooking competition. And, the recipe that doubled her winnings? A quinoa dish, of course! (Food Fighters, Season 1, Episode 1 can be found on Amazon On Demand.)
Today Elisha continues to share her tips for easy, whole eating at Rebel Grain, works as a commercial actress, and is a Founding Partner in her Social Brand Management and Production Company, Relish Division… but she'll never forget that it all began with SmartyBars. (Also, be sure to check out her quinoa ebook "The Quinoa Habit" on iTunes.)



SmartyBars: Makes 24-28 bars.
Ingredients
11/2 cups of precooked Royal Quinoa (or 1/2 cups of Royal Quinoa flakes)
11/2 cups gluten-free or regular whole oats
1 cup whole, raw almonds
1 cup unsulfured dried apricots (unsulfured apricots are dark brown)
2/3 cup dried, pitted cherries
1/2 cup sweetened coconut flakes
1 tsp sea salt
1 tsp chili powder
1/4 cup raw honey
1/4 cup melted coconut oil

PREPARING THE FRUIT: Rehydrate the fruit so it's easier to work with. Simply add dry fruit and about 2 TBS water into a shallow, lidded pan. Turn the pan on high and, when the water sizzles, reduce heat to low and cover pan. Allow fruit to steam for about 1 minute.
PROCESS: Using a slotted spoon, remove fruit and place it in your food processor; process until smooth. Scrape the fruit puree away from the sides of the bowl, add the remaining ingredients and process all together for 30-60 seconds.
BAKE: Line a baking sheet with parchment paper and press the mixture to about ½-inch thickness. Sprinkle with flaked coconut and some coarse finishing salt.
Bake at 200 degrees for 15-20 minutes. Cut bars into preferred sizes and place on a drying rack. Allow the bars to air dry; then, store in an airtight container and keep them in the fridge for grab-and-go snacking.


Leaving Law for Breakfast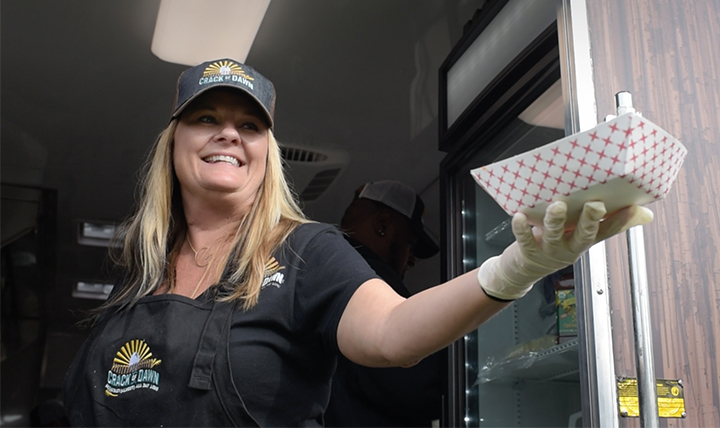 Gerri Newell, a '99 School of Law grad, has enjoyed a successful law career, from insurance defense to finding the rightful owner of the famous General Lee from the popular '80s show "The Dukes of Hazzard." But today, she has traded litigation and mediation, divorces and personal injury claims, for something with a bit more flavor. In a new food truck called "Crack of Dawn," Newell is dishing up hearty breakfasts from the convenience of the street, sometimes right outside the courthouse where she used to join the masses of people in suits going through security lines.
"It's just time to do something different," she had said from her law office a year ago, where casework and new logo designs for Crack of Dawn comingled on the table. "I don't want to look back 20 years from now and say 'Gosh, I wish I'd done something different.'"
Having a food truck provides her a livelihood and the chance to visit her kids and grandkids, plus serve food at events like concerts – maybe even the Harley festival in Sturgis, South Dakota, someday.
"I've always been full of wanderlust," she says.
That love for exploration has made its mark on her menu, too. Along with a variety of egg scrambles and homemade buttermilk pancakes, Newell's truck features the famous beignets of the Café du Monde, reminiscent of a trip she took to New Orleans 15 years ago.
You won't find Crack of Dawn in Spokane during the winter (it'll be in Vegas), but be sure to look for this attorney-turned-griddlemaster at popular summer events in the Inland Northwest.
---