Student Offers Backpacks of Hope to Homeless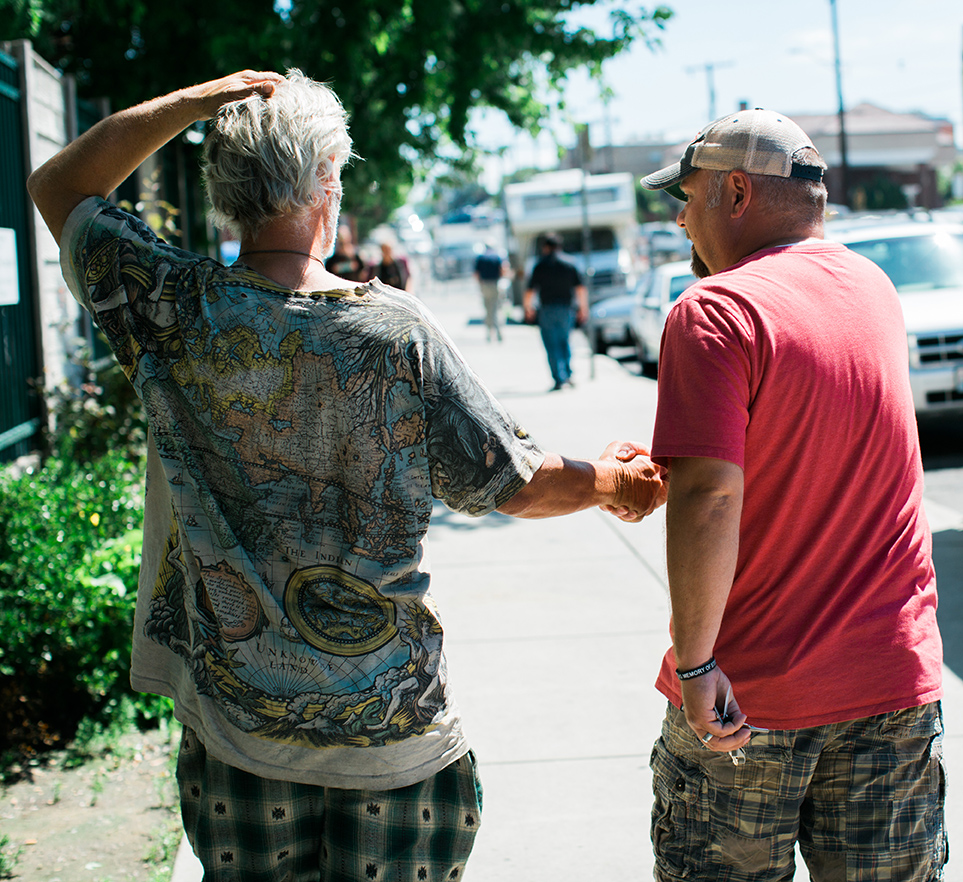 ---
By Jackson Scallen
Class of 2020
SPOKANE, Wash. – Gonzaga's Jesuit ethos embraces a commitment to human dignity and solidarity with the poor and vulnerable. Rick Clark, 46, a junior in his first semester at Gonzaga, knows poverty firsthand. Formerly homeless, Clark launched the outreach program Giving Back Packs to help the down-and-out in Spokane, where he was born and raised.

Clark started the program two and a half years ago at about the time that he decided to return to school after dropping out of high school 28 years prior. He transferred to Gonzaga this semester after graduating from Spokane Community College.

"I spent my entire life kind of having limits on myself and just thinking I wasn't worthy," Clark said.
On his way to take an assessment test at SCC, he met a homeless man named Jared downtown at the Spokane Transit Authority plaza. Clark wanted to help Jared but didn't know how. He reached out to friends and asked them to help fill a backpack full of supplies – food, clothing, and toiletries – for Jared. They filled 25 backpacks and the program was born.

Since then, Giving Back Packs has provided more than 1,500 backpacks, says Clark who credits the kindness of the folks at the Intersection Church in Spokane Valley, especially Senior Pastor Gary Hebden, with helping him turn his life around when he was homeless in his early 30s.

"It literally was the turning point in my life," said Clark, who is studying communication and intends to connect with other organizations and leaders to further help the homeless. He is unsure about the future of Giving Back Packs, which has thousands of Facebook followers, but knows the program will sustain itself.

"God has shown me a way that I can make a difference in people's lives, but He hasn't given me the answer as to exactly what that's going to be," Clark said. "The backpacks are kind of a Band-Aid to the bigger problem."

Audrey Minton, senior transfer admission counselor, said she knew Clark would be a great fit at Gonzaga. She had seen a local TV news spot about Clark and his program before he applied.

"Rick's intentional service to the homeless population in Spokane really speaks to the University's mission to be men and women in solidarity with the poor," Minton said. "He has a talent for bringing people together in service and this was evident in his application for admission. We are very happy that he decided to join the Gonzaga community."

Clark's son encouraged him to apply to Gonzaga due to his good grades at SCC and his community service.

"I applied to Gonzaga on a whim thinking, 'I'm going for the best school around just to see what happens,'" Clark said.

Clark, a first-generation college student, was pleasantly surprised to be accepted and to receive a scholarship to help pay for his education. He admires Gonzaga's active role in helping the community and says the school is a perfect fit for him. His son is enrolled at Eastern Washington University and his daughter has begun classes at Spokane Falls Community College.

"It's a super exciting time right now, and it all started from that one chance encounter with Jared," Clark said. "It's kind of a wild story, kind of a wild ride, but it's been nothing but just a blessing for my family and I."

Clark also is eager to attend his first GU basketball game. His favorite part of school so far has been round-table discussions in class where he enjoys learning from other students and sharing his life experiences.

"I'm just in awe everyday of how bright these kids are," he said.

Clark encourages others to help the homeless and wants to inspire those who are struggling to have hope – something many of them have lost. Tearfully, he recollects how far he has come from that same situation.

"Don't be afraid to approach someone who is standing on the corner with a sign. You don't have to give them money," he said. "There have been so many times where people have just been so thankful for a conversation."

Clark thanks his community college teachers who supported him and are now his friends. He is excited to keep meeting Gonzaga's professors and has great respect for teachers.

"I just think they're the most amazing people, and I don't think they get enough credit for it because they're changing lives," he said.