Energy, Passion & Leadership: These 8 seniors rock their clubs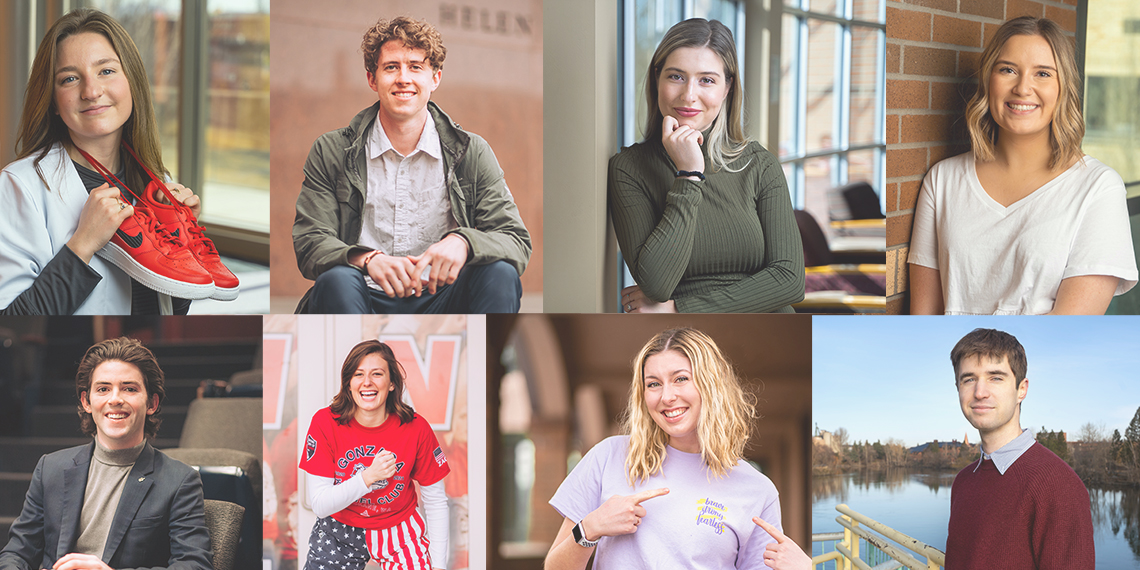 Here are eight seniors from the Class of 2021, sharing their passion and inspiration for leading unique student clubs at Gonzaga.
This story project was led by Rees Williams, in collaboration with photographers Chiana McInelly and Luke Kenneally, all of whom were student workers in Gonzaga's Marketing & Communications department for the 2020-21 academic year.
MAGGIE PASQUALINA: Bomb Squad
Major/Minor: Communication Studies with minors in Sociology and Hogan Entrepreneurial Business and Leadership
Leadership role: Captain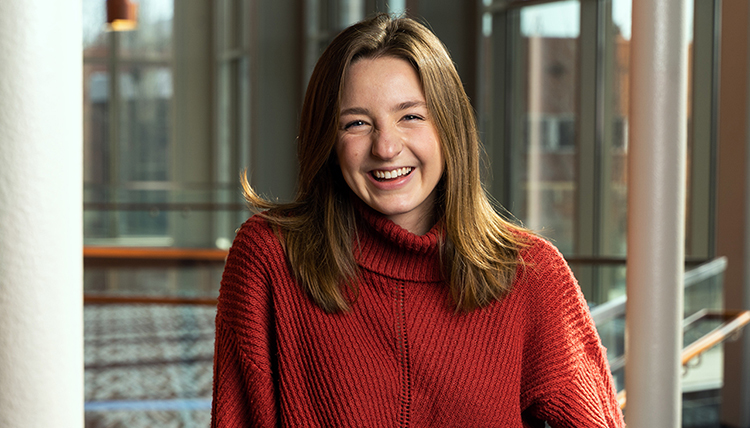 Tell us about Bomb Squad
It's a student-led, co-ed hip-hop team that promotes school spirit through dance. We perform at men's and women's basketball games as well as volleyball games and events including Freshmen Orientation, GEL weekend, Make-A-Wish Foundation, Spokane Hoopfest, Sports One Unified Language, Gonzaga Scares Hunger, and the WCC Tournament in Las Vegas. We practice twice a week and we love when people from Gonzaga come dance with us! This year we have continued to practice while following CDC guidelines, and focused on improving our cultural awareness as a team.
Favorite activity?
Performing at Kraziness in the Kennel is an incredible opportunity and such a rush. Kraziness is even more special because it is the first event of the year and we get to perform for our family and close friends.
Role model or inspiration?
My teammates inspired me to fulfill this role. Bomb Squad is much more than just a hip-hop team; we take pride in creating a close-knit family environment. I was motivated to become a captain because I wanted to help create the best experience for a team that has given me so much. I am incredibly thankful for my amazing teammates (past and present) and the love and compassion they've shown me. I would not be the person I am today without them!
Impact on your Gonzaga experience?
It is hard to put into words. I am so grateful I have had the opportunity to continue to express myself through dance in college. Bomb Squad allows me to be creative and stay in touch with an art form that I love. I have found so much joy in representing Gonzaga, showing appreciation to alumni, and getting to be a part of the excitement that surrounds basketball and volleyball games.
DANIEL WEINBERGER: Alpha Kappa Psi
Major/Minor: Business Administration with concentrations in Finance and Operations Supply Chain Management
Leadership role: President
Tell us about Alpha Kappa Psi (AKPsi)
It's a co-ed professional development fraternity with global recognition, and a history spanning over 100 years. Here on campus, we are a student run club with more than 140+ active members (crazy!). We bring students in from all majors, years, and walks of life, to instill incredible hard and soft skills that will set them up for life post-graduation. Moreover, our incredible alumni network that connects with current brothers to help find placement after graduation. We are also incredibly social! Our organization houses 16 committees tasked with throwing events and programming each semester, such as brotherhood, service, turf takeover, formal, life and mental health committee, and more. As an organization, we do just about everything!
Favorite activity?
Our weekly Sunday meetings serve as a time to hear what everyone has been up to. More importantly, members highlight committees' incredible events and achievements. These meetings help foster a sense of community within our chapter and being witness to it is beyond a privilege. It is in these spaces that we hear stories, learn something new, and walk away with a greater appreciation for our fellow members. One of our core values is brotherhood, and it is in these meetings you can feel its ever-present force permeating the room, even in a virtual environment.
Role model or inspiration?
I wrestled with whether I would be able to be the leader that our chapter needed amidst a time as unprecedented as this. Leading a club of this size and magnitude was a daunting task, and it sometimes still is. Instead of keeping these thoughts to myself, I shared them with two fellow members that I have grown close with - Marin Counter and Ellie Smith. They shared their hopes and dreams for the chapter and what their ideal leader looked like. They both encouraged me to run and take on the challenge. I had never felt such support from anyone before, and it was something I will never forget. I have watched Ellie and Marin navigate numerous leadership roles within our chapter with grace, poise, and polish. I look up to both as role models, but most importantly, I look to them as my friends. Their words of affirmation and support ended up being the catalyst of my journey towards presidency. It is people like Ellie and Marin who have continuously propelled me forward through the years, and in doing so, have supported me in being the best version of myself.
Impact on your Gonzaga experience?
The former president, McKinley McGinn, asked me about the most impactful moment during my time as a rushee. I remembered my walk to Jepson, my last walk-through campus as just another freshman. The next time I would walk through Bulldog Alley I would be able to say that there were over 100 individuals on campus who considered me their brother, their family: individuals who wanted to see me excel, exceed expectations, tread new paths, and who would be there for me at the highest of highs, and lowest of lows.
Being President of AKPsi taught me to be okay with being uncomfortable, to take risks when necessary, to fight for what is right even if it is not the popular opinion, and eventually, this role has even helped me find myself. AKPsi helped to foster an even greater sense of community on this campus than that which I had already felt. When I think of my Gonzaga experience, I think of my time in AKPsi as President, but mostly, I think about the people who helped make it all so beautiful. People like Marin and Ellie, people I will never forget and who left an imprint on my heart that I know will last a lifetime.
ELLIE MCELLIGOTT: A Moment of Magic
Major/Minor: Nursing
Leadership role: Chapter President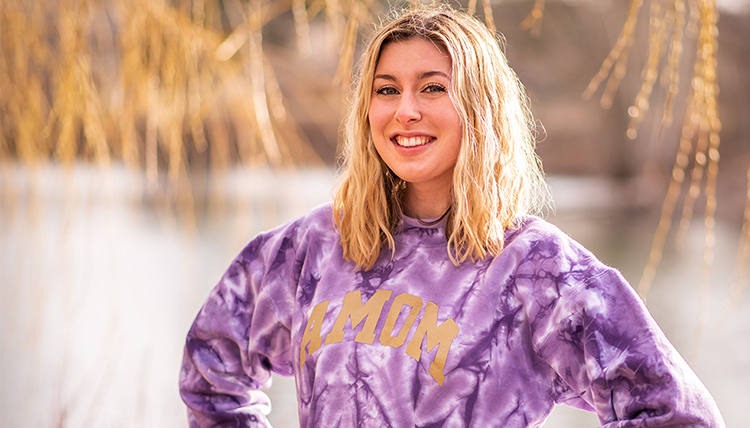 Tell us about A Moment of Magic (AMoM)
It's a non-profit whose mission is to "restore the magic of believing, at a time when a child needs to 'just-be-a-kid' and remind them to be brave, strong, and fearless." Our college student volunteers participate in creative programming such as character visits, special events, and hotline calls. Within the local Spokane community, we work with medically vulnerable children at organizations including Sacred Heart Children's Hospital, Shriner's, Vanessa Behan, and the Boys' and Girls' Club.
Favorite activity?
In-person character visits (prior to COVID) were my absolute favorite! We typically go on five to ten visits each month to visit kiddos experiencing medical vulnerabilities. Absolutely nothing compares to the way a child's face will light up when their favorite character walks into the room. Since the pandemic began, my favorite club activity has been our weekly Zoom club meetings. It is heartwarming to connect with a community of like-minded individuals, all with a passion for bringing magic to kids.
Role model or inspiration?
The first executive board inspired me to fulfill this role. Specifically, Callie Shaw, the first and former president, inspired me to get more involved. As soon as I found out about this club, I knew that it was something I wanted to pursue. I immediately applied for the executive board, and with guidance from Callie and the others, I gained confidence and passion for what we do as a chapter.
Impact on your Gonzaga experience?
This has been my community since sophomore year. I have gained so much perspective from working with different organizations and children. More than anything, volunteering with AMoM has reaffirmed that my heart is with kiddos and that I hope to work in pediatrics as a nurse.
MATTHEW HUGUET: Gonzaga Net Impact
Major/Minor: Political Science with minors in Hogan Entrepreneurship and Italian Studies
Leadership role: President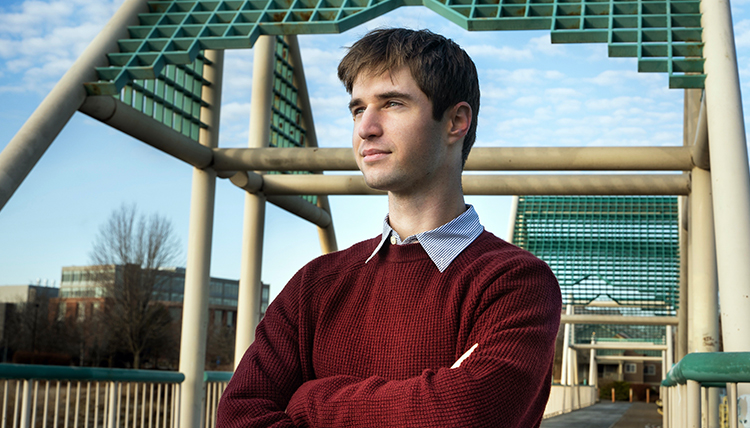 Tell us about Gonzaga Net Impact
It seeks to educate our community on the impact business can have in equity and sustainability. We work with other clubs on campus to plan speaking series and conversations with leaders in the field. There are plans to create a consulting arm of the club, as well! It's easy to get locked into the idea that change can only happen from within a senate chamber or a new piece of legislation. However, change can come from anywhere, and businesses as institutions have tremendous potential to influence equity and sustainability. Imagine if companies with leverage and capitol, such as Apple and Amazon, focused just 1% of their efforts towards promoting equitable business practices and conservation. Gonzaga is a socially conscious community with a great business school, so it only seemed natural that we found a club to promote these ideas.
Favorite activity?
I had a lot of fun last semester planning an event with Alpha Kappa Psi and GEO (Gonzaga Environmental Organization) on Sustainability in the Workplace. We are a brand new club, so we have a lot to look forward to!
Role model or inspiration?
Henry Hood, who graduated last year, started all of this. We were in another club together, and I have always respected his intelligence and drive. When he started Gonzaga Net Impact, I jumped at the chance to work with him. As a close friend, he had a large impact on my decision to run for president.
Impact on your Gonzaga experience?
As a political science major, I never expected to oversee a business club. However, Gonzaga Net Impact has expanded my horizons outside of politics to other opportunities that can create change. The club has also allowed me to make friends outside of my major.
MELINA MONLUX: Students Empowering Women
Major/Minor: Spanish and Biology with a minor in Chemistry
Leadership role: President and Founder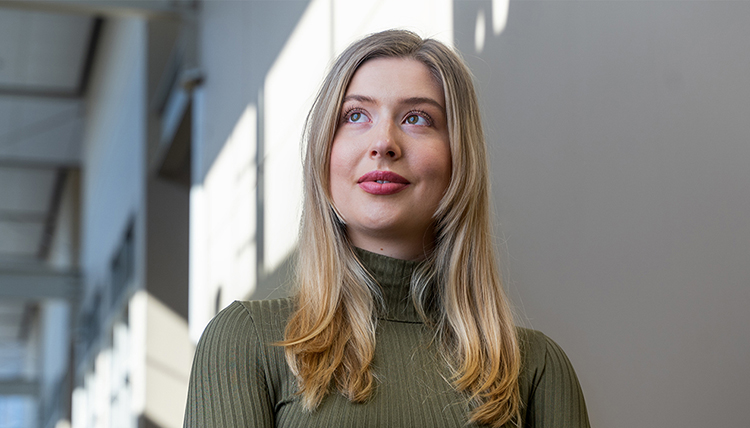 Tell us about Students Empowering Women (SEW)
We are a service-based club that takes on a holistic feminist lens as we attempt to uplift women and girls in the Spokane and Gonzaga communities. We have a mentorship program where our members give presentations to young female identifying students at Lidgerwood Elementary about body image, menstruation, career goals etc. We also worked with community partners to put on a domestic violence care package drive (through which we raised over $1,000!), and a domestic violence awareness panel. We held events to recognize NEDA (National Eating Disorders Association) week and offered a free yoga practice led by the Union.
Favorite activity?
The domestic violence panel we put on was something special—we had so many community partners show up for us and gained some interesting perspectives because of it. I also really enjoy our club meetings. Our members are all so passionate, driven, and inspiring, and we bounce ideas off one another so well. The hour always flies by!
Role model or inspiration?
I was directly inspired to start this club after listening to Kimberlé Crenshaw speak at Gonzaga in 2019. That night, I remember staying up until 2 a.m., writing the constitution for SEW. However, when the time came to ask for a faculty advisor and search for members, I panicked and backed out. It wasn't until I got back from being abroad with a newfound confidence, and support from my amazing friend, Laura Landgraver, that I was ready to go forward with the idea. I am so grateful for my SEW members and the community we have created.
Impact on your Gonzaga experience?
This role has changed who I am as a student, woman, and leader in so many ways. Seeing my vision grow into a successful student organization that is making tangible change—and receiving positive feedback and support from admirable community leaders—has given me so much confidence in myself and my ideas. It has proved I can be more than a student who joins existing pathways and neglects my own dreams and passions in doing so. If I see a problem, if I wish to make a change, or if I know that there is something missing, I can make my own path, and offer it to others who are seeking the same community.
CLARE MARTIN: Kennel Club
Major/Minor: Kinesiology
Leadership role: Board President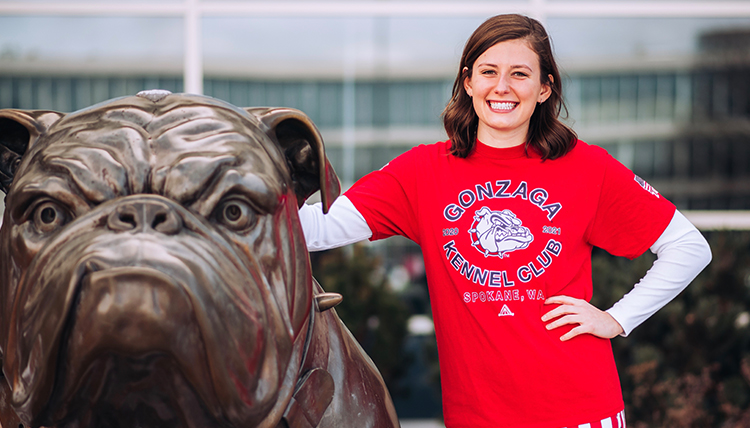 Tell us about Kennel Club
It's the largest student run organization on campus. The Kennel Club Board serves as a connection between the student body and the athletics department. During a non-COVID-19 year, we promote Gonzaga athletic programs and help arrange fan attendance and participation at games. Since COVID-19 has put a halt on fan attendance at sporting events, we have been creative keeping up the Zag spirit around campus and the greater community. This year, our community outreach program put on an event where Gonzaga students packed and delivered backpacks with winter essentials to the homeless population. The Kennel Club has also focused on connecting with and promoting other clubs around campus. We hope to continue some of these new partnerships in the upcoming years!
Favorite activity
Tent City! Tent city is an essential part of Gonzaga's history and is what has helped put Kennel Club on the map. Not only is it exciting to see the race for tent #1, but it's also a way to exhibit fandom and show dedication to "being a Zag." While the cold temperatures might scare off some people, Zags show up with smiles and make the most of any situation mother nature throws at them.
Role model or inspiration?
Past Kennel Club members have inspired me to fulfill this role. I have been fortunate enough to have amazing leaders who have helped pave the path for myself and the Kennel Club. I knew that I wanted to work hard to exceed their expectations.
Impact on your Gonzaga experience?
This role has been a testament of what I believe being a Zag is all about. This has allowed me to serve and work hard for a large community of Gonzaga students, alumni, faculty, and fans that have been following and supporting the Kennel Club for years. I am reminded what being a Zag is all about: being a servant leader and bettering the community around you for others. This experience has also allowed me to connect and build relationships with some amazing Gonzaga students that I will continue to be inspired and motivated by.
ALLIE AVAIUSINI: Zagathon
Major: Bachelor of Business Administration, Accounting (and Master of Accountancy, '22)
Leadership Role: Co-Director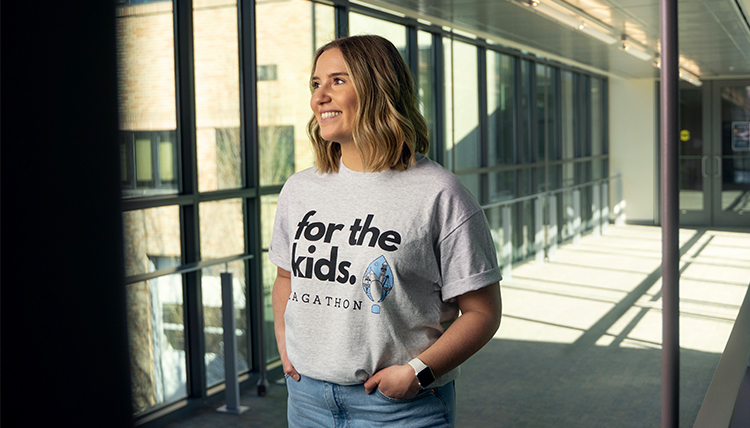 Tell us about Zagathon
It's a student-led organization that works directly with the Children's Miracle Network. We raise funds and awareness for kids battling childhood illnesses at Sacred Heart Children's Hospital. We host an annual, 8-hour dance marathon in the Hemmingson Ballroom where students, faculty, Miracle Families, and the greater Spokane community join the cause. Over the past 8 years , we have raised over $200,000 for the inspirational kids at Sacred Heart. Donations made to Zagathon have helped the hospital afford life-saving technology such as NICU machines, neonatal X-rays, and vein finders. Due to COVID, we can't host our annual dance marathon, but have come up with alternatives to continue to support the kids.
Favorite activity?
Prior to COVID, I loved getting to visit Sacred Heart Children's Hospital. Being able to walk down the halls and catch a glimpse into a Miracle Kid's day-to-day life made everything that much more real. I was fortunate enough to have a fun, fulfilling childhood but I know that not every child can say the same. For some, their childhood memories are filled with countless doctor appointments, nights spent in the hospital, long surgeries, numerous amounts of testing, and more. Witnessing this first-hand reminds me why I do what I do - to make an impact on these kids so they can have the childhood they deserve.
Role model or inspiration?
Devrey Martin and Madelyn Hoban ('19) were co-directors my sophomore year and inspired me with their passion, leadership, and drive. I admired their work ethic and willingness to dream big throughout the school year. Under their direction, we raised a record-breaking amount of $82,000 'For The Kids' in 2019! I grew a love and appreciation for the organization and realized that I wanted to continue to be a part of it.
Impact on your Gonzaga experience?
I've been a part of this organization for 4 years and I wouldn't change it for the world. I met some of my best friends and learned the importance of "being a part of something bigger than yourself". Every child should have the chance to live the childhood they deserve, and I hope my impact got them get one step closer to that. This organization has a special place in my heart and I'm beyond grateful for the opportunity to be Co-Director this year. It's bittersweet that my time is coming to an end, but my passion for this cause will live on forever.
TOM HOAG: Ski & Snowboard Club
Major/Minor: Biology with a concentration in Research and minors in Chemistry and Art
Leadership role: President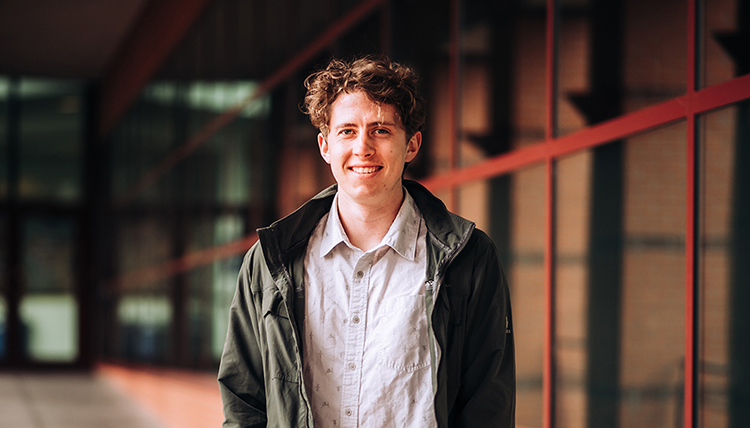 Tell us about Gonzaga Ski and Snowboard Club
The main goal is to make skiing accessible to everyone, by providing discounts on ski resorts, gear, and access to cheap trips throughout the United States and Canada. We create a skiing community that frames the sport in a fun and inviting context. We also offer annual, custom designed swag for our members. Prior to COVID, we planned barbeques, ski movie events, and free ski wax sessions.
Favorite activity?
Trips to Canada! During a non-COVID-19 year, we plan 6 trips to Canada with about 20-40 club members on each trip. This is a great way for members to get to know each other and offers them cheap access to some of the best resorts in the world.
Role model or inspiration?
My sister was a member and inspired me to join my freshman year. I was motivated by the fun she had as a leader of the club, and her ability to provide an incredible experience for the members. I aspire to lead like her.
Impact on your Gonzaga experience?
As a freshman, I struggled to find my place and found ski and snowboard club to be an incredibly welcoming environment. I have met some of my best friends here and have had the most amazing ski days of my life on these trips. My role as president has taught me organizational skills and how to work effectively as a team. We have 7 officers all of whom are responsible for different essential aspects of operation. Without this team, we would not be able to do what we do.
Due to COVID, we could not go to Canada or travel with large groups of students this year. As an alternative, I chose to involve the officers and some members in the Spokane Parks and Recreation Therapeutic Recreation Services (TRS) adaptive ski program at Mt. Spokane. Through this program we teach people experiencing physical and cognitive disabilities how to ski. We work with their unique abilities and give them the best experience they can sliding on snow. The Spokane TRS adaptive ski program has deepened my relationship with skiing and shifted my perspective of the sport. Our work with this program mirrors the Gonzaga Jesuit mission of being people for and with others. It has shown me how snow sports can be used to engage with community and give others an opportunity that they may otherwise never have.
These clubs and their inspiring leaders provide so many reasons to Be A Zag!
Learn more about the many opportunities about clubs and activities here.
Service & Community Impact
Student Life