Pandemic Can't Stop GU Alumni From Giving Back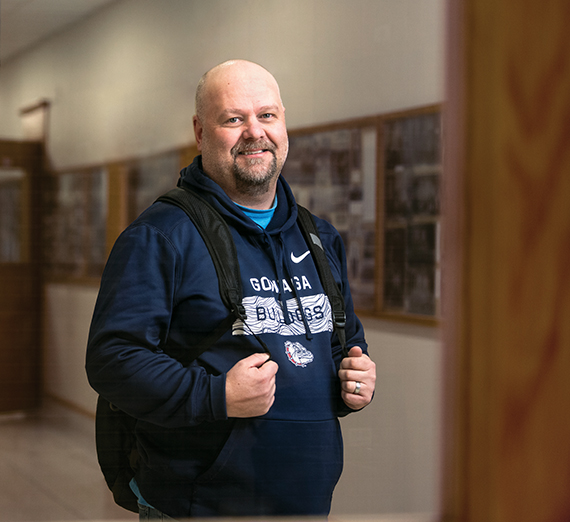 ---
In a time of living with COVID-19 and the challenges that come with quarantining and self-isolation, oftentimes come feelings of idleness and boredom.
Two Zag alumni in Spokane, Rick Clark and Sandy Zimmerman, decided to do something with that energy and channel it in a positive way through social media.
Clark and Zimmerman are local celebrities who previously found their way into the national spotlight. They used their influence for good while quarantining from home to help and inspire others.
Clark ('19) is best known as the founder of Giving Back Packs, a Spokane nonprofit dedicated to giving backpacks full of necessities to those experiencing homelessness. His claim to fame came when Mike Rowe surprised him in a memorable "Returning the Favor" Facebook TV show episode last year that was filmed in Spokane.
Zimmerman ('99), a former Zags women's basketball player, is a physical education teacher who's become an inspiring contestant on the "American Ninja Warrior" TV show. Last year, she was the first mother to complete the show's full obstacle course.
For these two Zags, the idea to lift those up around you during adversity resonates through each new day – a similar viewpoint animated by their shared experiences at Gonzaga.
Spreading the joy around
Like many others, Clark found himself twiddling his thumbs since being bound at home due to the Washington "Stay at Home" order. Two weeks ago, Clark debuted a new show, Live at 5 with Rick Clark over Facebook livestream. Unsure of how successful it would be, Clark decided to encourage his friends to donate money so that they could buy food from a local restaurant to give to a homeless shelter.
"I'm just sitting at home with my cat day after day after day. So I thought, 'Okay I got to do something. You know what, I have this huge following of people between the three platforms I use. I'm at home with a good internet connection so, I'm going to use my degree. I'm a communications major so I'm going to put it to work'," says Clark.
Right now, Clark is finishing his studies in a digital culture class. Nothing felt more relevant to him that combining his passion for serving others with the skills he's learned in his course for the betterment of those most affected by the novel coronavirus.
"It just tied everything together. I truly believe that God chose to give me this work to do and I feel very honored to do it. So, I thought 'You know what, I'm just going to go online and see if my friends will donate through messenger while I go live,'" says Clark.
Although he jokingly admits that the first video felt a little awkward, the turnout was much more than he could have ever hoped.
"I wanted to get $200 and buy a whole bunch of pizza from Pizza Rita and have it delivered to my wife's homeless shelter that she works at, Hope House. I wasn't sure what I was doing but I could tell that it was working because my friends kept throwing down $5 and $10," says Clark.
After just twenty minutes of filming, Clark had already received $496. With that, he was able to order from two different restaurants and donate it all to Hope House. The second night, they doubled their donations in half the time. It was then that Clark found his silver lining.
"This is really cool because everybody is stuck at home. If we can figure out a way to have fun with it, we can all help from our homes. It helps the businesses and it helps the vulnerable populations that actually need the food. So, I was like, 'Alright God, I see what you're doing. That was brilliant. I'm on it,' " says Clark.
After 20 days of shows, Clark has raised over $19,000, all ordered from local restaurants and delivered food to shelters and first responders such as firefighters.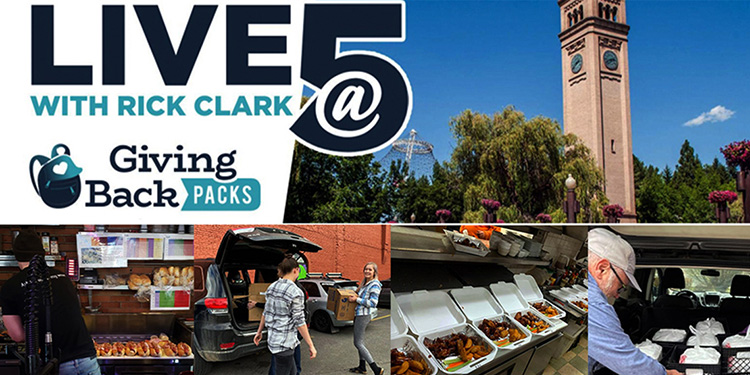 "Every day it's a new group, a new restaurant. We've had tears from business owners saying, 'We were about ready to shut the door but you gave us enough of a boost that maybe we can keep this going,' " says Clark, "Because much of my following is outside of Spokane, I've been encouraging people to start this in their cities."
To no surprise, Clark's mission has taken flight to Tulsa, Oklahoma, where one of his Facebook friends recreated the same system in her community. Clark believes he's been able to garner so much support because of the connectedness that social media can bring and a cause that everyone can get behind. Other groups that they have donated food to have been health care workers, senior centers, children centers, and truck drivers.
"I encourage people that if you need a lift, you're going to see humanity at its finest in eleven minutes. It'll blow you away," says Clark. "If you read [Gonzaga's] mission, that's what this mission is. It's exactly what I've been taught to do. To go out in the world and lift people up that are struggling," says Clark, "This is the moment to do it. I've been given the tools. I'm not saying I wanted this to happen, but I wanted to have the armor to fight this battle. Gonzaga gave me all of that armor."
Clark now has more than 2,000 member of his Facebook Group. You can donate via Venmo @helpspokane or Paypal with

helpspokane@gmail.com

.
Sharing the gift of fitness
Fellow Zag Zimmerman has also used social media to become a beacon of hope during quarantine. She has used her following from "American Ninja Warrior" and the Spokane community to create videos that encourage both experienced athletes and novices to practice mental and physical exercise.
She has created her own routines and course at home. As a mother of three and a physical education teacher, the "Ninja" phenom firmly believes that exercise can help build families and individuals a structure in these unprecedented times.
"It's fun to be spontaneous but it's also comforting to have that routine. So, this is a great time, whether you weren't working out before or you were and now you're having to adapt, to use this as a great outlet. It feels good to get those endorphins going," says Zimmerman.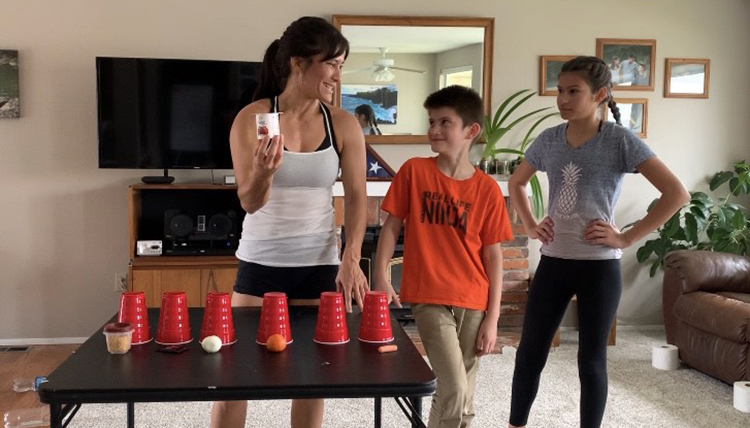 That said, Zimmerman has been posting regularly on her new YouTube channel, Physical Education with Sandy Zimmerman, where she includes fun exercises for everyone at home, whether alone or with family, to offer connection within her online community.
"If we're going to get through this, one of the things we need to do as a community is stay connected. That is just such an integral part of being a human being. What's interesting is that sometimes you're faced with obstacles and trials, and those can become huge triumphs," says Zimmerman, "That's kind of what this will be for a lot of people. We're going to be more bonded and have deeper relationships with people because we have gone through something tough together."
Like Clark, Zimmerman found her solution through social media. There is a common philosophy to their efforts, expressed uniquely by the gifts they each have to offer.
"What keeps popping in my head is, 'United We Zag.' As we've had these types of conversations I think it's so true," says Zimmerman, "All of us Zags can really step up right now and connect with people. We have the time now."
Zimmerman is accessible on Twitter and Instagram @zimmpossible. You can tune into her YouTube channel, Physical Education with Sandy Zimmerman
It's a Zag Thing
Other Zag alumni, including and actor Eric "Big Ed" Edelstein ('00) Spokane's Ryan Oelrich ('04), are also using social media platforms for good during family downtime during the pandemic.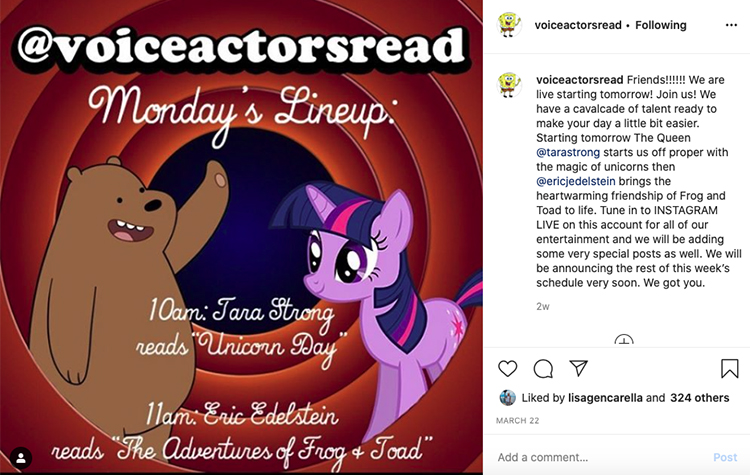 Edelstein, a Los Angeles-based actor, started a new Instagram effort @voiceactorsread as families began to shelter-in-place across the nation. Best known as the voice of Grizz on the animated show "We Bear Bears," Edelstein reached out to fellow voice actors to read stories to kids who weren't able to attend school during the pandemic.
The account has nearly 10,000 followers after two weeks and has produced 10 daily weekday episodes over that time, with help from some of the biggest names in the behind-the-scenes industry. Edelstein jumped in to lead by example, reading "The Adventures of Frog and Toad" on the first day alongside cartoon voice actor legend Tara Strong.
The idea came about "as organically as you could imagine," Edelstein told The Spokesman-Review. He told the writer that after seeing a video of an actor who didn't specialize in voice work reading on his Instagram account, he thought he ought to put his talents to work.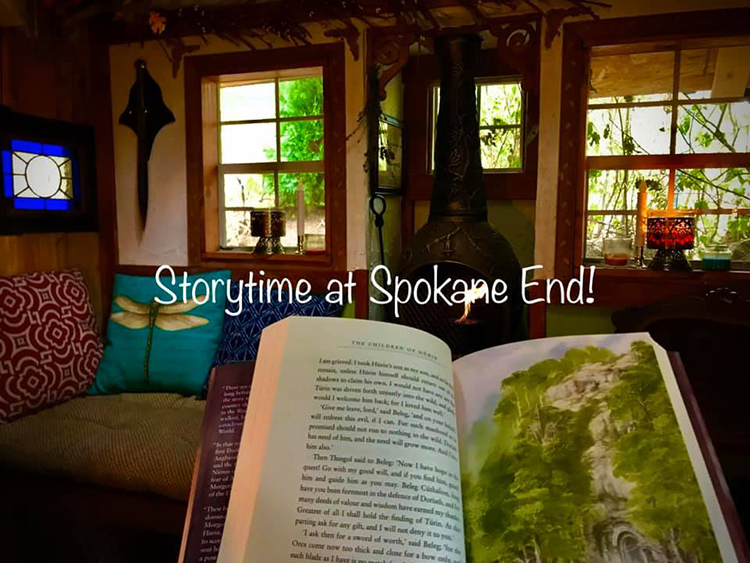 Oelrich had his own take on the idea of connecting with home-bound kids through books. As the owner of the Spokane Hobbit House, the Marketing and Public Relations graduate began a series of regular readings called "Storytime at Spokane End" on the house's Facebook page.
Oelrich is an entrepreneurial Zag who has spent his professional career in the nonprofit world, including endeavors such as Executive Director of Priority Spokane. He is also a longtime Spokane regional representative for the Epilepsy foundation and will be connecting the two during a special reading.
Oelrich has read classics from authors such as Dr. Seuss and has also added interactive craft elements, encouraging homebound kids to draw as part of some episodes. He said that his experience at Gonzaga inspires all of his work, including his online reading idea.
"Gonzaga's commitment to service, community, and servant leadership has certainly played a major role in the work and endeavors I focus on now," Oelrich said. "One of the many service opportunities Gonzaga provided me with, was leading the 'Adopt a Pop' program pairing students with retired priests. I was paired with the late Father Powers who several times told me to 'Do what you can while you can and don't spit on the little stuff.' I greatly appreciated my conversations with him."

Oelrich is currently leading a COVID response task force for the Robert Wood Johnson Foundation, "building a COVID Response Resources & Recovery website for professionals and communities to share their promising practices, ideas, and lessons learned in regards to the current crisis for others to build on and learn from. We hope it will prevent reinventing wheels and wasting valuable resources. Father Power's words at Gonzaga were ringing in my ears when I came up with the idea. A website is not a huge thing that's going to save the world. It's a small thing I and my team can do that will be helpful. I won't spit on that."
Know a Zag who is doing good during COVID-19?