Zag Nation Focuses on Service for 7th Gonzaga Day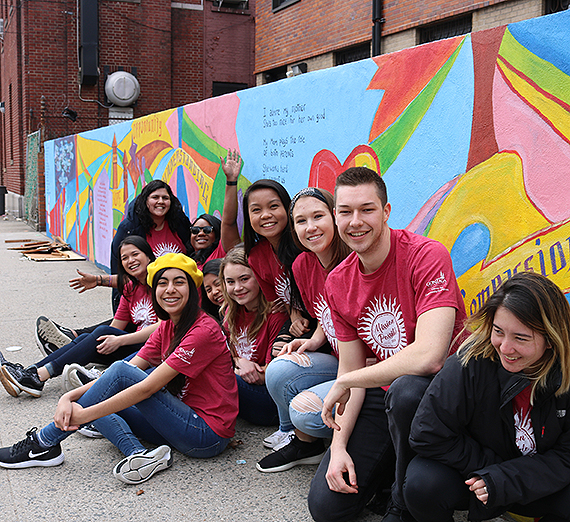 ---
SPOKANE, Wash. — Service to the community is the rallying theme for Gonzaga University supporters on Saturday, Feb. 9 for the seventh annual Gonzaga Day. A large-scale student service project will take place on campus along with service projects or events at regional alumni chapter gatherings worldwide to cheer on the Zags' basketball teams.
The men battle Saint Mary's in an ESPN or ESPN2 national broadcast at 7 p.m. PST. The women will be on the road against Portland tipping off three hours earlier at 4:30 p.m.
Gonzaga Day events are proudly sponsored by Numerica Credit Union, and are in collaboration with Second Harvest Food Bank, The Arc of Spokane, the GU Kennel Club and Gonzaga's Mission: Possible service immersion program, which is celebrating its 20th year of sending Gonzaga students to serve others nationwide during spring break.
Collection bins for people to drop off much-needed items for the homeless will be available at five Numerica branches in Spokane and at Gonzaga's Hemmingson Center, Crosby Center, Gonzaga Law School and at the tent city on campus where GU students will be camping before the game. Donation items include: new backpacks; new socks; prepackaged, nonperishable snacks (crackers, jerky, granola bars, etc.); travel-size hygiene items (toothpaste, shampoo, soap, etc.); tooth brushes; deodorant; stainless steel bottles for water; and small first-aid items (bandages, antibacterial creams, aspirin, etc.).
"A central part of Gonzaga's mission is being a person for others and service for the common good. For Gonzaga Day, we are challenging Zags across the country to actively participate in the Zag spirit of service through regional food or clothing drives as well as partnering with local nonprofits in their area," said GU's Director of Regional Alumni Chapters Drew Rieder.
Gonzaga senior Rick Clark, who is formerly homeless and launched the nonprofit outreach program Giving Back Packs Spokane, will participate in the Gonzaga Day collection efforts on campus at tent city before the game.
Kelli Hawkins, director of communications for Numerica, said the credit union believes in enhancing lives, fulfilling dreams, and building communities.
"This mission aligns perfectly with Gonzaga's mission of service to others," Hawkins said. "We are very excited to partner with the Gonzaga Alumni Association for Gonzaga Day to further foster well-being in our community by helping those in need, while at the same time joining Zag Nation to cheer on our Zags."
For more information visit www.gonzagaday.com or contact Drew Rieder at riederd@gonzaga.edu.