Gonzaga Alum Honored for Giving Back
"Returning the Favor" show profiles formerly homeless graduate Rick Clark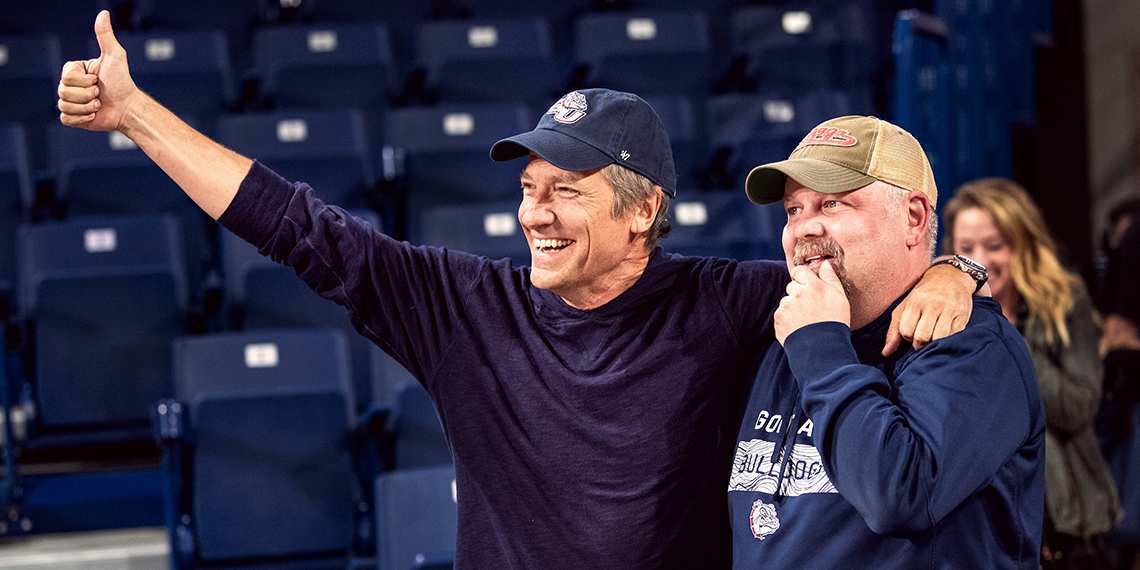 Gonzaga's Jesuit ethos embraces a commitment to human dignity and solidarity with the poor and vulnerable.
Alumnus Rick Clark ('19) lives those values and knows poverty firsthand. Formerly homeless, Clark launched the nonprofit outreach program Giving Back Packs to help those experiencing homelessness in his hometown of Spokane.
Clark started the program around the time he decided to return to school after having dropped out of high school nearly three decades earlier. He transferred to Gonzaga after graduating from Spokane Community College. A first-generation college student, Clark was pleasantly surprised to be accepted into Gonzaga and to receive a scholarship to help pay for his education.
Clark shares how faith inspired his journey.
Since graduating from GU this spring with a degree in communication studies, Clark formally launched his nonprofit and has continued to receive local and national recognition for making a positive impact in his community.
A favor returned
Clark's story was featured on a Facebook Watch Show, "Returning the Favor," which stars host Mike Rowe. The episode streamed for the first time on July 8 and is now available on-demand.
>>> View the video on Facebook.
In the show, the "Returning the Favor" crew follows Clark around campus and Spokane under the premise of doing a documentary about his work.
However, Clark was in for a big surprise. As he entered the McCarthey Athletic Center as part of a "campus tour," a crowd of friends, family, and cheering Gonzaga community members awaited.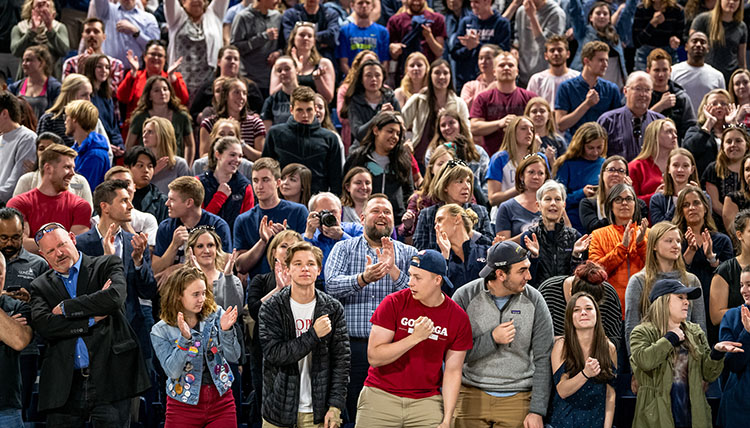 >>> View a behind-the-scenes photo gallery from the taping
Clark bleeds Gonzaga blue and red, as a prominent GU tattoo on his right forearm reminds. He is unabashedly loyal to the institution, due to its positive impact on his life and those of others.
He returned to campus for a "Returning the Favor" watch party. In attendance were those who helped to make it happen, along with some of his former communication studies professors.
Gonzaga staff members, along with those in Clark's inner circle, worked with the show's producers to plan out and execute the surprise reveal at McCarthey Athletic Center. A great deal of effort was undertaken to ensure the event was a surprise to him.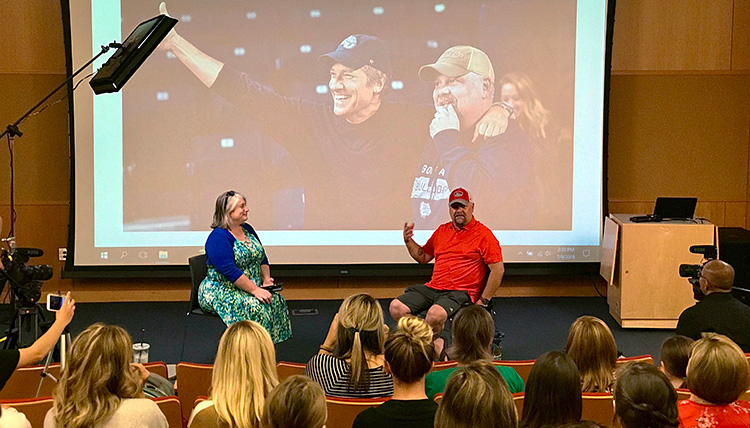 >>> Watch the video of Clark's interview
The behind-the-scenes story was one of several areas Clark discussed in a question-and-answer session that followed the watch party. Clark also talked about lesser-known aspects of his journey at Gonzaga, including a strong faith belief in which his story is grounded.
Clark has been experiencing a personal time warp over the past few months. He says his life has been a blur since the film crew was on campus, followed by graduation, then the debut of the Facebook Watch episode on Monday night and ensuing press coverage. All of it has raised the profile of his nonprofit and brought about new opportunities and unforeseen offers of support.
>>> Read The Spokesman-Review's coverage of the Clark's return to campus
Clark shares his story on GU's Alumnibelieve podcast.
Previous coverage by Gonzaga University
More stories about Rick Clark
Alumni
Careers & Outcomes
Faith & Mission
Service & Community Impact
Academics
College of Arts & Sciences
Communication Studies