New Leaders Start Amid Pandemic Calamity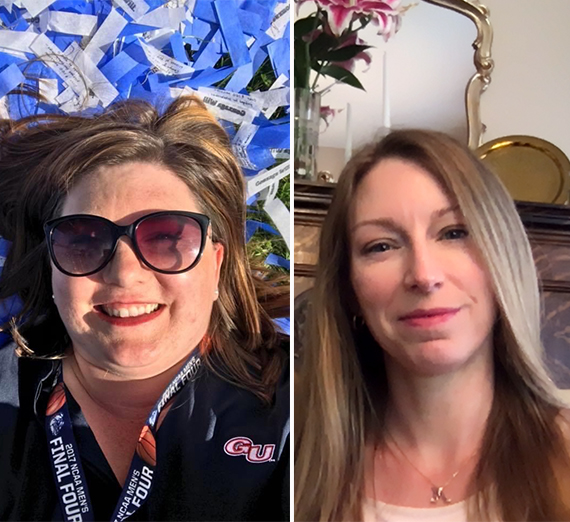 ---
NEW LEADERS
Marianne Poxleitner and Whitney Franklin both grew up as Pacific Northwesterners, landed at Gonzaga by way of endorsements from people they trust, and neither could be more personally or professionally satisfied to be doing what they love here in the Lilac City.
Poxleitner took over as Faculty Assembly president on April 30, Franklin as Staff Assembly president on June 1. And interestingly, both rank building relationships, trust and collaboration between faculty and staff among their top priorities.
Spirit introduces you to these two strong leaders and gives you a little taste of what's on their minds as they begin their new roles in the midst of this pandemic calamity swirling all around us.
Marianne Poxleitner, Ph.D.
Marvels in the gift of Gonzaga
Background: She attended Boise High School, then Seattle U before transferring to Colorado State, earning a bachelor's degree in Plant Science and a master's in Viticulture (growing grapes for use in wine production). She earned her doctorate in Molecular Plant Sciences from Washington State's Institute of Biological Chemistry, and performed post-doctoral work at Cal-Berkeley in molecular cell biology.
Gonzaga was the only faculty job she ever applied for. Her dad is a 1969 GU alumnus, and her brother earned his Zag degree in 1995. "I heard so many good things about this school and saw how it changed people's lives so dramatically, that I just waited for a position to open up, applied for it and have been working here since 2008," Poxleitner says.

And it didn't take her long to find her own identity here. A tenure- track position opened not long after her arrival, she has sat on the Faculty Senate in various assignments since 2009, and just this spring the associate professor of Biology was recognized with an Exemplary Faculty Award for her role in the Biology Department's Phage Discovery Lab, studying viruses that infect bacteria.

"My goal with research is to get students engaged and thinking like scientists," she says. "The longer I teach the more concerned I am that students understand the big picture and the framework of science, in addition to the content and detail. It is more important now than ever before that everyone understands how to differentiate scientific fact from propaganda."

She is delighted to have had the opportunity to teach at Gonzaga in Florence last summer, teaching the Science of Food and how central food is to the Italian culture. One assignment required students to order coffee at a coffee bar using only Italian.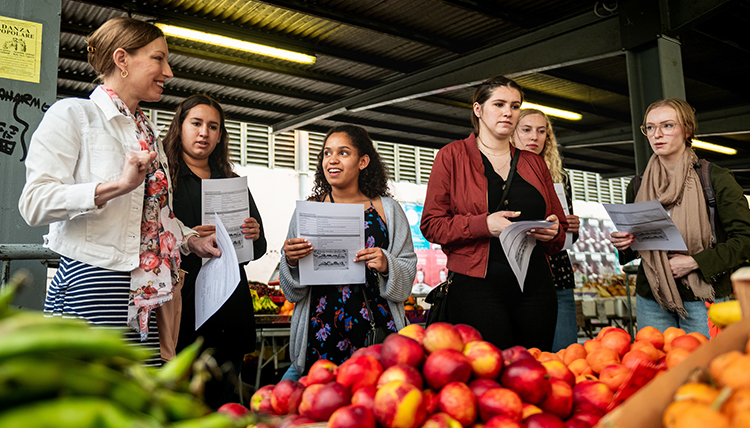 Poxleitner with students in a food science course held in Florence, 2019.
This spring/summer she is involved in a different kind of "busy." She serves as co-chair of the Academic Instruction and Learning Committee of the University's Pandemic Response Task Force. She admits taking over as faculty president in the midst of the COVID-19 pandemic didn't make for an easy transition of leadership, but right now the two enterprises overlap."Trying to structure this re-entry back to face-to-face and hybrid instruction has its challenges, but together, we will work in the best and most thoughtful way for our faculty and our students," Poxleitner says.
She is loved by her students. One recent graduate called her "highly intelligent, funny and satirically sarcastic," which causes her to smile. "Yesterday I received an email from one of my first GU students, who just received his Ph.D. from Berkeley, and he is headed to do great things. Anytime I get feedback about what our students do when they leave here, it justifies why I spend the time doing what I do."

And she's been blessed by the feedback she has received from her colleagues.

Biology Professor Mia Bertagnolli has had a tremendous impact on Poxleitner's career. "Mia's ability to lead with such a calm, cool effectiveness is admirable. She gets things done and makes it look effortless. I admire her high energy and enthusiasm for Gonzaga," Poxleitner says.

Poxleitner also is in awe of the resilience and flexibility of Gonzaga's faculty in their transition to remote delivery of education. "I'm so proud of every one of them, for their tenacity to take on new challenges. I'm excited to see what we can do when we return to the classroom this fall," she says.

Before the pandemic, Poxleitner was ready to proceed with engine revved to build relationships between divisions across campus. Now her primary focus is on "making sure the University we all love proceeds in a positive way to ensure it's still here 50 years from now. And through this process, we all need to think about what higher education in the 21st century looks like.

"Now is a time to put my personal feelings aside and listen more than I talk. That's important to me, and I think that is what leadership is all about," Poxleitner says.

"If we stay together, and do what Gonzaga does best, we'll be OK. But it will take great effort on everybody's part to reach this common goal."
Whitney Franklin
The "Why" is what drives her
Background: From Colbert, Franklin attended Mt. Spokane High School and earned her bachelor's degree from Seattle Pacific in business administration with a concentration in marketing. She is working on her master's here in Organizational Leadership.

Franklin enrolled at Seattle Pacific thinking she wanted to be an accountant. Through a mentorship program she realized that was not her calling. "I told my parents and they said, 'Thank goodness.'"

She got involved in planning and staging events while a student in Seattle. She served as a wedding coordinator following graduation, and moved back to Spokane with her husband and worked for Beacon Hill in events and sales, before settling in as an event coordinator here.

"I thought I was in way over my head here," Franklin says. "But I've found that my passion aligns with my faith and my work. I'm grateful to be here."
She now serves as director of special events for Donor Relations. But it didn't come without trial under fire. Her first big event was staging the Kennedy Apartment dedication in 2007, just over a year after it had burned to the ground at an arsonist's hand. Next came the College of Arts and Sciences' 120-year anniversary celebration and renaming College Hall.

The big change in her job came in 2009 when Thayne McCulloh became president. "He is very thoughtful about the 'why' behind an event, and what impact it will have on donors, which is the primary focus of her work. "It's not just thanking them for their generosity, but showing them the impact they have on Gonzaga students," Franklin says. "I love the creative work, but this focus on the 'why' is what captures my spirit."

Franklin has developed wonderful relationships with colleagues around the University. "I consider Sodexo a part of our team. I've never worked at a place where cross-disciplinary partnerships are so successful. Athletics came up big when we staged a celebration for senior Rick Clark, a non-traditional student who began Giving Back Packs to support homeless in our area. He was once homeless, himself, yet earned a degree and is raising a wonderful family.
Franklin (second from right) with a team of behind-the-scenes helpers in a surprise event with TV celebrity Mike Rowe.
Mike Rowe's Facebook show, "Returning the Favor," did a story on Clark, and the final stop on their tour of campus was filmed in McCarthey Athletic Center. Five hundred Zags surprised Clark with boisterous cheering that would have rivaled any game night in the Kennel. As Clark emerged from the tunnel, he took center stage in front of a framed backdrop of 500 backpacks. Thanks to Whitney Franklin, and a lot of great partners.
Don't think this was easy. Yet it came off without a hitch.

"Planning and staging events is not nearly as glamorous as people think it is. I'm always the last person throwing on my heels before the curtain goes up," Franklin says. "Forbes ranked it as the fifth most stressful job in America last year. It's easy to get wrapped up in the beautiful flowers and pretty linens. But when it's done right, it is all about what the guests get out of it and how they feel when they walk away."

Franklin ranks her best orchestrated event as the Campaign for Gonzaga Kick-off celebration at the Grand Hotel ballroom in 2017. Her biggest event calamity was the 10:30 p.m. fireworks following a Zag basketball game to commemorate the University's 125th anniversary in 2013, resulting in many noise complaints from neighbors.

Like Poxleitner, Franklin serves on the Pandemic Response Task Force, which keeps her busy while starting to build a cohesive team on the Staff Assembly Executive Council, the counterpart to the Faculty Senate. Franklin's hope is that Gonzaga staff will see the entire council as their leaders, not just her.

What she calls her BHAG, her big hairy audacious goal, is working to build trust across the campus, between administration and
staff, faculty and staff, supervisors and employees, and between departments. She also wants the Council to do its part in insuring their work is guided by Gonzaga's mission.

She wants to do a good job of marketing the Staff Assembly's Advocacy Log, which tracks staff feedback through the Assembly's campus area representatives. "I'd like to see us expand its use as an avenue to share staff concerns more broadly with the appropriate people and offices," Franklin says.