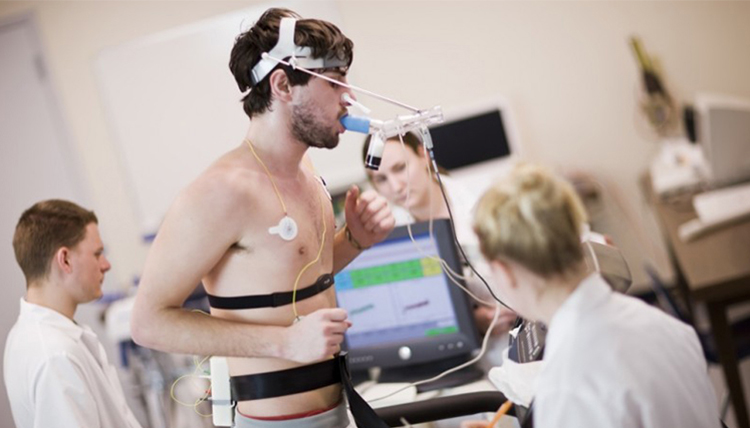 A degree in Human Physiology from Gonzaga requires students develop analytical thinking skills, knowledge of scientific principles and the research process, and an ability to communicate their knowledge to others. Gonzaga's Department of Human Physiology seeks to develop critical thinkers and scientists who are capable of graduate study in disciplines grounded in the study of human anatomy and physiology and form the foundation for careers in health science, allied health sciences, research, teaching and private industry.
Most Gonzaga students that have graduated from our program pursue graduate study and/or training necessary for a variety of careers. These possible careers are represented by the graduate and professional schools listed below that have accepted our graduates. Another representation of who our students are exists in their current career aspirations. A recent survey of our majors on career goals indicates they are interested in pursuing the following careers: Physical Therapist - 52%, Physician - 17%, Physician's Assistant - 14%, Other - 17% (including Occupational Therapist, Sports Medicine, Pharmacist and others).
Click here for information about careers in physiology, in general, and human physiology in particular.
Graduate and professional programs and institutions that have accepted our graduates include:
Alternative Medicine

Western Washington University

Biomedical Sciences

Biomechanics

University of Alberta, Calgary
University of Oregon
University of Western Australia

Cardiac Rehabilitation

Chiropractic Medicine

Life Chiropractic College West
Palmer College of Chiropractic

Dental School

Oregon Health & Science University
University of British Columbia

Medical School

Creighton University
Georgetown University
Loma Linda University
Medical College of Wisconsin
Northwest Osteopathic Medical School
Oregon Health and Science University
Tulane University
University of Colorado
University of Nevada
University of Southern California
University of Vermont
University of Washington
Virginia Commonwealth University
Wake Forest University

Physical Therapy

Chapman University
St. Catherine University
Columbia University
Creighton University
Duke University
Eastern Washington University
Emory University
George Washington University
Massachusetts General Institute of Health Professions
Midwestern University
Northwestern University
Old Dominion University
Pacific University
Regis University
Sacred Heart University
Samuel Merrett College
University of California, Stockton
University of Colorado
University of Illinois
University of Maryland
University of Minnesota
University of Montana
University of New England
University of Pittsburgh
University of Puget Sound
University of Southern California
University of St. Augustine
University of Utah
University of Washington
Washington University, St. Louis

Exercise Physiology

Baylor University
Boise State University
Central Washington University
Long Beach State University
Montana State University
Oregon State University
Northern Colorado University
San Diego State University
San Jose State University
Springfield College
University of Denver
University of Oregon
University of Utah
Western Washington University

Health Data Science

Massage Therapy

Inland Massage Institute
Western Washington University

Molecular Physiology

Neurophysiology

University of California, Davis

Nuclear Medicine

Swedish Hospital, Seattle

Nursing

Linfield College
Seattle University
University of Utah

Nutrition

Bastyr University
Washington State University

Occupational Therapy

Belmont University
Colorado State University Public Health
Creighton University
Eastern Washington University
George Washington University
Idaho State University
Midwestern University
Nova Southeastern University
Oregon State University
Tufts University
Tulane University
University of Puget Sound
University of Southern California
University of Washington

Optometry

Ferris State University
Midwestern University
Pacific University
University of Michigan
University of Southern California
Western University of Health Sciences

Physician's Assistant

Midwestern University, Phoenix
University of New Mexico School of Medicine

Public Health

George Washington University
Oregon State University
University of Washington