Finding Community at GU: Dean for Social Justice Leadership & Community Empowerment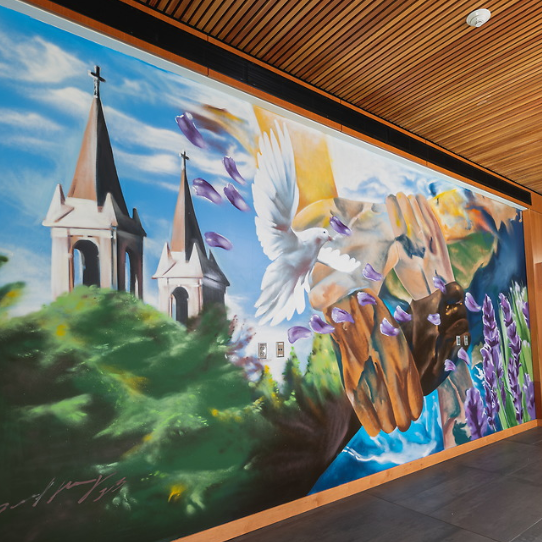 ---
Dear Prospective Student,
Welcome to Gonzaga University! I am welcoming you to GU in the hopes that you decide to come here. My name is Joan Iva Fawcett, and I am the Dean for Social Justice Leadership & Community Empowerment. I would like to tell you about three helpful departments that are here to support all Zags find community and increase their cultural fluency.
UMEC supports the academic and co-curricular experiences of African, Latina/o/x, Asian, Pacific Islander, and Native American students at GU. Additionally, the focus has expanded to meet the needs of a fluid demographic, providing the GU community with educational and social opportunities to raise cultural awareness. UMEC welcomes all to participate in upcoming events and programs in an effort to collectively learn and actively promote social justice. One such program includes the Unity Scholarship, where student recipients are supported by many campus partners, such as the Lincoln LGBTQ+ Resource Center, Payne Center for Leadership Development, Career and Professional Development, and academic programs. UMEC also partners with several campus departments to send students to the Ignatian Family Teach-In for Justice in Washington DC to attend workshops as well as advocate on immigration and environmental issues to Washington State representatives.
The mission of the center is to enhance the well-being and belonging of the LGBTQ+ community. LLRC focuses on three priorities to accomplish this mission 1) Education and Empowerment, 2) Inclusion and Collaboration, and 3) Visibility and Reputation. The strategies used to reach these priority objectives include training programs, such as SAGE (Sexuality and Gender Equity) and SPEAR (Skills for Personal Empowerment, Advocacy and Resilience); academic programming, such as guest lectures and invited speakers; and regular monthly programming for students, faculty, and staff to engage socially, such as Out to Lunch with Allies and Out at GU. LLRC partners with campus stake holders, alumni, and local organizations to increase student access to experts and activists in a variety of fields. As the center continues to expand programming and reach, we envision a community where human difference is affirmed and integrated into the development of all students.
The office is here for you to meet new people, focus on your academics, receive support/resources, and relax. TVRAS+FG often hosts breakfast socials, luncheons, and other fun social events on and off campus, such as line dancing. The office is located on the second floor of Hemmingson in room 203. Please stop by to say hi if you're ever on campus. We look forward to meeting and connecting with you at our events!
These three departments are just a sampling of the many campus resources available to you if you choose to become a Zag. In addition, there are over a hundred student organizations, including a dozen cultural clubs, such as the Association of Latin American Students (ALAS), Black Student Union (BSU), and Jewish Student Union, where students find and create a sense of belonging. We would love it if you decided to make Gonzaga University your home away from home for the next four or so years. If you have questions and curiosities, feel free to reach out. We hope to hear from you and see you soon!
In Solidarity,

Joan Iva C. Fawcett (she|her|hers)
Dean for Social Justice Leadership & Community Empowerment
Gonzaga University
502 East Boone Avenue
Spokane, WA 99258