Gonzaga University Recognized by U.S. News & World Report As One of America's Top 100 National Universities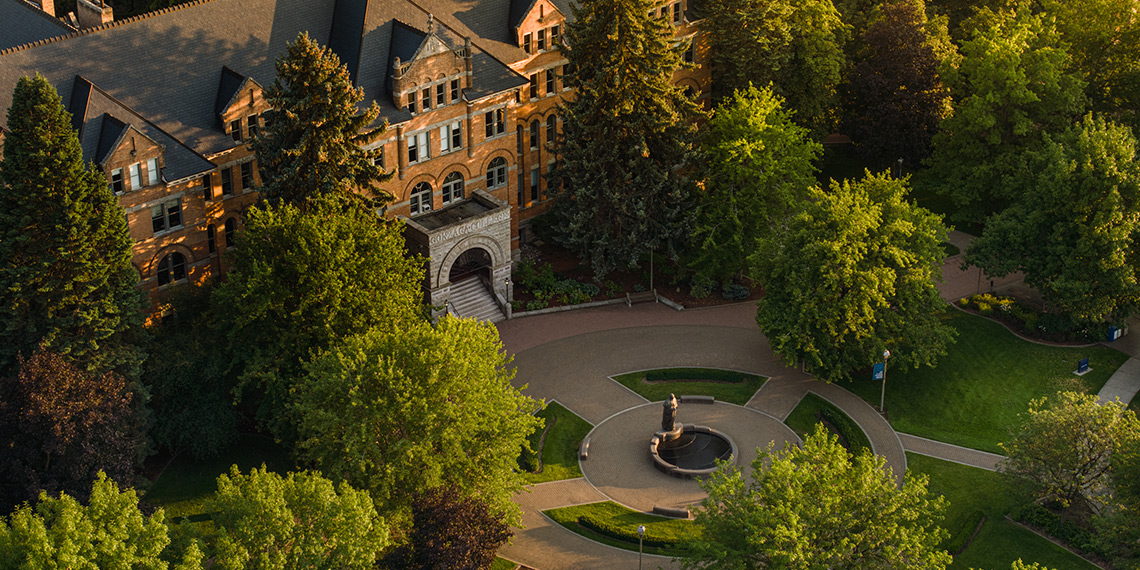 As a result of consistently superb retention and graduation rates, excellence in teaching, and commitment to student access, support, and social mobility, Gonzaga University has been recognized among the Top 100 National Universities by U.S. News & World Report for the fifth consecutive year.
"The faculty and staff of Gonzaga are dedicated to excellence in teaching, learning, and scholarship across the university's programs, and at all levels," said President Thayne McCulloh. "I am gratified to know that this commitment, and the outcomes it produces, are reflected once again in U.S. News & World Report's rankings."
U.S. News & World Report's National University category this year includes 435 schools, ranging from elite private universities to large state research institutions based on criteria established by the Carnegie Classification of Institutions of Higher Education. Ranked national universities offer a full range of undergraduate majors as well as master's and doctoral degrees and emphasize faculty research or award professional practice doctorates.
Excellent academic programs coupled with dedicated faculty and staff continue to result in other important and distinctive outcomes:
97% of students are placed in jobs, graduate programs, military or public and community service (e.g., Peace Corps, Teach for America, Jesuit Volunteers, etc.) in their first year after graduation.
93% of first-year students return for a second year, placing Gonzaga in the top 15% of ranked National Universities.
88% of GU's undergraduate students graduate within six years, compared with the national average of 64%.
These outstanding outcomes are influenced by a 12-to-1 student-to-faculty ratio. More than 42% of all class sections have fewer than 20 students, and only 1% of Gonzaga's classes are larger than 50 students in size.
In addition to being named among the Top 100 schools, Gonzaga has been recognized in U.S. News & World Report as:
Top 3% in undergraduate teaching programs
Top 6% in undergraduate engineering at schools where doctorate is not offered
Top 6% in entrepreneurship
Top 6% in finance
Top 8% in accounting
Top 9% in business management
Top 10 in the country for excellence in service learning
Other programs noted in this year's rankings are a number of GU's undergraduate programs, including business, psychology, computer science, economics and nursing. Gonzaga is named one of the best values in higher education, a best college for veterans, and a Top Performer on Social Mobility, recognizing high graduation rates among students attending with the support of need-based Pell grants.
At a time when colleges and universities must confront issues of access and equity in education, Gonzaga University rose more than 114 positions in socioeconomic mobility. Further, Gonzaga enrolled a robustly diverse class in Fall 2023, with more than 30% of students being from underserved populations.
"These rankings come at a time when Gonzaga is launching its updated
Strategic Plan
, which is focused not only on continued top-tier learning in our core Catholic, Jesuit liberal arts tradition, but also on the ever-developing fields of technology and health sciences," said Provost Sacha Kopp.
"Being recognized as a top performer and best value among National Universities is a reflection of the University's commitment to being one of the country's leading institutions now and well into the future."
As the world becomes increasingly complex, segmented and data-driven, Gonzaga is providing students with opportunities to create positive social change no matter their area of study. The Strategic Plan includes greatly expanded academic offerings with new and updated options that meet them where they are. Examples include: new graduate programs in business analytics, data science and cybersecurity; an online MBA; and new undergraduate degrees in public health, biomedical engineering, and neuroscience (slated to start in fall of 2024). Additionally, the Center for Lifelong Learning, formed in 2022, has introduced certificates in cybersecurity and software engineering, as well as climate action planning.
"Students come to Gonzaga for our holistic approach to education and the opportunities that unfold at a nationally ranked institution," said McCulloh. "A Gonzaga education is rooted in our Jesuit, Catholic, and humanistic heritage, teaching our students care for each other and a commitment to the common good. Grounded in a strong liberal arts tradition, our community supports our students' development of essential critical thinking skills required in an increasingly complex work environment. That, coupled with a wide range of academic offerings, prepares students to excel in today's perpetually evolving and demanding landscape.
"At Gonzaga, we want our students to experience a truly world-class education in the context of an environment that challenges them to develop as people for and with others," said McCulloh. "We are here to help our students develop into their very best selves. While we are proud of these rankings, and to continually be recognized by the U.S. News & World Report, we are most grateful for our staff, faculty, students, families, alumni, donors and supporters – for they truly make this place what it is."
That's not the end of the accolades. See more of our rankings and recognition.
Interested in becoming a Zag?
Academics
School of Education
School of Business Administration
School of Engineering & Applied Sciences
School of Health Sciences
Online Programs
College of Arts & Sciences
Business Administration
Psychology
Computer Science
Economics
Nursing
Master of Business Administration
News Center