Palpable Energy, Contagious Spirit
ESPN College GameDay Comes to Gonzaga
Zags during ESPN College GameDay
At 3 a.m. on a bitterly cold Saturday morning, a roar steadily grew in intensity just outside the doors of McCarthey Athletic Center at Gonzaga University. A line of puffy coats and winter hats wound down the sidewalk and toward the library – more than 1,000 students awaiting their chance to rush toward seats they would never use for the next three hours of stomping, chanting and cheering.
Doors opened at 6 a.m. and Zags rushed to the famed Kennel student section, forming a backdrop of palpable energy for the crew of ESPN's College GameDay on Feb. 25. They would amaze and stupefy the show's hosts, whose live broadcasts most often take place during a gentler mid-morning time zone. If they had questioned whether Gonzaga students would show up for 7 a.m. program, they found the answer before cameras ever rolled.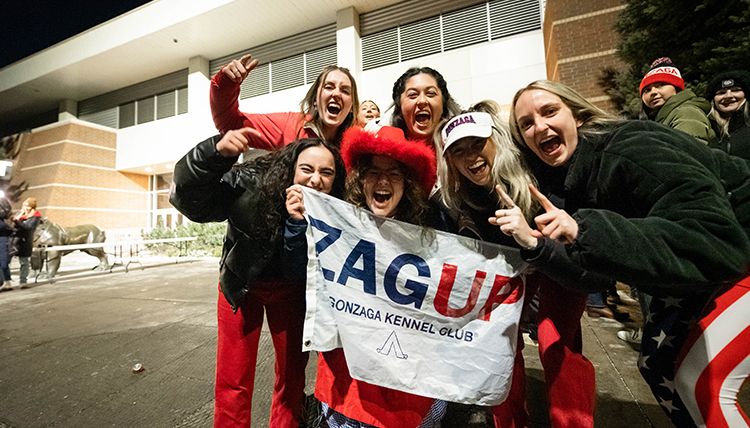 Fans from the Spokane community poured in as well, surrounding the student section and experiencing the Kennel in a way like most never had before. Together, campus and community fans totaled nearly 3,000 to show sports fans across the country what Zag Nation looks and feels like. Toddlers (like "Tiny Timme") and great-grandmothers and all ages in between gathered for a spectacle they'd never forget.

ESPN sports commentators Seth Greenberg, Jay Bilas, Sean Farnham and Rece Davis proudly declared they'd never seen a student display for College GameDay like it. Greenberg posed for selfies with students in celebratory costumes. Davis stomped to Zombie Nation as students shook the stands. There was no way these professional announcers could maintain their usual cool demeanor from the chairs of their staged TV set on the basketball court.

For Zag fans, the experience was like none other. For GU's basketball competitors, it – no doubt – was unnerving. And for prospective Gonzaga students, it just may have been the right incentive to enroll at this noteworthy Jesuit college in the Pacific Northwest.

Outside the athletic center, fans watched on TV, online and through social media, looking for a dose of that early morning energy. Thousands of people engaged with Gonzaga through its social accounts and web stories, virtually joining the enthusiasm of students in the Kennel and academic experiences alike.

Zag mom Karen Archibald Parks commented on a GU Facebook post showing the vibe of the raucous student section early that Saturday:
"This is why my freshman chose Gonzaga. She is having the time of her life!"
And meanwhile, hundreds of people devoured stories about who Zags are when they aren't in painted faces looking for a chance to say hi to mom and dad through ESPN. Take, for example, a piece written by Rick Clark ('19) about his experience talking with a class of student-athletes about how to gain traction for important causes on social media, and the friendship he developed with Gonzaga basketball player Rasir Bolton ('22) who wanted to make a difference in the community. Fans also enjoyed a story about current senior Mateo Valdez ('24) who, with support from faculty in the sport management program, developed a club that is successfully contracting with major national sports teams to provide consulting services.


Other students had incredible opportunities to gain insights into what their real-world careers may look like after graduation.
Broadcast journalism student Elise Jawed ('23) reported live on ESPN, as her fellow broadcaster friends with GUTV shot live segments as part of Countdown to GameDay. McKenna Round ('23), a business major studying marketing, worked as the social media intern for Jay Bilas throughout the GameDay experience. "I was able to follow him around behind the scenes to capture the show and all the hard work that goes into its success. It was such a rewarding experience to see the impact GameDay had on the Gonzaga community, and it makes me so excited to hopefully work in the sports industry after I graduate," she says.
All the excitement could have all dwindled as students returned to their rooms and napped before hitting the homework. But that wasn't in the cards for Zags on Saturday. The Kennel would fill again in the evening to reenact the early morning energy for the men's basketball team's last West Coast Conference game against rivals from Saint Mary's. Still soaring on a high from the morning, Farnham couldn't resist crowd-surfing through the student body (and proudly showcases that on his Twitter account). The day ended with WCC regular season championships for both the men's and women's teams, and a lingering feeling of euphoria that still hangs across campus and through the world of Zag fans.


Don't take our word for it. See what others had to say as well.
Feel the energy in this 45-second clip from Gonzaga
Academics
Student Life
Alumni