Life of Spike: The Story of Gonzaga's Mascot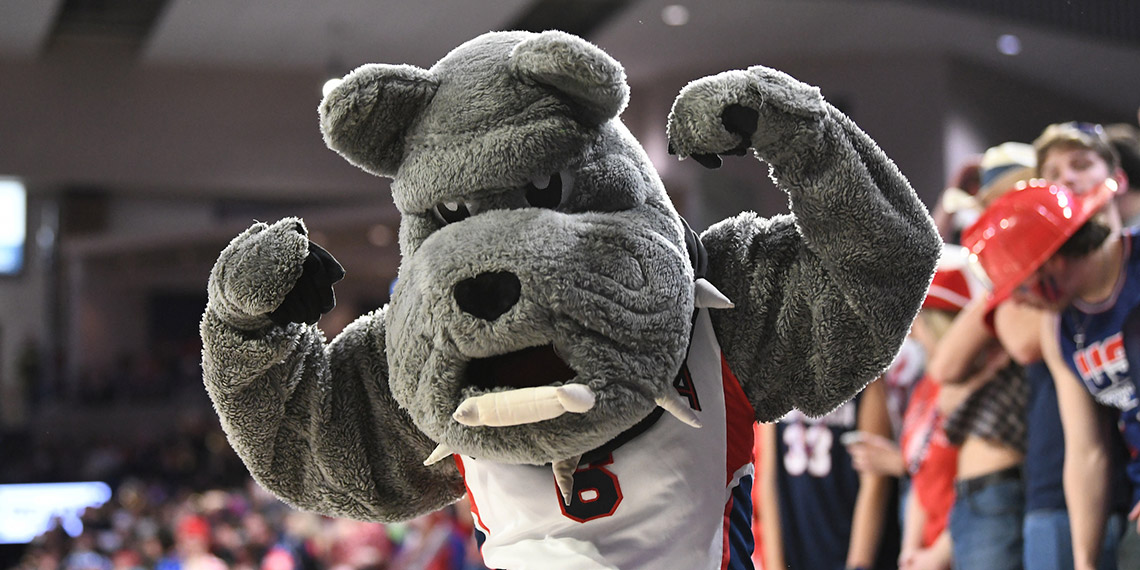 When a $500 mail order was placed for Gonzaga's first bulldog mascot outfit, no one could've imagined that Spike would go on to ham it up with ESPN's College GameDay and star in commercials like Nissan's "Road 2 Final Four" and Nike's "Welcome to Brackettville."
In the 1980s, Dale Goodwin was Gonzaga's Sports Information Director. The Athletic Department's utility player, he oversaw everything from press releases and media guides to gym set-up, game promotions, cheerleaders and the Kennel Club.
For decades, live bulldogs had served as Gonzaga's mascot. With colorful names like Bullet, Michael O'Shaugnessy (Yes, that was the name of one of the dogs) and Salty, these canines made for great photo-ops, but they seldom felt very comfortable in loud crowds of people.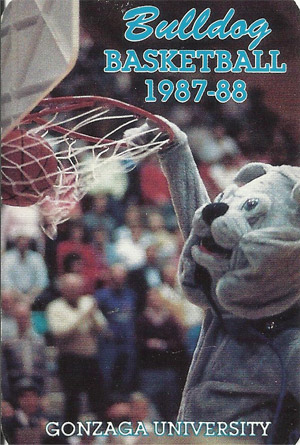 Most notably, Salty charged the court during a game against Idaho in the 1960s and bit a referee – an event that caught the attention of Sports Illustrated and left the referee to remark, "You never know who's going to turn on you."
When Goodwin arrived at Gonzaga in 1981, Captain Zag, aka Mike Griffin, led the student charge at basketball games, the caped, sword-bearing crusader exciting the crowd. But when his time was done, a void was left.
So, in 1985, Goodwin priced and bought the first Bulldog costume through mail order, conducted a student survey to name the new mascot and orchestrated tryouts to find the student with the right mentality and athletic gifts to capably fill the costume and raise the spirits in old Kennedy Pavilion.
The first Spike
With encouragement from cheerleader Tim Rausch, Lee Mauney of Hatchie Bottom, Mississippi, headed to tryouts. He recalls the cheer coach Christy Lane asking him if he'd played sports in high school (he had, basketball and baseball) and if he would be available for every home game (he assured her he was all in). But it may have been his accent that won her over.
"You guys from the south are funny. You'd be great for this," she said.
With that, the first Spike was born. Mauney, who now works as a therapist and has several acting credits to his name, remembers "being scared to death" about whether the Kennel Club would embrace him.
But the student fan section rallied behind him, and as is always the case at Gonzaga, the crowd followed their enthusiastic lead. Mauney poured himself into the role, losing between 7 and 10 pounds as he ran, jumped and waved for the audience in the hot suit.
Behind the mask, the Gonzaga faithful were helping him in a way they could have never imagined. Prior to his move to Spokane, his best friend died in a motorcycle accident.
"Spike helped heal me by getting me out of my head," he says. "I loved spreading my energy to the crowd. The kindness of all the people who supported me was special."
"Lee presented a wonderful example for others to follow," says Goodwin, who's now in his 42nd year working at Gonzaga. "He was the first, and in my mind, the best."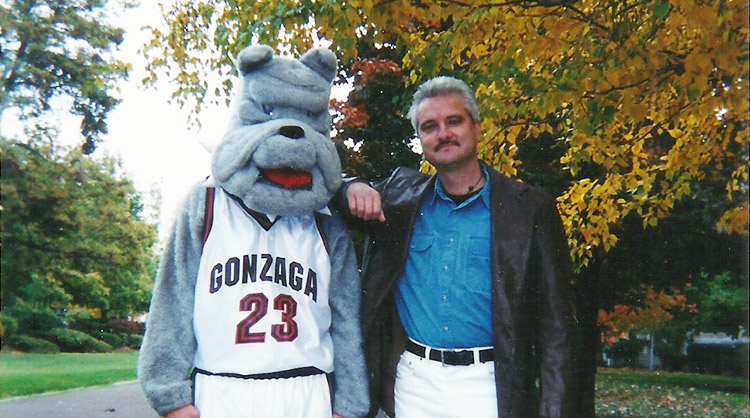 Carrying the torch
By the 1990s, Gonzaga sunset the mail order Spike costume, making way for a suit more like what we're used to seeing today. While the newer costumes certainly have a more modern look and feel, Claire Silva and Dan Futrell, who both served as Spike in the 2000s, shared Mauney's sentiments about the challenges of performing while wearing the bulldog's mammoth head and heavy coat.
"It didn't fit on your head, so we had to wear a baseball helmet with a chin strap underneath it just to keep it in place," says Silva, who is now Gonzaga's associate director of Admission.
Standing 5-foot-1 with a background in high school cheerleading and stunts, Silva and her teammates helped literally take Spike to new heights. Some routines placed her atop a stack of three people, all while wearing a clunky bulldog head with no peripheral vision.
"That was at least one benefit of the baseball helmet," says Silva. "I felt safer knowing there was some padding if I fell."
A crowd favorite was the "Surfin' USA" stunt in which Silva would surf on top of another bigger Spike's back while the iconic Beach Boys song filled the stadium.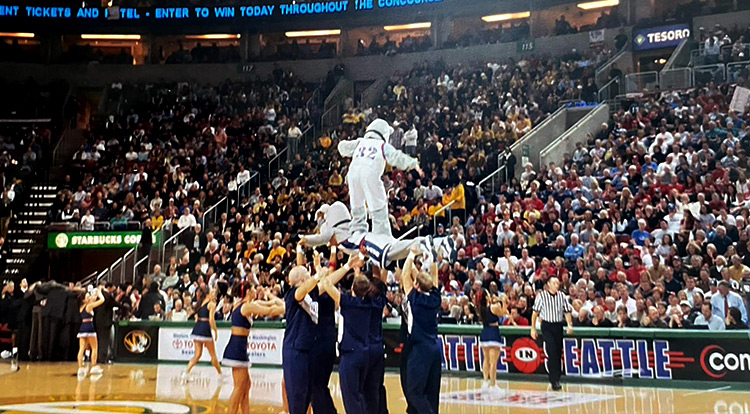 Unlike Silva, Futrell had no background in cheer. He ran track and cross country for Gonzaga, and one of the assistant coaches, Steve Kramer, doubled as the cheer coach. After years of joking with Kramer that he was going to try out for Spike, his senior year he finally decided to give it a go and surprised him at tryouts.
With his running background, the fitness test was a breeze, but the second day he was tasked with performing a routine for the judges.
"The whole day I was like, 'Man, I don't know what I'm going to do.' So, I went to Value Village and got a skateboard. I was allowed to pick a song, so I rode in to a Van Halen song with the Spike head on. I ran around, had a good time and did some acrobatics. And that was that."
On top of his track and cross country commitments, Futrell was a cadet in Gonzaga's ROTC program. One day he had to head straight from a training exercise at Camp Seven Mile to perform as Spike, with no time to clean up in between.
One can assume this marked the first and last time a student donned the Spike costume with camo face paint on underneath.
Futrell went on to serve two tours in Iraq. He later gained recognition for a harrowing mountaineering adventure to retrieve the so-called "black box" of Eastern Air Lines Flight 980 and now works helping veterans as the CEO of the Pat Tillman foundation.
"Looking back, I was about to go into the Army as an infantryman and go through Ranger school and all sorts of stuff," says Futrell. "You could say I probably had no business doing Spike, but I'm still really glad I did it because it was just a lot of fun. And sometimes things can just be fun."
Secret identity
Gonzaga mascots are asked to keep their identities private as much as possible. For students who play Spike, part of the fun is engaging with classmates and fans who know them by day, but who have no idea they're behind the mask. At the end of the year, the Gonzaga Bulletin publishes an article revealing all the graduating Spikes.
"I took a bunch of Instagram screenshots of friends that had posted pictures with Spike," says Joey Avila, class of 2015. "Then, after the article reveal, I went around to my friends and said, 'This right here. This was me in the picture with you.'"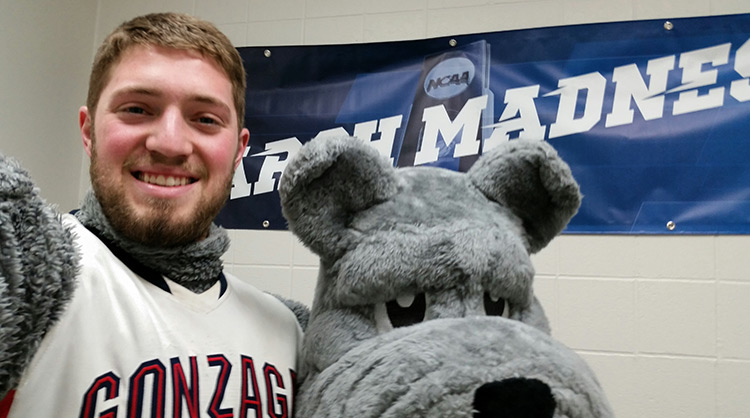 Avila, who went on to earn a Ph.D. in biomedical engineering and now works for Tesla, even kept his role as Spike hidden from his roommates and closest friends. That is until the men's team advanced to the Sweet Sixteen in the NCAA tournament, and Avila was asked to make the trip to Houston with them.
"At that point, I had to tell them," he says. "I was going to be gone for like an entire week, and they would have been very suspicious."
One of Avila's close friends was roommate Ben Goodwin, the son of Dale Goodwin, who spearheaded the creation of Spike decades earlier. Both Goodwins got a kick out of the reveal. Another friend was classmate Matt Elmore, a Spokane native and lifelong Zags fan.
"I have this very vivid memory of telling Matt. We were out in front of the Crosby (Student Center), and I whispered it in his ear. And he just freaked out. He was like running around in front of me because he was so excited he knew Spike."
Paying it forward
Throughout the decades – and all the big games and fun antics – Spike's job has pretty much stayed the same: to bring a smile to the faces of Zag Nation and beyond, especially the youngsters.
"I tried to approach kids at their level, to get down on my knees and stick out a paw," says Mauney, the first Spike. "Their response was priceless. It reminded me that someone is watching me all the time, and to be sensitive to all people."
Silva, too, recalled the interactions with children as one of the highlights of her time as Spike.
"A friend of mine asked me if I could make a guest appearance at her kids' elementary school, so I did a couple classroom visits. Those are really good memories."
Avila echoed their sentiments.
"One thing I took away was the profound impact you can have on people, particularly kids, by bringing them joy," he says.
"Even though without the Spike costume, I don't have quite the ability to get people to smile just by waving at them, it showed me that whatever I can do to bring some joy into someone's life is something I want to do."
Reader Responses
When we published this story and shared it on social media, we got some great responses from former Spikes and friends. Enjoy!
Garrett Gilchrist
"My favorite and scariest stunt. Thx GU cheer 1991-2001." (Photo below on left)
Elisa Heide
"I was Spike the Bulldog one day in 2015 for 2 hours for a faculty/staff event, does that count?" (Photo below on right)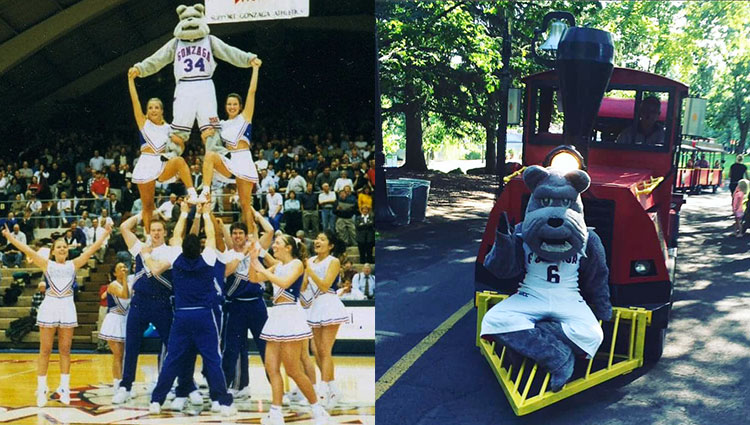 Patrick S-r
"Spike 09-13! Derrick Gomez and I worked on getting Spike an actual locker room (shout out to the band closet) and Gatorade supplied by the lovely folks at Sodexo." (Photo below on left)
Boone Joseph
Shared a great photo of himself as Spike. (Below on right)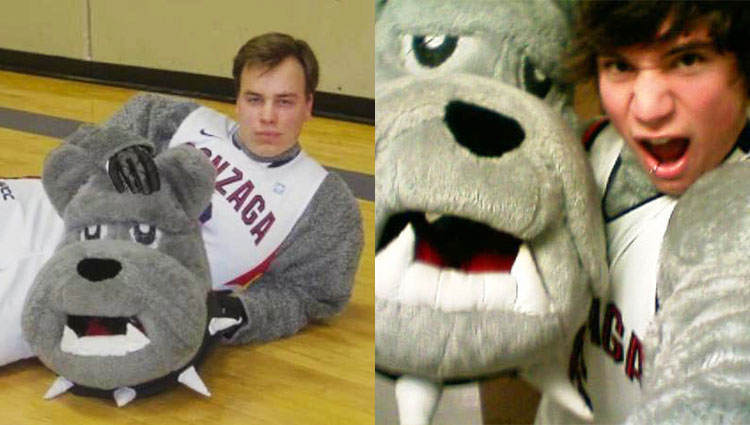 Raymond Loyola
"I went to one practice to see if I could cut it as Spike. I was wearing the mascot head, and the first time the cheerleaders threw me in the air was one of the most terrifying moments of my life. Never again. Props to the Spikes out there."
Captain Zag
Several readers shared fond memories of Captain Zag, played by Mike Griffin, who rallied the crowd for a couple years in the 1980s before Spike took the helm as Gonzaga's mascot.
Chris Jones
"Spike? Whatever happened to Captain Zag?"
Regina Johnson
"That's what I was going to post! Mike Griffin!"
Shane McGinn
"Post some pix of Captain Zag. THE original. If you don't know who he is you got on the train AFTER things got good..."
Check out our basketball page for more hoops-inspired stories and content.