How Gonzaga Bulldog Rasir Bolton Captured a Community's Heart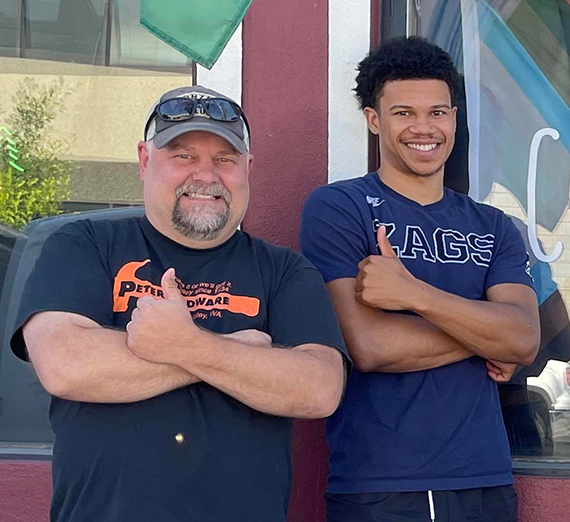 ---
Editor's Note: In his 40s, high-school dropout Rick Clark ('19) took a chance on himself. Living in his car, he went to Spokane Community College, then enrolled at Gonzaga and began building a nonprofit to serve others experiencing homelessness, while completing a degree in communications. Today, Rick is not only the executive director of Giving Back Packs, but also the chief idea man of Spokane Quaranteam, a grassroots effort to save struggling Spokane businesses during the pandemic. On the side – and honestly just for fun – Rick's oversight of Spokane Memes has turned into a cash cow on Facebook.

Rick would never have imagined making a living in these ways, or amassing the kinds of followers on social media that most marketing experts only dream of having. Part of his success is his unstoppable likeability among people of all ages and stages in life, and his unwavering passion for helping others.

These are the realities that led Rick Clark into a close friendship with Rasir Bolton ('23), #45 with the Gonzaga Bulldogs, from Petersburg, Virginia.

This is their story, as told by Rick.
I met Rasir Bolton in fall 2021 when I was invited to speak to a class of student-athletes at Gonzaga. The class was Personal Branding and Business for Athletes, taught by Professor Peggy Sue Loroz and Ken Anderson in the School of Business Administration, to help students understand new NCAA rules around name, image and likeness (NIL), which allows them to earn money for themselves but to use their NIL influence to help the community in a variety of ways.
To make a long story short, we raised over $9,000 that day in one 50-minute class. I went live on Facebook in front of the students and let 40,000+ Spokane community members know that I was with these amazing athletes and we wanted to raise money to feed people in Spokane who are struggling with food insecurities. The students got to watch the donations coming in live, like a winning slot machine at the casino. My phone kept buzzing and chirping and the students kept cheering, hollering, jumping up and down. It was an amazing moment, for sure.
When the class was over and the smoke had cleared, one lone student in the back was making his way down the stairs toward me. He approached me with a soft but kind voice: "Hey Rick, I would love to come out with you sometime when you help the community."
I was pleasantly surprised and asked his name. He said, "My name is Rasir, but you can call me Ra." I could tell in his eyes and his voice that he really wanted to help me help others. It wasn't a ploy or a gimmick and he had nobody to impress. It was him and I standing there, two strangers.
We exchanged phone numbers and we went on our way. I was very busy that week and was not able to reach out to him right away but that didn't matter because Ra reached out to me. He texted me: "Can I help you deliver the meals we raised money for?" And just like that, our friendship was off and running.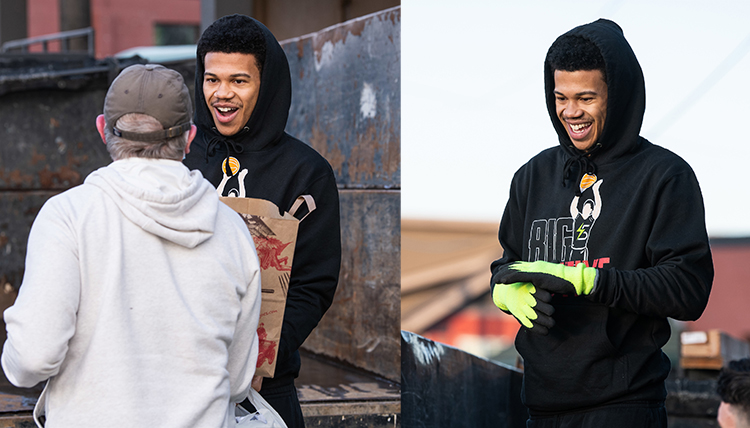 Rasir helped me pick up 100 meals from a downtown restaurant and deliver them to a women's crisis center. I am in my 50s and move a bit slower than I used to and Rasir carried nearly all the boxes to the van from the restaurant and then carried them all in once we got to the center. He was not afraid to work and he did it all with the biggest smile I'd ever seen. We talked about helping others and the importance of it and Rasir told me that he wanted to someday go back home to Virginia and start a foundation to help people. I quickly learned that this servant's heart is in him — it is part of who he is.
As we continued to work together, the community started getting wind of this young Zag and his giving nature. People fell in love with Rasir. He was stepping out of his comfort zone and even doing interviews with the news channels in the parking lots and wherever we worked. Here I was, running around town helping others with one of the country's top college basketball players. I didn't want it to end.
Every time that Ra's schedule would allow, in between classes and basketball practice, he would ask me what was next. We purchased 300 Christmas trees that winter to give away to families who couldn't afford them. Yes, we set up Spokane's first FREE Christmas Tree Stand in a downtown grocery store parking lot. Rasir was loading trees into cars and meeting people who adored him and loved what he did on the court. But honestly, I believe he gained more than those families did. He also inspired his teammates to join him in community service, and some of them have continued in related work for the greater good.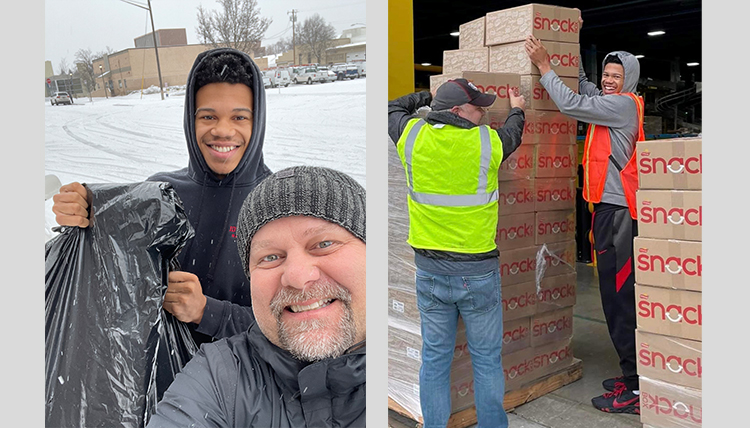 I would need a lot more space to write and explain all the things that Rasir has done in his short time here in Spokane. The mayor gave him a framed award in front of a packed McCarthey Athletic Center to honor the work he does. He humbly accepted it and minutes later was dunking the basketball as if it were just another day.
I have truly loved becoming friends with Rasir Bolton and I know that his life will take him many places and very far from Spokane. His heart is too big for one city; he will touch many lives going forward. But I also know that we are connected in a very special way that will always be right here wherever I go. And for that I am truly blessed.
Big Fo' Five thank you for coming to Spokane, thank you for choosing Gonzaga, and thank you for caring about others. You will be missed.
See more of our favorite stories about Zag basketball players