Choosing Joy
A Gonzaga Magazine Feature on Happiness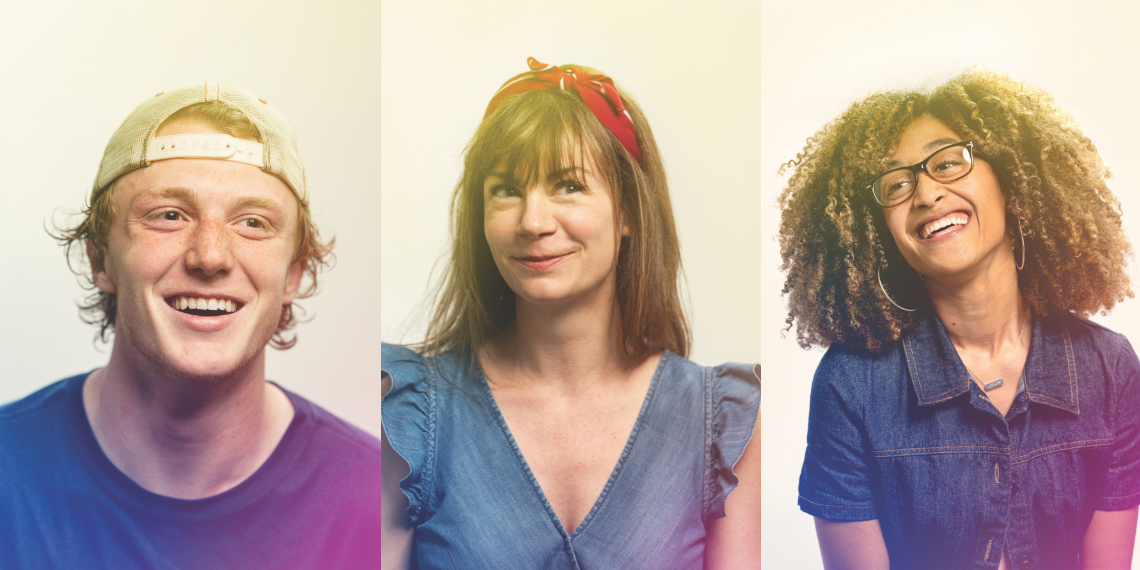 There were hundreds of them. Maybe thousands. Photos of people smiling or laughing, not posed, but captured in moments of authentic happiness.
I was searching Gonzaga's photo repository for the perfect image to accompany a story on our website, and there they were. A faculty member beaming with energy at the first Mass of the school year. A security officer engaged in great conversation at an employee picnic. Students enjoying carefree moments between classes. A dog catching a Frisbee, his mouth wide and smiling.
That was all it took to decide our next issue of Gonzaga Magazine would feature joy. We solicited input from the campus community and compiled all the responses: people, actions and activities that bubble up happiness. Here, we share just a snapshot of those replies, in hopes that this collection brings you joy, makes you smile.
What Brings You Joy, Makes You Laugh?
Friends: Samara (Hanks) Strba ('11)
For the last four years, my husband and I have hosted an annual Friendsgiving gathering with our fellow Zags in Seattle, including Nick Salisbury, Brittney (Beatty) Salisbury, Allison Berry, Brian Russell, Jason Beecroft, Joey Wakefield, Emily (Ehlers) Wakefield, Spencer Townley and Adam Skarr, all from the class of 2011. It's always a great reminder of the joy that our Zag community continues to bring us. Our friends from Gonzaga have truly become our second family.
Community: Jenny Stuchell ('13)
After graduating from Gonzaga, I started my new chapter of life – integrating into the Spokane community and trying to figure out what came next. It wasn't all easy, but I felt so much joy (and hope) as I soul-searched for my new career path and community. This joy stemmed from the support of my Gonzaga alumni and professor community. There were so many people who helped guide me, and with this great support I was able to focus and start a company. To this day I find so much joy in reconnecting with professors at Gonzaga who allow me to come visit their entrepreneur classes, or who just sit down with me for a cup of coffee to catch up or get some advice. Joy is found in this community of mine - not just Spokane but the Spokane Gonzaga community, who really support their own, for life.
Children as Happy Adults: Sean Bailey ('93, '99)
What makes me happy, gives me joy, and makes me laugh? Laughter comes easily when I get together with our dear GU friends/family and share stories. My wife (Barb Ward, '91) and I have been so blessed with amazing people and experiences in our lives. Joy and happiness come from gratitude and positivity in outlook of life. But besides that, GU basketball contributes to my happiness, for sure. But more seriously and sincerely significant is when I am witness to my own adult children's happiness and feeling of accomplishment. This goes equally with my middle-school students.
Moments with Rui: Erica Shea ('02)
I am joyful when I get to watch my children discover their own joy. It happens when they encounter something in the moment, without wondering what will happen next or how others might perceive it. (Fr. Kuder would be so proud of them!) For example, we recently brought home a new puppy. We named him Rui (as a Zag-loving family might do). Every day Rui does something that gets my children into fits of giggles. I stop worrying about lists and tasks and listen to them laugh. There is nothing more joyful than that sound and watching them encounter these moments for the first time.
All the Feels: Sarah Edwards ('03)
"Sarah Smiles" on Instagram is a showcase of incredible art created from flowers discarded from floral shops in Spokane. With this selection, she wrote:
"People say, 'Choose joy.' I say it, too. I know this can actually be quite hard to choose. It's not that simple. Sometimes all I want is to scream, or to throw something. Sometimes I just want to be angry. So I let myself. If I deny my anger/pain/sadness and try to smother them in 'joy,' they will grow. So I feel them, however uncomfortable. Then I find my way back to joy just as quickly as I can. Yes, choose joy. But also choose to honor all your feelings. They all have a place." Sarah has a second page curated with others, called "The Joy Spreaders." On it, she wrote, "Will you choose joy? Choose to consciously spread joy. It's contagious, you know."
Detachment: Peggy Sue Loroz ('95)
My favorite class as an undergraduate was Christian Leadership with Father Steve Kuder. One of the texts was "The Way to Love" by Anthony DeMello, S.J., who wrote: "What can one do to attain happiness? There is nothing you or anyone else can do. Why? For the simple reason that you are already happy right now. … Why do you not experience this happiness which is already yours? Because your mind is creating unhappiness all the time. Drop this unhappiness of your mind and the happiness that has always been yours will instantly surface."
Fr. Kuder spent a lot of time helping us understand the very Ignatian idea that awareness and detachment are the keys to love and happiness. My 20-year-old self thought she was pretty happy basking in her blissful ignorance, proficiently toting her emotional baggage like a student backpacking around Europe, so she struggled mightily at first with the notion of finding joy and love in the acts of truly seeing and genuinely letting go. To be honest, I am still learning and living these lessons 25 years later, but I regularly offer a prayer of gratitude for Fr. Kuder and other Jesuits who pointed me in the right direction and have reoriented me when I have started to drift along the way.
(Read a selection by Fr. Kuder: "Following Jesus into His Joy")
Happy Gonzaga Staff
Allison Peterson, Office of the President, wrote: "Here's a list of the happiest Zags I know: Jim White, Molly Spilker, Ray Angle, Jose Hernandez, Cindy Perry, Dale Goodwin, Jeff Bunch, Jackie Van Allen, Borre Ulrichsen and Steve Hess, S.J."
Kyle Myers, Center for Cura Personalis, shared: "When I think of someone that embodies happiness and joy, I think of Lisa Owens in Housing & Residence Life. She is always welcoming, always finds the positive sides of situations, always cheerful."
Called Out: Students share their picks for happiest people at Gonzaga
Konner Sauve ('19), notorious for building up others, named these individuals: "Monica Bartlett is my adviser. She exudes joy for the work she does in studying gratitude. Her passion is an inspiration to my own future career goals. Jamie Osborn ('19) fully gives of herself to serving others and there is never a time she does not have a smile on her face. Madelyn Hoban ('19) is never without a hearty laugh with friends.She brings joy to both our Gonzaga and Spokane community by giving her love through various acts of service."
Hoban's name came up in another message, this one from Ethan Kane ('19). "Madelyn is hands-down the most happiness-exuding Zag I've ever seen. She beams with joy and one can't help but beam after talking with her." Kane also noted, "If you are looking for a happiness-inspiring event, come to a GUSR play practice. Joy is there in a palpable and heart-warming way."
Asked how we foster more of both the fleeting and the long-term positive that makes life enjoyable, Tori Tlachac ('19) responded: "I think we each need to take more time out of our day to check in and let each other know how much we care. I realize that people are busy, but we should try to make sure our friends and family remain a priority amongst all the chaos. Engaging with friends in various endeavors throughout college has been invaluable – something I will treasure for the rest of my life."
"Fifty percent of your happiness/joy is genetically set, 10% is influenced by circumstances and 40% is influenced by managing our thoughts and our intentional activity," says Hertz, citing Sonja Lyubormirsky's "The How of Happiness."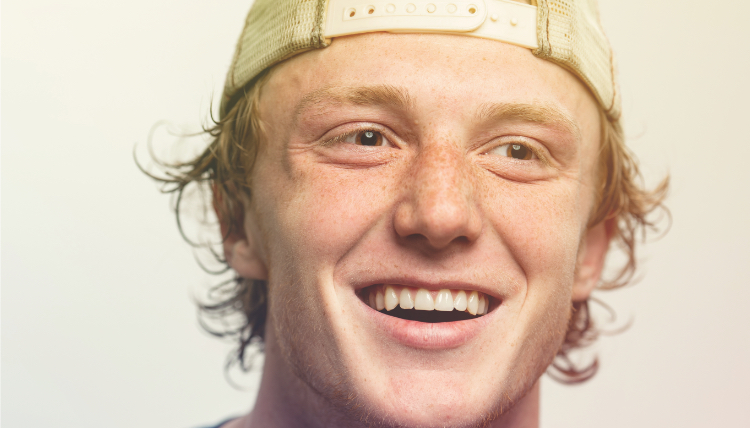 Jackson Wills ('20)
Keys to happiness
Be healthy in mind, body and soul. Be conscious of what's going on in your life, and the kinds of decisions you are making. It's important not to place too much emphasis on not being sad. You cannot be happy all the time.
On figuring it out
It's dangerous to compare your happiness to someone else's. I think we are all more the same than we think, but still, the techniques that work for me will not work for everyone and part of the
journey is figuring it out for yourself.
Turning it around
The main thing that gets me up when I'm down is other people. Sometimes one good conversation is enough to completely turn my mood around. Or to write letters of appreciation in my head to the people I love.

Monica Bartlett, Associate Professor of Psychology
What makes you laugh?
My husband! It's one of several reasons that I married him. Also, the sounds that goats make and Chris Farley's "Saturday Night Live" skits.
Every-day delights
A walk in the sun, an opalescent beetle crossing the sidewalk, a hug from my children, a good cup of coffee. I'm a huge fan of embracing small beauty and joy as those things add up to a great deal of happiness.
What brings you happiness?
My family — immensely. Photography and travel. A job that allows me to continue learning. The horse chestnut trees outside my office window, our neighbor's little Boston Terrier that barks like a man clearing his throat, an emerging storm bruising the Rocky Mountain sky just outside of Browning, Montana.

August Corppetts ('21)
On long-term positivity
Every morning I declare that today will be spectacular, and remind myself that I am living my wildest dreams. Attending my dream college was all I thought about since I was 8 years old, and now that I am here I find myself looking toward the next step in life. By centering myself and living in the moment, I hope to cultivate positivity and optimism for my remaining time here.
When I hear "joy"…
I immediately think of my sister, Emmarae. She is the most radiant person I know; she's naturally unafraid to be herself and encourages others to do the same, has a kind spirit and understanding heart. She represents joy for me because of her outlook on the world, her passion for learning, and her unwavering support.
Fulfilling my purpose
I am absolutely in love with what I am studying, and find fulfillment from my coursework as a political science major with minors in women's and gender studies and leadership. I want to create a more equitable and inclusive world to live in by continuing to educate myself on ways to fight injustice, and sharing my story. As long as I can inspire young women who also have marginalized identities to never let society frame their existence, and get people to start difficult dialogue on topics that are ignored, I will fulfill my purpose.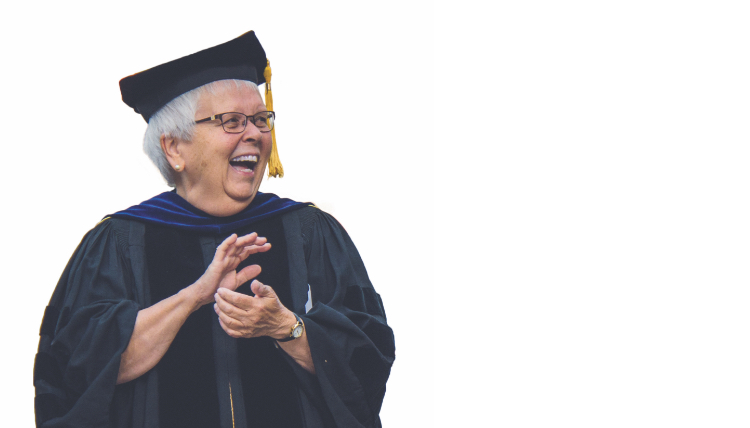 Embrace your calling with passion if you want to discover joy
Sr. Joy Milos, CSJ | Professor Emerita, Religious Studies
After a crazy-making first year of teaching, I finally realized that if I embraced my call to teach, with all the energy it involved, it brought me joy. Fifty-two years later, that's still true.
Having discovered that for myself, I've invited students over the years to discern and embrace their own callings with passion if they want to discover joy. Watching them do that always delights me. To help them along, I've often shared some insights about that process.
Joy isn't earned. It always comes as gift. It's discovered, embraced, celebrated and shared.
Joy needs to spill over into the lives of others. Tagore, the great Indian artist, writer and Nobel Prize recipient, summarized it well. "I slept and dreamt that life was joy. I awoke and saw that life
was service. I acted and behold, service was joy."
Joy is woven into the fabric of everyday life. If we think it only appears in ecstatic high points, we'll miss much joy in life. And it helps to slow down on occasion to really see what's in front of us.
Gratitude is the invariable companion of joy. Together they transform ordinary moments, jobs and relationships into blessings.
Choose Joy: Explore more
Help keep Zags happy: Support student health & wellness services.
Alumni
Health & Wellness
Alumni
Gonzaga Magazine