Title IX: Five Decades of Positive Changes on Gonzaga Women's Sports Scene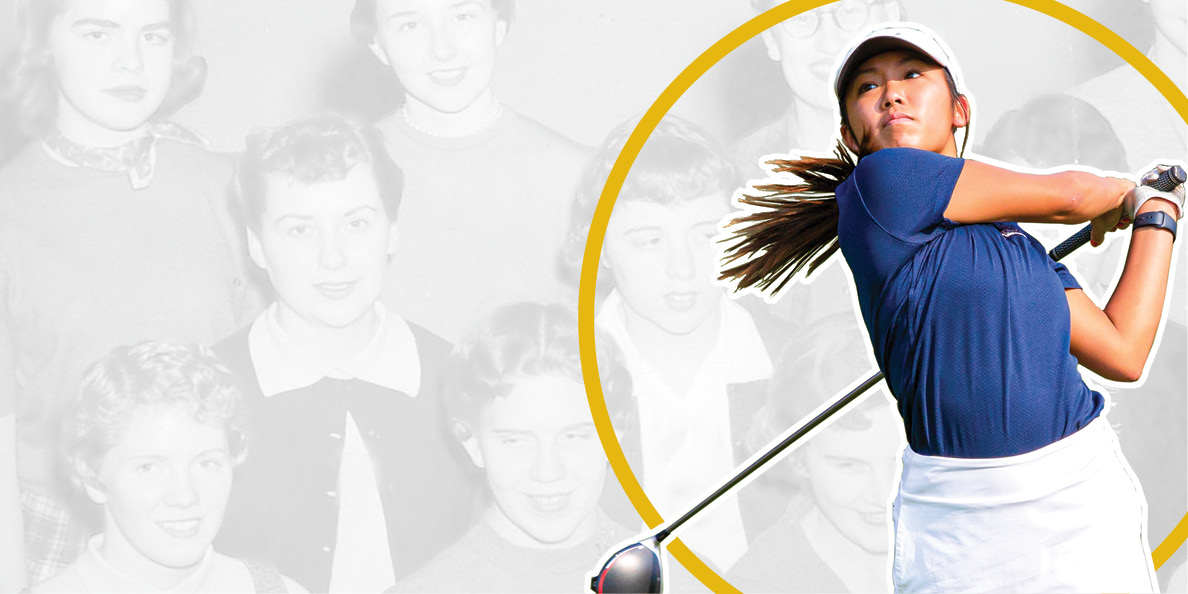 37 Words & 50 Years
It took just 37 words to change the educational experience for women and girls in the United States. This civil rights legislation, which applies to all schools and educational agencies, sought to break down gender-based barriers, but also to improve prevention and reporting of sexbased harassment and assault. Title IX is a 1972 amendment to the Civil Rights Act, stating: "No person in the United States shall, on the basis of sex, be excluded from participation in, be denied the benefits of, or be subjected to discrimination under any education program or activity receiving federal financial assistance."
The law covers most K-12 schools, colleges and universities, as well as vocational schools, libraries and museums. It applies to tens of millions of students, as well as educators. It addresses sexual assault and violence on campus, employment discrimination, retaliation and gender bias.
While the scope of its impact is much broader than athletics, we take a look here at what changed for women in sports at Gonzaga specifically.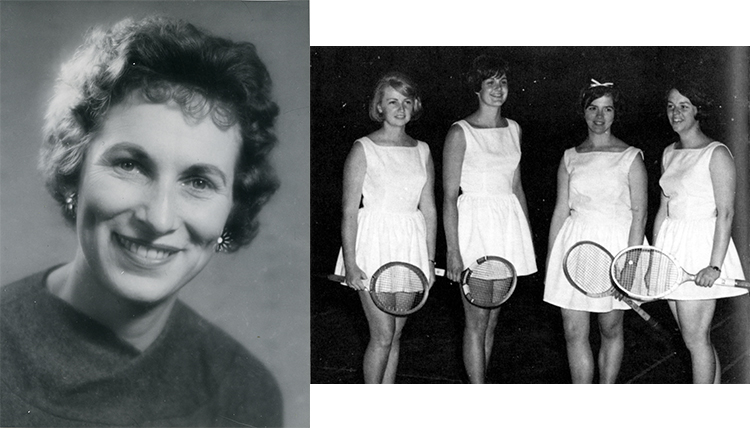 Marjorie Anderson, first women's athletic director, and the women's tennis team of 1964.
In the 1970s, women coaches left their jobs if they became pregnant, remembers Diane Tunnell, retired physical education professor and associate dean of education at Gonzaga.
Patty Naigle Martin ('78) remembers that weight-training equipment was not available to women unless it was for the purpose of recovering from injury.
Shannon Strahl ('99) and her teammates on the women's soccer team in the mid-1990s wore men's uniforms because activewear for women's bodies was not readily available.
These are but a few examples of the limitations women in collegiate sports experienced before and after Title IX was enacted, legally requiring gender equity. In this 50th anniversary year of Title IX, we take a look at changes at Gonzaga over those five decades.
Today, the GU women's basketball team flies on charter jets just like the men's team, and their locker room compares with any men's clubhouse in the country. Strahl, the soccer player who wore men's shorts 30 years ago, is now deputy athletic director and chief operating officer, second in charge of Gonzaga athletics. Mike Roth, athletic director (1997-2021) guided these equity upgrades and championed support for women's athletics through the last 25 years.
In the Beginning
In the early years of Title IX, Gonzaga offered women's basketball, volleyball, tennis and cross country – with no athletic scholarships and little funding. Teams traveled to area competitions in personal cars or aged university vans. Men's and women's athletic departments were separate.
Marjorie Anderson was the women's athletic director and was often referred to as "the mother of Gonzaga women's athletics."
Tunnell remembers teaching in high schools in the 1970s when there were separate men's and women's gyms, and the paths to each seldom crossed. "At the college level, some institutions maintained separate athletic administrators for men's and women's sports well into the 1990s."
Jon Sunderland, retired physical education professor and former dean of GU's School of Education, saw Title IX as perhaps the most significant door-opener for women to become teachers and coaches in high schools and colleges.
Sunderland and Anderson, who also directed physical education, developed a master's degree in physical education that focused on training women to be athletic administrators. A large percentage of their early students were female student-athletes.
"As women's sports grew, many women got into coaching. But as the women's games became more lucrative, men saw opportunity and began applying for women's coaching jobs. Perhaps one downside of Title IX," Sunderland says.
Tunnell admits to challenges for women in sports roles.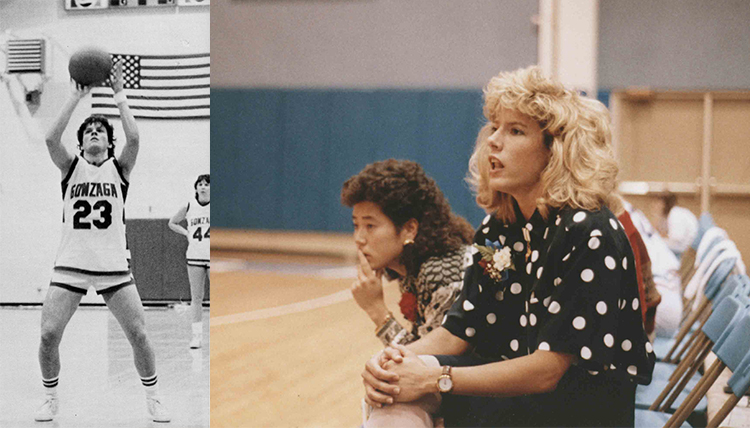 "Women were not inclined to manage their families and a coaching career," she says. "They left their coaching jobs once they got pregnant." Today, women's basketball coach Lisa Fortier ('06) shatters that glass ceiling. She is raising three young children with husband and assistant coach Craig Fortier, winning West Coast Conference championships and routinely advancing to the NCAA tournament.
Title IX impacted the composition of auxiliary staff as well. Athletic trainers and conditioning coaches were once predominantly male, and women's teams did not receive the same level of service. Now women trainers represent an equitable gender mix, with women serving both male and female student-athletes.
And Gonzaga athletic administration is doing its best to accommodate everyone's needs.
"It is important to retain our young, talented staff," says Heather Gores ('03 M.A.), associate athletic director for internal operations. "We want to provide resources to assist them in doing their jobs well.
"The proportion of female coaches has been declining nationwide due to a variety of factors, but largely due to barriers with work-family conflicts. We would like to help change the narrative around this and support our new mothers/parents and show that they can be successful in their job and parenthood."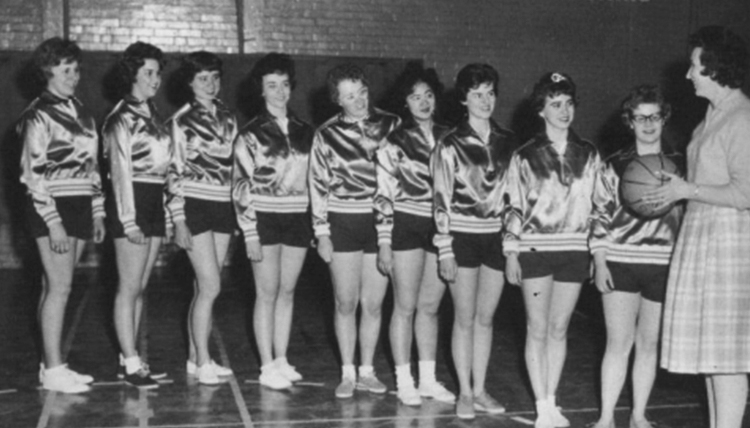 First Signs of Positive Changes
Two basketball players, among others, made their share of headlines during their time as Zags in the late 1970s, playing under the Association of Intercollegiate Athletics for Women (AIAW).
Patty Naigle Martin ('78) was the team's leading scorer, and at 6 feet tall could attack the rim.
"Looking back at my experience and what it is now providing for women in sports, the impact of Title IX is quite noticeable," she says. "Athletic scholarships, strength training and media attention were quite limited during our time. Weight-training equipment was not available to us unless we were recovering from injury."
While Naigle Martin was making a good share of the baskets, guard and Gonzaga Regent Sharon (McDonald) Cade ('76) was feeding her the ball. Cade recalls practicing and playing on the second floor behind the main-court bleachers in Kennedy Pavilion during her first year. Games drew maybe 20 family members and friends. By their junior year in 1975-76 players had practice jerseys, use of the training room and a pair of Converse shoes. Games moved to Kennedy's main court. GU offered its first two female athletic scholarships in 1975. In Cade's senior year, the women's basketball team finished the regular season 14-0, flew for the first time to a postseason tournament, in Boise, and qualified for the regional tournament in Seattle, she recalls.
The Middle Years, 1985- 99
In the early 1980s, Gonzaga women's athletics competed in NAIA small-college competition. Maria Stack ('86) earned the Frances Pomeroy Naismith Award in 1985, recognizing the top women's basketball player in the country under 5-foot-8.
Women's athletics became an NCAA Division I independent in 1986 and a full-fledged member of the West Coast Athletic Conference in 1987. Coach Mike Petersen and his women's basketball team won the first WCC title that year.Julie Holt replaced Petersen two years later and had four losing seasons before posting a 21-10 record in 1993-94, for which she was named WCC Coach of the Year.
"When I think of those who have made the most positive impact on women's equity in sports, Julie Holt comes to mind," says Gonzaga Athletic Director Chris Standiford. "The example she set for student- athletes and the strength in which she carried herself was a model for our student-athletes to emulate."
In 1990 the women's volleyball team earned its first appearance in the NCAA postseason tournament with WCC Player of the Year Lisa (Petticord) Phillips ('92), senior all- conference setter Erica Cordy ('91) and freshman sensation Kelley (Cunningham) Spink ('93) leading the way. Meanwhile, women's cross country captured it first WCC title in 1995, and women's rowing, which was founded as a club activity, in 1991 became an NCAA Division I-recognized sport at Gonzaga. It didn't take the Zags long to win the first of 20 West Coast Conference championships in 25 years, dominating the league. And travel for all these teams had stepped up by the '90s, from cars and vans to buses and planes.
A boathouse was erected along the Spokane River near Felts Field, which the men's and women's teams share. Women's rowing has made seven NCAA tournament appearances in the last nine years.
"How you grow the experience of our student-athletes through the eyes of gender equity is always a part of our conversation," Standiford says.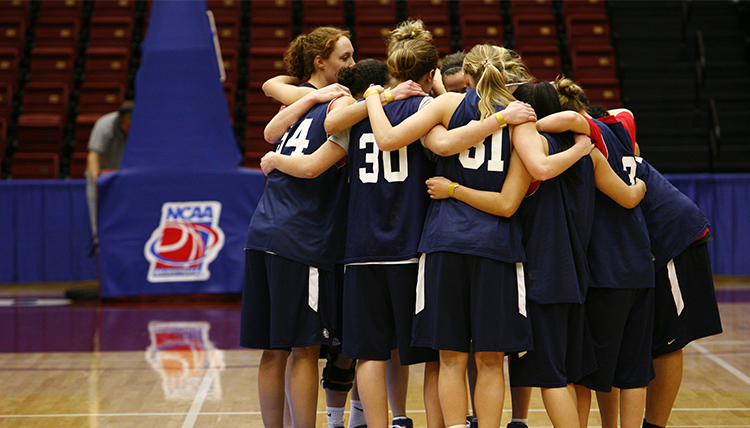 2000-present
No doubt men's basketball's advancement to the Elite Eight in 1999 boosted all athletic programs at Gonzaga, men's and women's.
"Before that, and since that run, our women's programs have been a constant evolution," says Strahl, who has served Gonzaga Athletics for 24 years. "We used to have part-time coaches in nearly every sport. Now we are fully staffed in most sports. And while we still have room to grow, we offer more athletic scholarships than ever before, particularly in our female programs.
"Having three female head coaches and many assistant coaches, and nearly half of the athletic department's senior administrators being women, we see many of our female student-athletes aspiring to get into the profession," Strahl says. "It's also important to me for my own sons to see women in key roles. They can see I am deputy athletic director because I am capable, not because I am a woman. We strive for equity, not because of a law, but because it is important to us."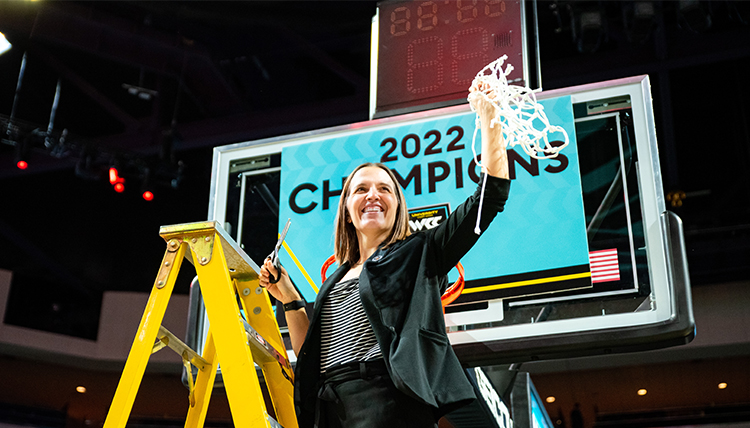 Growth for All
New facilities in the last 20 years have given women and men a chance to compete at a higher level.
At the McCarthey Athletic Center, women's basketball has sold out 38 games since the 6,000-seat building opened in 2004. The Stevens Center for tennis and golf has elevated both women's and men's programs, as has a new soccer field built in 2007. In 2021, women's and men's rowing teams received a boost through the addition of the Johnson Family Boathouse on Silver Lake.
"Facilities are critical in helping our coaches recruit student-athletes to come to Gonzaga," says Strahl.
When Kelly Graves became women's basketball coach in 2000, he revitalized the program, resulting in 12 winning seasons in 14 years, including seven trips to the NCAA tournament and a Regional Final appearance (2011) with now-WNBA star Courtney Vandersloot ('11). Assistant Coach Lisa Fortier replaced Graves in 2015 and has led the Zags to seven 20-win seasons and six NCAA tournament appearances in her eight years at the reins, including a Regional Semifinal appearance in the 2015 NCAA tournament.
Fortier sees opportunities for women as the biggest benefit Title IX has provided.
"Title IX has changed the face of athletics for girls and women entirely," Fortier says. "It used to be that opportunities were only in sports that were 'appropriate' for women. But thankfully, people have realized that all sports are appropriate for women."
"At Gonzaga, we are treated very well," Fortier says. "I am treated as someone who can add value to the athletic department and the University, and I'm grateful for that."
Women's tennis Coach Natalie Pluskota-Hamberg cites the construction of the Stevens Center in 2013 for lifting her program to national recognition.
"We went from two scholarships to eight and added a full-time assistant. Athletic administration is doing everything it can to make our program competitive. And we receive great support from the men's tennis team and Coach DJ Gurule," she notes.
The Volkar Center for Athletic Achievement, completed in 2018, has been a recognizable source of support for GU's 350 student-athletes on and off the court, with academic and life skills support staff at the ready.
It is only through shining a light on the thousands of moments that have come from Title IX that we can see the monumental change this historic legislation has brought about.
EXPLORE MORE
Title IX's impact reaches far wider than athletics. Gonzaga has a robust system to prevent and address discrimination or harassment on the basis of gender.
Student Life
Alumni
Gonzaga Magazine