Women Athletes Leading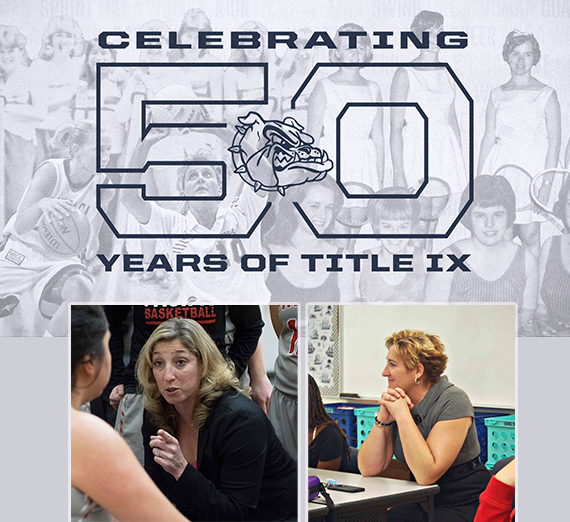 ---
Two Zag Greats Credit Their Career Success to Title IX Opportunities
Jennifer Mountain is a three-time first-team WCC basketball alumna and enjoyed a long coaching career following her playing days, 1988-91.
"I look at my life now and if not for Title IX, I would not be in the place I am today," she says. "It laid the foundation for all that I have done since."
That includes seven years as one of the state's few females coaching a high school varsity boys' basketball team, St. George's of Spokane, which she led to two second-place finishes in the state tournament. She served another eight years as assistant coach at Gonzaga, six as head women's basketball coach at Santa Clara, one as associate head coach at Portland State and three as head coach at Pacific University.
She now serves as color commentator with Ann Schatz on television broadcasts of University of Portland men's and women's basketball games, as well as broadcasts for the Pac-12 Network, the WCC and Root Sports.
She and Schatz are believed to be the only all-female team broadcasting college men's basketball games on major networks.
She is delighted to see women now entering coaching fields never thought possible, like football, basketball and baseball.
"I think this is so important because if you have a mix of men and women making decisions, that is the best recipe for success. We just think differently," Mountain says.
"Gonzaga does it right. They always have. My classmate Chris Standiford has been part of this process, as had (former Athletic Director) Mike Roth. I always felt very fortunate for what we had there, and now the student-athletes have far more than we had. It's positive progress," Mountain says.
Volleyball alumna Jennifer Kubista (1993-96) is superintendent of schools in Independence/Monmouth, Oregon. She served on the women's volleyball staff at University of Connecticut while earning her master's degree and earned her doctorate at Seattle University. She was the first female activities director for the Tacoma, Washington, school district.
"I understood the groundbreaking work women had done before me, and they reminded me of the importance of having this position as the first female," Kubista says.
"No question I am where I am today because of my athletic experiences. They helped me to be the leader I am and to strive for positions that have been and still are male dominated. As superintendent, I strive to develop strong female leaders in education. Part of my drive comes from people and organizations who believed in me, and my skill sets as a leader," Kubista says.
See our feature on Title IX for more stories of women in athletics