Volkar Center Supports Student-Athletes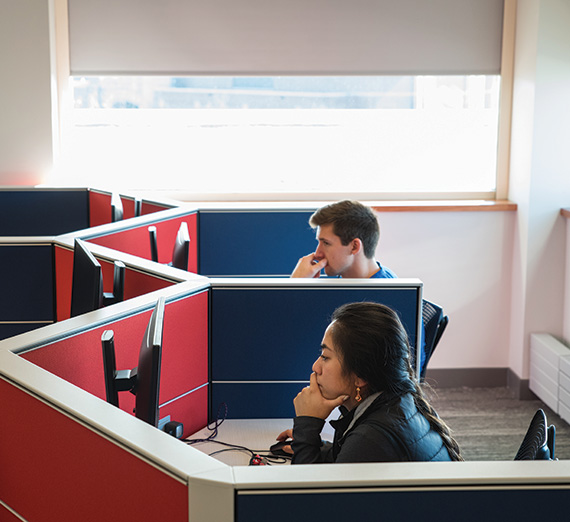 ---
Updated: March 3, 2023
The Volkar Center for Athletic Achievement boasts environments for academic success and a trip down the Zagmemory lane in WCC and NCAA tourneys.
Experience the kinetic energy in the Kennel Club on game nights in the McCarthey Athletic Center. Relive the excitement of the men's basketball team's historical run to national championship games in 2017 and 2021. Soak in the natural light of an expansive atrium that is filled with Bulldog history.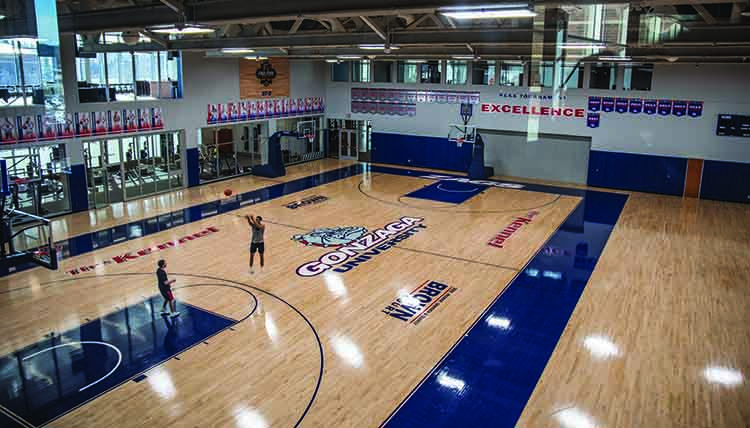 You can feel it all through an interactive experience in Gonzaga's new Hall of Honor in the Volkar Center for Athletic Achievement, which opened in 2018. This project became reality through the generosity of many benefactors, including the lead gift from the Wolff Family
One-hundred-and-thirty years of athletic and University history come to life in the atrium separating Volkar and the Rudolf Fitness Center.
You'll see pictorial displays of our national boxing championship in 1950; our old campus stadium and the glory days of Bulldog football (23 Zags went on to play professional football, you know); the basketball arena in College Hall, where Frank Burgess and Jean Claude Lefebvre used to lace up their sneakers; and Sports Illustrated covers featuring some of your favorite Zags.
More recent events bring video memories of Gonzaga's Elite Eight run in the 1999 NCAA Tournament, two years of Final Four men's basketball experiences, women's basketball at its best, and other big moments in GU athletic history.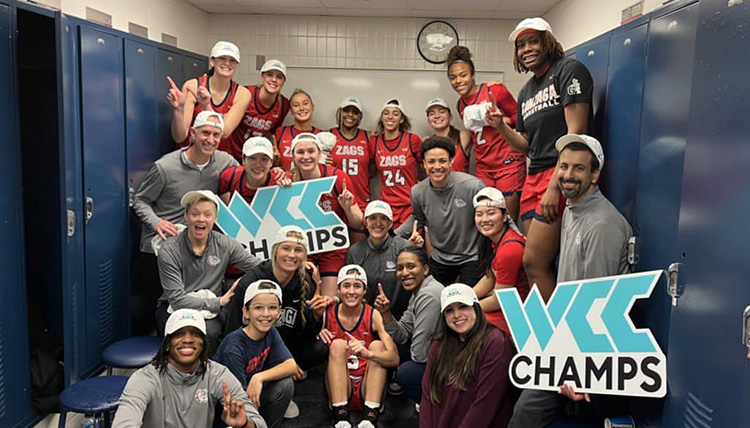 The transition from the Hall of Honor on the south end of the Volkar atrium to the second level, via a cascading stairway, provides a point of entry to a broader story of the University itself. An interactive historical timeline traces Boone Avenue's transition from streetcars to automobiles racing in front of the Administration Building before the Johnston Family Mall replaced it in 1984. Displays depict our Jesuit heritage, beautiful campus, thought-provoking students, nationally recognized academics, and the professors, staff and leaders who have helped shape Gonzaga into one of the Northwest's premier private universities.
Stroll through the rest of the Volkar Center. In the men's and women's basketball practice facility, Brown Court mimics the court in McCarthey. This space includes a basketball-specific weight room and a tiered, theater-style auditorium for game-film review by both basketball teams. The second floor features the Karen Gaffney Champions Room – connected to the McCarthey Athletic Center via skywalk – for socials, meetings and meals. The third floor caters to the academic portion of our student-athletes' lives, with study areas, academic support services and a computer lab. Renovated Athletic Department office space is easily accessible from both north and south entrances.

The Volkar Center, which sits along Mike Roth Lane, immediately West of the McCarthey Athletic Center, enhances Gonzaga's competitive advantage in recruiting student-athletes.
Gonzaga student-athletes continue to shine both athletically and in the classroom.