Protecting Communities Against Extremism a Job for All of Us, Expert Says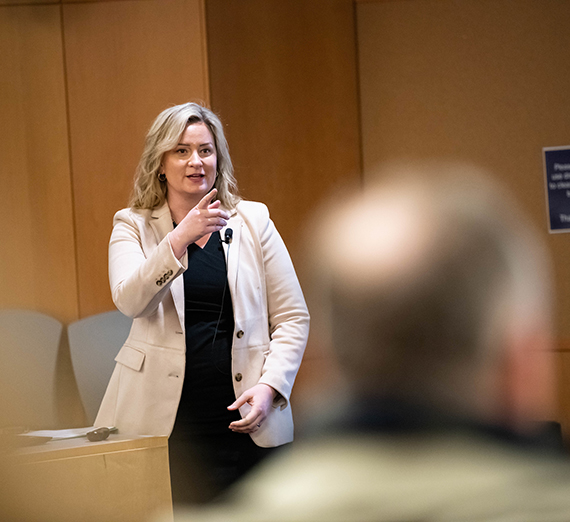 ---
The freedoms that Americans enjoy and revere as definitive aspects of what makes this country great also act as barriers at times when trying to deal with bad actors. Thankfully, there are still plenty of ways to track and counteract violent extremists via organizations like the National Counterterrorism, Innovation, Technology, and Education Center, or NCITE.

NCITE director Gina Ligon visited Gonzaga Feb. 9 to explore how to recognize the signs of domestic terrorism and hate-group activity. While the Omaha, Nebraska-based organization is supported by the Department of Homeland Security and is the largest counter-terrorism consortium in the United States, according to Ligon, NCITE must work around the fact the U.S. doesn't have a federal domestic terrorism statute and that many potentially dangerous groups are legally protected by the Constitution until their warped ideologies turn into actual violence.

Take an organization like the Patriot Front, Ligon said, the group that tagged the wall on GU's campus with anti-Indigenous hate messages.

"If you think about what was spray-painted on your wall, that was a crime because it was defacing private property," Ligon said. "But the content of it is First Amendment-protected speech."

Understanding the nature of groups like the Patriot Front — their ideology, communities they might target, situations that might cause them to move from peaceful actions to violence — is one of NCITE's four main research themes, Ligon said. Others include suspicious activity reporting, terrorism prevention and workforce development for national security.

Ligon's GU talk was part of the "Leading Against Hate" speaker series, and her expertise brought a broad national and international perspective that built on the previous speaker Kate Bitz's Pacific Northwest focus. Some of Ligon's discussion echoed themes from Bitz, specifically the mainstreaming of the "Great Replacement" conspiracy theory, in which things like multiculturalism, immigration and acceptance of a diversity of opinions are seen by some groups as part of a concerted effort to replace the white race.

This false conspiracy has moved from the darkest corners of the Internet, where it motivated a recent mass shooter in Buffalo to murder the customers of a grocery store in a predominantly Black community, into the halls of Congress and the airwaves of cable news opinion programs.

Some people ask Ligon why NCITE doesn't focus more on ISIS and international terrorists. To her, the answer is simple.
"The number of people who've been killed by white-supremacist extremism far surpasses those of any of the other ideologies that I'm going to share with you today," Ligon said.
While NCITE does track international groups who might target victims inside the U.S., most domestic terrorism is homegrown, and it's usually based in racism.

"Racially and ethnically motivated violent extremism is the most lethal kind of terrorism in the United States," she said.

Ligon also addressed how a place like Gonzaga becomes a target for hate groups. For extremists worried about the demise of their "European, white descendent" identity, any place that offers safety and community to a diverse group of people is an affront to their way of thinking. A university environment that has a diversity, equity and inclusion office, that supports the LGBTQ+ community, that includes and welcomes people of any ethnic background, is always going to be on the radar of extremists. Even hosting talks like the "Leading Against Hate" speaker series has the potential to make GU a target, she said.

Rather than live in fear, though, communities need to be part of the solution in making sure extremist groups fail to recruit members or take violent actions. Ligon spent considerable time illustrating how to report suspicious activity, sharing tips from a downloadable U.S. Violent Extremism Mobilization Indicators handbook to help identify when a person is potentially starting to engage with an extremist group, or even take dangerous ideas to violent action.

If someone you know is starting to isolate themselves from family and friends, or starting to quote white supremacist ideas, it's something to watch. Terrorism prevention, Ligon said, "is the most hopeful part of our center," and there are ways to build resilience in the people who are targets of terrorism. Among those are added security at events held by diversity-friendly organizations, making sure people know what suspicious activity looks like (as in the case of the Patriot Front members who were reported before they ever reached the PRIDE parade in Coeur d'Alene last summer), and learning how to talk to friends and family who might be dabbling in extremist ideology.

"I think your particular Jesuit ideology, and your call to be leaders in your community, incorporating this kind of knowledge into your leadership, I think is an incredibly important and noble endeavor," Ligon said.

Learn more about Ligon's organization, online educational opportunities and what you can do to combat hate via the National Counterterrorism Innovation, Technology, and Education Center.

The next "Leading Against Hate" speaker series event is Thursday, Feb. 16, featuring philosophers Jennifer Kling and Leland Harper speaking about "The Language of American Racism."
Learn about the "Leading Against Hate" speaker series