Education Puts the Fear in Hate Groups, Expert Says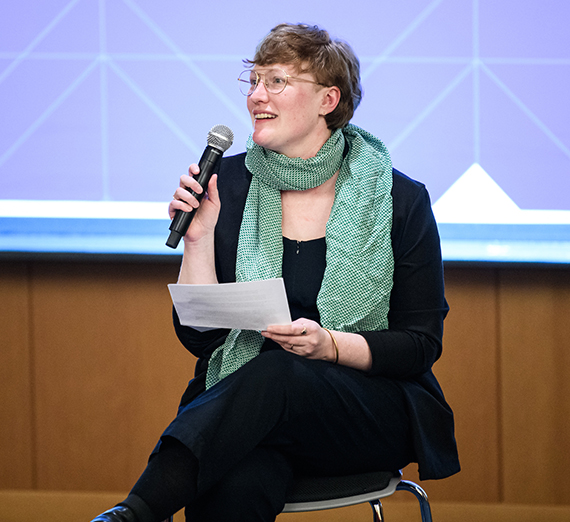 ---
Institutions of higher education are a popular target of hate groups because a quality education is a democratizing force, according to an expert on such groups who spoke at Gonzaga Feb. 2. Education is something that brings communities together when racist, anti-democratic forces want nothing less than a splintered populace ruled by authoritarians dedicated to white supremacy.

Kate Bitz is a Spokane-based program manager for the Western States Center, a regional organization dedicated to supporting marginalized communities and fighting bigotry through the Pacific Northwest and Intermountain West. Bitz was the first guest in GU's "Leading Against Hate" speaker series, which continues Thursday, Feb. 9.

Bitz's talk, "Countering White Nationalism," focused on groups like the Patriot Front, responsible for racist graffiti on campus during fall semester and for which two members were arrested. Before she delved into the rise of groups like Patriot Front, though, Bitz was joined for an enlightening bit of regional history provided by Wendy Thompson and Jeremy Rouse from GU's Office of Tribal Relations. The information they shared about how the Indigenous peoples of the Inland Northwest have been treated for centuries made clear that white-supremacist terrorism is nothing new in the region, even if actions like those of the Patriot Front might be the first time many students encountered it personally.

Those incidents in the fall, in which Patriot Front members tagged the mural wall with racist graffiti aimed at indigenous students, are part of a nation-wide movement by people who doubled down on hate and conspiracy theories after the Civil Rights movement gave them "some incredible judicial, cultural and legislative" losses, Bitz said. Now they lash out against Jewish people, immigrants, Muslims, the LGBTQ+ community — basically anyone they consider different.

"Essentially, unless you're a white, cis male with the right types of beliefs, you may not be at the top of their list of who shouldn't be in this community, but you're on it somewhere," Bitz said.

Sharing a chart from the academic Steven Gardiner originally published in GU-based Journal of Hate Studies, Bitz showed that the Patriot Front is one of a wide spectrum of groups promoting white nationalism, ranging from mainstream media outlets who share conspiracies like the "great replacement theory" (the idea that white, Christian America is being intentionally replaced and eliminated through immigration) to more blatantly racist characters like white supremacist Nick Fuentes, who is working to install racist groups on college campuses and recently had a well-publicized dinner with Ye West and Donald Trump.

Groups like the Patriot Front have used flyer campaigns and graffiti more often the past five or so years, Bitz said, to both intimidate campus communities and to attempt to attract new recruits.

"The vast majority of the Gonzaga campus, I would say, felt in some way intimidated or unsettled and unsafe due to the fact that this message showed up on campus," Bitz said, noting that it's highly unlikely any students saw the messages and thought, "Maybe I should join that group."

"Education is something that pushes back on that," Bitz said.
"When we're informed, we're not going to be primed for the kind of authoritarian rule that these groups are striving towards."
Bitz also warned against making the Patriot Front out to be something bigger than it is, as disturbing as its members' actions were on campus. This is a group that has trouble recruiting members — "we're talking about maybe 200 or 300 people nationwide" — and does things like flyering and graffiti to make themselves seem much larger.

"If you want to make it seem like you're an omnipresent group, what can you do?" Bitz asked. "You can show up and put one of these [logos] everywhere and then you can drive back to Craigmont, Idaho, like one the fellows who was arrested on this campus. So we should really be careful about overestimating the extent of this group."

Tracking groups like the Patriot Front can be difficult, because they not only constantly change their names and their logos, but they also often change the issues they're fighting; one day it's pandemic protections, the next it's drag shows. Bitz recommended tapping the resources of the Anti-Defamation League for educating oneself on symbols currently in use by recognized white nationalist groups.

Bitz also outlined a few steps a university community can take when dealing with aggression from hate groups:

"If this type of action happens on your campus, there should be an immediate response, and that response can be led by leadership setting a tone," Bitz said. "That's always incredibly useful."

Students can take quick action as well, as they did in painting new messages of acceptance on the mural wall immediately after the graffiti incidents. Students should remain vigilant and report suspicious activity, as someone did during the second incident, leading to the two arrests. Student governments can pass resolutions against white nationalism, and use student government funding for anti-hate learning and actions. And all members of the Gonzaga community can get involved with groups off campus who research anti-democracy trends, like the Western States Center or Spokane Community Against Racism, as well as support the research of on-campus groups working in this space, like the Gonzaga Center for the Study of Hate.

Gina Ligon, director of the National Counterterrorism Innovation, Technology and Education Center is the next guest of the "Leading Against Hate" speaker series. Her talk, "Protect Our Home: Recognizing, Reporting and Thwarting Hate and Violent Extremism," is Thursday, Feb. 9, at 3 p.m. in Hemmingson Auditorium.
Learn about the next "Leading Against Hate" speakers