Glorilyn Maw: An Engineer Looks Like You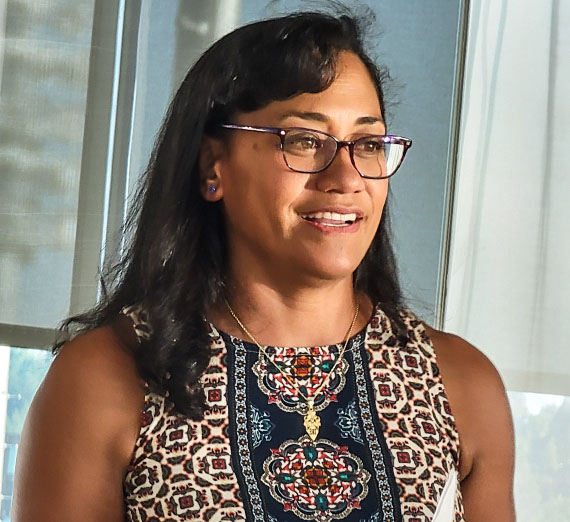 ---
The Halloween costume of an 'engineer' doesn't look like anyone Glorilyn Maw knows.
Maw ('90, civil engineering) talked about some common misconceptions around engineering and computer science at the SEAS Summer Immersion Program (SSIP). She asked her audience of high school women what an 'engineer' looked like to them.
She got a laugh from the 'engin-nerd' stereotype white male with taped-up glasses and a pocket protector in his white shirt.
"A majority of the people I work with are white men, that's fair," she said. To speed diversifying the engineering and computer science fields, more people have to shift how they think about the people in those fields.
"When you picture an engineer, you might picture my business partner, Rocio Peralta," Maw said. "Rose is Hispanic, I'm a native Hawaiian. We are not white and we are not guys, but we are engineers," she said, adding that if more people could shift their perception of 'an engineer,' more people would see themselves in engineering or technology.
Maw praised the SSIP participants for taking a chance on STEM experiences.
"The first time I left Hawai'i for the mainland was to come to Gonzaga. I feel that step is kind of what you're doing here this week. You being here is a solid first step to finding an amazing career in STEM," she said.
Growing up in Hawai'i means a childhood surrounded by water. Maw found herself drawn to hydraulic engineering, designing management systems for water - storm water, rivers, creeks, and the ground or structures that touch that the water touches. Maw argues that engineering and computer science are exciting specifically because of humanity's vast variety of needs.
"You keep saying, 'Wouldn't it be cool if…' You're like, 'I'm thinking about that next step.' Those are identifying problems, or things that could be better. That's what engineers do. They'll identify the problem, then they'll use math and science to come up with a solution," she said. The more unusual a person's interests, the more creative the 'what ifs.'
"We just get inspired by problems, right?" she asked the young women. "And then when we find solutions to problems, that's helping people. And helping people makes the world better. And I think everybody wins in that scenario."
Learn more about the SEAS Summer Immersion Program