Donna Kruep: Look for Mentors, Learn From Failure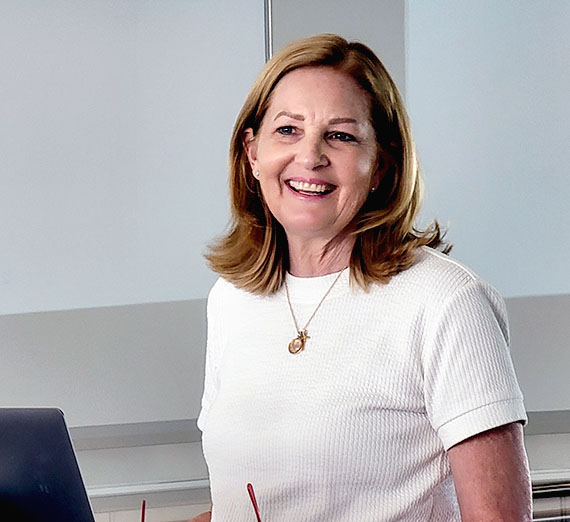 ---
Donna Kruep knows a career goal has many paths. In her talk at the opening night of the SEAS Summer Immersion Program (SSIP), she encouraged the female high school students to find a mentor to help clarify their goals and guide them toward the best path for them.
This week spent with Gonzaga faculty, professional engineers and computer scientists, and GU student mentors is a great opportunity to ask questions and meet a long-term mentor. "You're going to meet a lot of interesting ladies this week. And there might be somebody there that you can go to for questions or advice."
As a young woman in a small farming community, the only STEM path she knew of was nursing certification. She took a longer route to becoming a registered nurse with a bachelor's degree in Health Administration, and in her talk she wondered what medical path she would have taken if she'd had a mentor. She also shared the career path stories of family and friends.
"Your job this week: You've got a lot to discover and learn. Be enthusiastic about everything. Be open to everything. Ask as many questions as you can think of. Don't be afraid to ask any questions. Just explore it all if you get the opportunity," she said.
Another theme that resonated with the students was hearing that failing well is a skill.
"It's what you do with it going forward that's important," Kruep stressed. "We really build some confidence and resilience with failure. Maybe you just need to figure out a different way to go about it. You really need to learn to believe in yourself that you can do this."
"I thought that was interesting, 'the opposite of succeeding is learning,'" reflected Emily Pierce, a senior at Spokane's Ferris High School. "I've heard it before, but I haven't really heard it elaborated on so much. Being able to learn through reflecting on why you didn't succeed rather than why did I fail – there's a difference there." Another Ferris senior, Sienna Whitehead, also liked the idea of failure as "the pathway to success. One can't exist without the other," she said.
The 14 high school women participating in SSIP will hear from a guest speaker at each lunch and dinner. Learn more about our guest speakers
Learn more about the SEAS Summer Immersion Program