Gonzaga ROTC Team Wins Task Force East Ranger Challenge Competition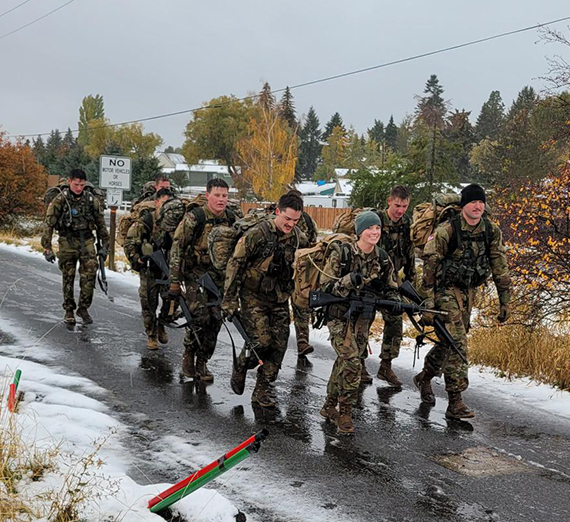 ---
While much of the Inland Northwest was buried in the season's first snow and its residents scrambled to prepare for an early winter, Gonzaga University's ROTC Bulldog Battalion was embracing the elements in competition with peers from across the West in the Task Force East Ranger Challenge Competition.

The Gonzaga Black team was put to the test by their fellow cadets from Washington State University, the University of Montana, Eastern Washington University, Montana State University, Central Washington University, Cal-Davis, Boise State University and University of Nevada-Reno. Braving not only the challenging elements but a power outage at Camp Grizzly, one of the competition's bases in Idaho, team Gonzaga Black ultimately triumphed to win the contest by a single point over Washington State.
"They focused, hustled, took care of one another, thought through complex problems and found sound and creative solutions, were gritty, excellent sportswomen and men, and displayed what we expect in future U.S. Army officers who will soon lead soldiers in the world's best army," said Alan Westfield, senior military science instructor at Gonzaga.
The students got up in the dark Friday morning to start the competition with the Army Combat Fitness Test, followed immediately by a 15-mile march through rain and snow carrying 35-pound rucksacks. The competition took place at locales stretching from Pullman to Camp Grizzly at the foot of Little Sand Mountain in Idaho, and required the students to showcase myriad skills that will serve them and the country well in the future.
For Daisy Deane, a senior from Littleton, Colorado, the end of the 15-mile march through the muck was the most challenging aspect of the weekend. But it also showed the power of Gonzaga's teamwork.
"We were racing other teams through 2-3 inches of standing water and snow and soon I was so cold it was hard to just put one foot in front of the other," Deane said. "I was able to overcome this by leaning – quite literally – on my teammates. They helped me to keep going and never let me fall behind."

After their soggy speed-march Friday and a night spent at Camp Grizzly drying out, hydrating and eating Meals Ready to Eat (MREs) to fuel the next day's events – not to mention a wind- and ice-caused power outage at the camp Friday night – the student soldiers tackled exercises Saturday in boat movement, casualty care, land navigation, constructing and using a rope bridge through forest obstacles, marksmanship contests, reconnaissance and surveillance missions, as well as thousands of collective pushups, deadlifts, wind sprints and pullups.
David Miller, a senior from Bellevue, Washington, said the highlight of the weekend for him was "seeing the team work together and execute tasks that we had spent months learning and rehearsing. This was exciting to see because it proved to everyone that the time and effort they had spent training was worth it."
"Even though the weather was very cold and snowy and everyone was tired, witnessing and feeling a sense of collective satisfaction after each event we completed made me extremely proud to be a part of the Gonzaga Ranger Challenge team and the Bulldog Battalion as a whole," Deane added.
The Gonzaga Black student team included Miller and Deane, as well as McCall Penna, Ty Emmons, Michael McCallum, Ethan Baker, Konrad Gerhardt, Mason Walker, Will Nagel, Alek Miller and Katie Bruce.

"Bottom line, Gonzaga Black accomplished the mission to win the Task Force East competition, fought like Rangers, embodied the warrior ethos, performed close to potential without making mental mistakes, made every minute count, and had fun with lifelong friends," Westfield said.

Next up for the Bulldog Battalion – following rest, finals and the holidays – is the opportunity to compee in the 8th Brigade Championship in late January, with an opportunity on the line to travel to West Point for the Sandhurst Competition.
Read about Gonzaga's military and veteran students