Sisters have Profound Impact on Each Other, Both Leaders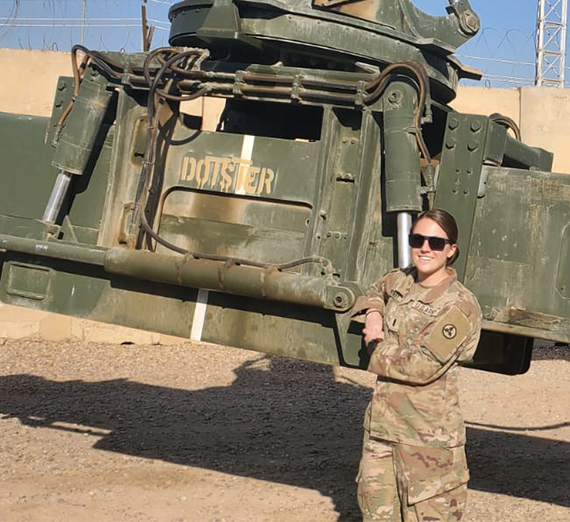 ---
Preparing for college, Dottie (Deane) Woodbery ('18) thought she owed it to herself to step out of her comfort zone.
"There were a lot of things I was afraid of. I was not outdoorsy. I was not an aggressive person. I hadn't traveled outside the U.S.," she says.
Yet she traveled 1,100 miles to Gonzaga to shadow the university, which was highly recommended by teachers and alumni from her Jesuit high school back in Colorado. She was welcomed by the cadre of ROTC cadets with open arms.
"I was only there for 24 hours, but after that, I knew this was the place for me," she said.
The Littleton, Colorado, native not only chose a college half a country away from friends and family, but she chose to apply to Gonzaga's ROTC program, which this year is celebrating 75 years of training young men and women for careers as U.S. Army officers and leaders.
She also met her husband, Will, two years her senior and a fellow ROTC cadet, during her first two years in the program.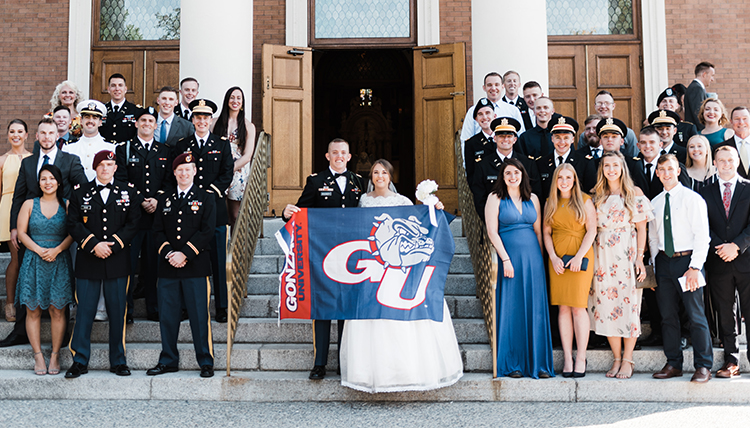 Today, she is Capt. Dottie Woodbery, and for nine months in 2021-22 was the Forward Logistics Element Officer-in-Charge in Baghdad, Iraq.
"Our battalion arrived in theater about a month after U.S. Forces in Afghanistan experienced their difficult withdrawal. We were focused on preparing for a potential situation like that to occur in Iraq, with the Iraqi elections occurring in late December 2021. There were some late nights – we had to be prepared for anything.
"It was tough because most Americans don't realize there are still U.S. personnel across the Middle East," Woodbery continued. "It is hard to keep soldiers motivated on a war they deem is all but over. But clearly, based on what occurred with Afghanistan's withdrawal, that is not the case. The situation in the Middle East is ever-changing and while we are in an advise-assist role over a combat role, this is arguably the most important phase of any operation. Good logistics is paramount to success here."
Since returning to the states, Woodbery graduated from the Army Captain's Career Course at Fort Lee, Virginia. She assumed her new assignment with 1st Battalion, 7th Special Forces Group at Elgin Air Force Base in Destin, Florida, as the battalion's logistics staff officer. Her husband is a U.S. Army reservist and a civilian working at the U.S. Army Special Warfare Training Group under the Special Operations Command.
But the family connection doesn't stop there. Younger sister Daisy Deane is a Gonzaga senior, fall semester Cadet Commander of the Bulldog Battalion, and a member of GU's Ranger Challenge team that won a regional competition in the Palouse and placed third at Fort Lewis, Washington, qualifying her team for the coveted national Sandhurst Ranger Challenge Competition at West Point, New York, in April.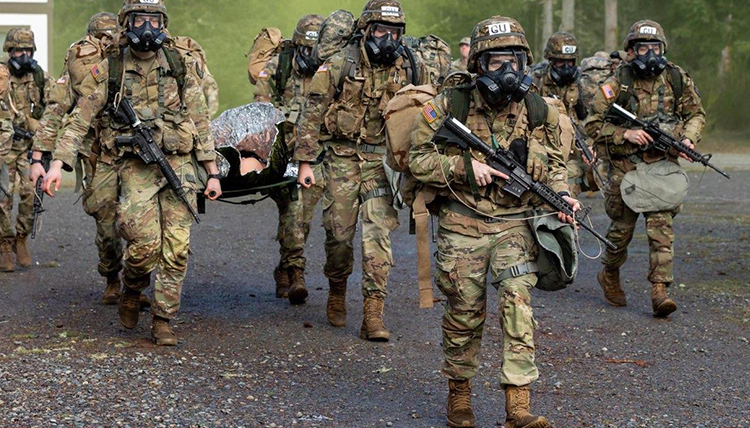 "Daisy is just incredible," Capt. Woodbery says. "She's more outgoing than me and has been a role model to me more than she knows. She inspires me because she is adventurous and takes a lot of risks. I would definitely be in her shadow if I was still at Gonzaga. I'm very proud of her."
Daisy shares similar sentiments about her sister.
"Dottie has had a direct and extremely positive influence on my life," the younger sister says. "My path through ROTC and Gonzaga was directly informed by Dottie's experiences, watching her grow as an individual and as a leader. She is always there for me when I have a question about the Army or life in general. She inspires me."Deane is hoping to pursue her career in field artillery and branch into military intelligence. She is majoring in criminology and minoring in Spanish.
Meanwhile, still looking to step out of her comfort zone, Capt. Woodbery hopes one day to pursue a career in Army medicine. "I always had an interest in medicine, but science and math were never my strengths. Now I'm catching up on the science and math I missed in high school," she says. "The Army gave me that confidence to push through those tough classes."
It appears there are no limits on what Dottie Woodbery can accomplish, nor her sister Daisy Deane, for that matter.
Gonzaga ROTC will celebrate its 75th Bulldog Battalion Anniversary this spring culminating with the April 28 Military Ball. The weekend will include lab, personal training, awards ceremony, a golf outing and more.
Want to learn more about the Gonzaga ROTC program?