Badge of Honor: Celebrating the ROTC Bulldog Battalion's 75 years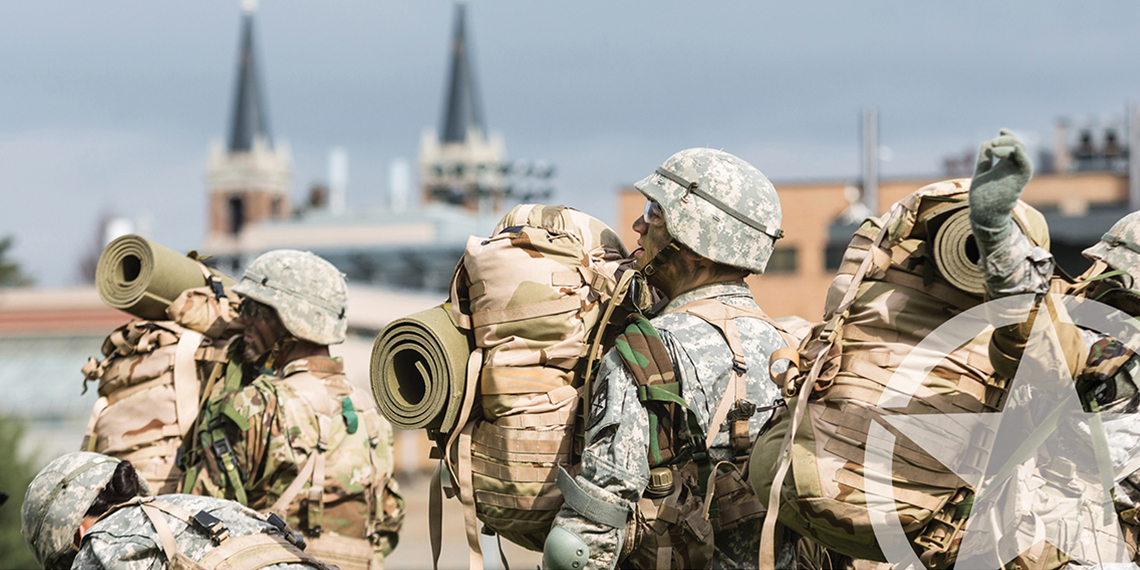 This year, Gonzaga's ROTC battalion celebrates its 75th anniversary – a long and distinguished history of Zags bringing the best of Gonzaga into the service.
President Thayne McCulloh, himself a U.S. Army veteran, says witnessing Gonzaga's ROTC cadets become commissioned officers in the Army is an Ignatian expression of leadership.
"They bring a very humanitarian dimension to what they do. It's really humbling, and one of the reasons I am always interested in the members of Gonzaga's military family and their stories."
We celebrate a few of many great stories here.
"There is something really special about watching the active military at work."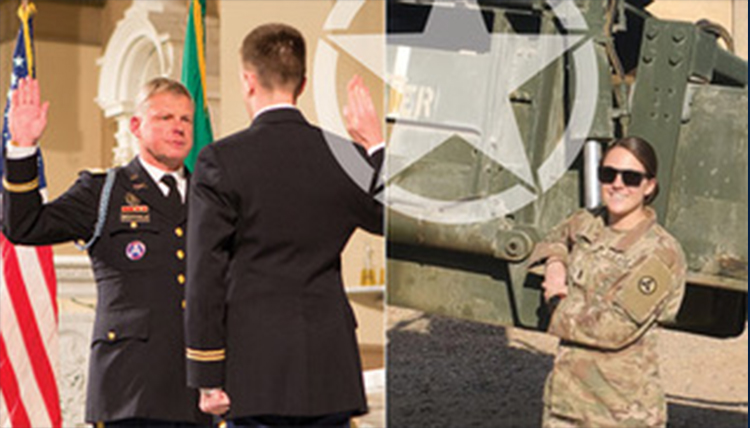 Alan Westfield ('12 Ph.D.) Retired Lieutenant Colonel
Gonzaga and Whitworth students interested in exploring GU's Army Reserve Officer Training Corps, the Bulldog Battalion, visit Westfield's office in College Hall and find wall- to-wall images of the 413 second lieutenants commissioned into the U.S. Army since he retired from active duty and came to work at Gonzaga in 2000. Ask about any photo, and he will gladly share with you from memory that individual's impact at Gonzaga, commissioning date, career highlights, and in some cases, their mile-run times down to the tenth of a second. Westfield speaks of them with great pride, honoring every act of selfless service, personal courage, loyalty, duty and respect.
"That's what we stand for both within the U.S. Army as well as at this University," he says.
Westfield often will encourage someone considering ROTC to try a military science course as an elective to see if it's a good fit. He watched many start there and go on to take an oath as Army officers.
"Then they go on to lead, and they stay connected with Gonzaga," Westfield says, beaming with pride. "They let us know when they've graduated from military and civilian schools, training, gone on to flight school, gotten married or had kids – the lifelong networking that happens is a real blessing."
Dottie (Deane) Woodbery ('18) Captain
After Woodbery stepped out of her comfort zone, she was welcomed by the cadre of ROTC cadets at Gonzaga with open arms, and within 24 hours, "I knew this was the place for me," she says.
Following nine months as a logistics officer in Baghdad, she returned to the States and graduated from the Army Captain's Career Course and then assumed a new logistics role with the 1st Battalion, 7th Special Forces Group at Elgin Air Force Base in Florida. She hopes one day to pursue a career in Army medicine.
Her younger sister Daisy Deane ('23) was the fall semester Cadet Commander of the Bulldog Battalion. She was also a member of GU's Ranger Challenge team that won a regional competition.
Jack Nevin ('78 M.B.A., J.D.) General
Now retired, Gen. Jack Nevin had a distinguished 33-year career in the Army active duty and reserve.
His first appointment was to the 9th Infantry Division at Fort Lewis, a three-year active- duty assignment that included studies at the JAG school in Virginia. Upon returning to Fort Lewis, Nevin served as a prosecutor, legal assistance officer and special assistant to the U.S. attorney handling misdemeanor offenses committed by civilians occurring on military reservations. In 1998, he was promoted to full colonel and placed in command of a legal support organization. Missions with the Defense Institute of International Legal Studies took him to Africa, eastern Europe, Central America and South America.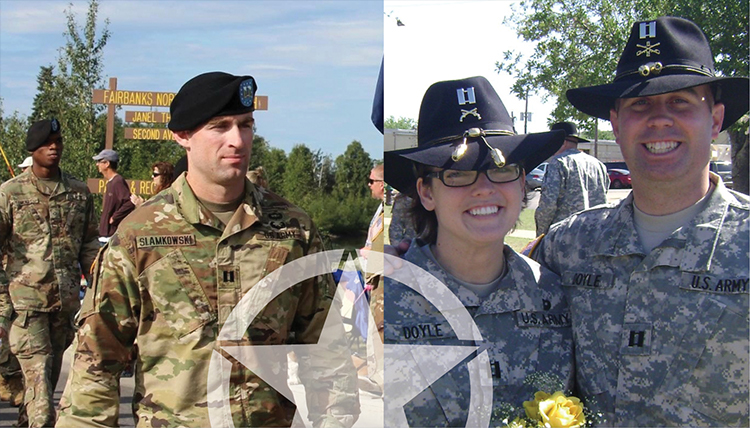 Brian Slamkowski ('10) Major
Slamkowski was one of a half dozen U.S. Army captains out of 27,000 chosen in 2021 as a General Wayne A. Downing Scholar to pursue an advanced degree in international policy. He chose Stanford University's Freeman Spogli Institute for International Studies and completed his master's degree this year.
"Cyber policy is my specialization, and where better to study it than in Silicon Valley, understanding the cyber environment and where it will take us in the future," Slamkowski says. "Beyond the policy perspective, I've been challenged by classmates from around the world that don't support a U.S.-centric worldview and don't particularly care for the U.S. military. I've relished the opportunity to be an ambassador for our country and the Army."
Mike Doyle ('01) Lieutenant Colonel & Amanda (Gerding) Doyle ('01) Colonel
Mike is transitioning from 21 years of active duty into civilian life in a program funded by the Department of Defense SkillBridge Corporate Fellowship through Hiring Our Heroes. He retired Feb. 23. Amanda is an officer in the Washington State Army National Guard, attending U.S. Army War College Distance Education.
Military service is the family business. Amanda's siblings Ben ('03), Anna ('07) and Katrina ('10) are also Gonzaga University commissioned Army officers. Anna is married to Bulldog Battalion grad Dan Robledo ('06) and sister Emily is married to Gonzaga ROTC grad John McGuire ('02).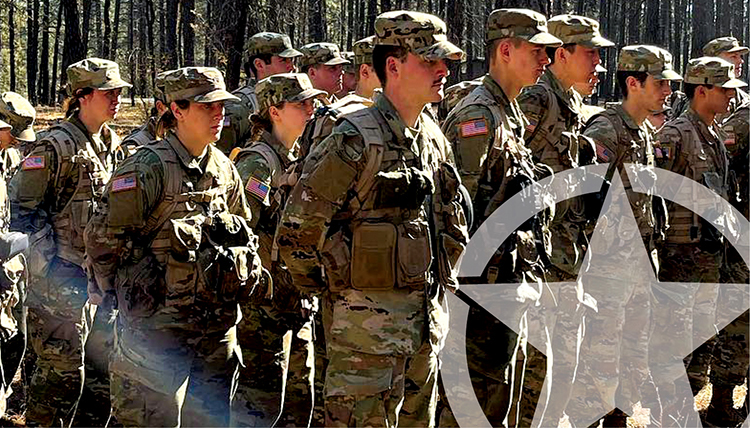 The Sky is the Limit for Supporting Service Members
Career Air Force pilot, philanthropist and longtime supporter of Gonzaga student scholarships, John Rogers believes in the transformative power of the ROTC experience. "I think everybody ought to spend some time in any military service role because it provides the discipline and maturity it takes to be a leader," he says. In addition to the Rogers family's scholarship support, Gonzaga is grateful for their collective sacrifice and service as a military family.
ROTC at a Glance
Gonzaga established the first informal Cadet Detachment in 1897 and the modern-day program in 1947.
The Bulldog Battalion also includes student- cadets from Whitworth University and Washington State University College of Nursing.
The United States Army Cadet Command consistently ranks Gonzaga in the top 15% of the nation's ROTC programs.
The Bulldog Battalion has qualified for competion at West Point Sandhurst four times since 2016.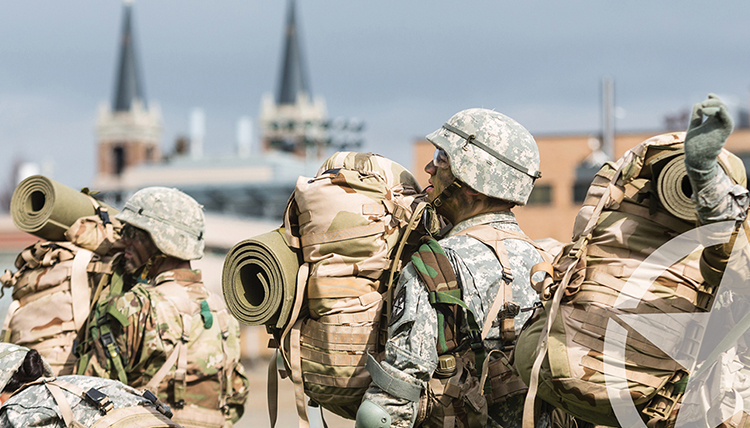 Lives of Leadership
While President McCulloh didn't stay in the Army for his professional life, he carries the lessons learned during his time in the service. "It required a great deal of discipline and a certain degree of exactitude," McCulloh shares. "The military asks you to successively take on more and more responsibility as you achieve mastery, moving forward to then train those who come up behind you."
Gonzaga's ROTC has fostered that responsibility and mastery for 75 years.
Greater Connection
At the annual Military Ball in April, the University launched Gonzaga's Alumni Military Service Community, the second such affinity group, following the launch of Gonzaga's Alumni of Color community last fall. This new chapter of Gonzaga communities unites Zags who have served into a network specifically designed to extend around the globe, offering special programming and connections to Zag Nation's resources.
KILLED IN ACTION*
MAJ Lawrence Acre ('55) Vietnam, 1969
1LT Forrest Ewens ('04) (Whitworth) Afghanistan, 2006
1LT Mathew Fazzari ('10) Afghanistan, 2012
Their memories live on and they continue to inspire. We will never forget.
*Specifically Gonzaga-Whitworth ROTC graduates
Find details on veteran services at Gonzaga, alumni stories and more:
» gonzaga.edu/veterans
Support veterans and military students with a gift to support scholarships honoring Zag service members.
Academics
Alumni
Careers & Outcomes
Academic Vice President
Alumni
Military Science
Gonzaga Magazine