Diversity Monologues, LGBTQ Support Lauded at Gonzaga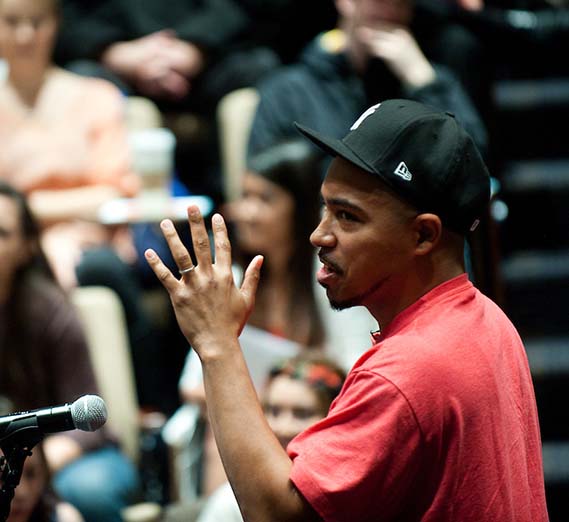 ---
Gonzaga University has received two recognitions for its efforts toward diversity, inclusiveness and social justice.
The school's "Diversity Monologues" has earned the Ignatian Medal for Outstanding Commitment to Diversity and Social Justice, bestowed by the Jesuit Association of Student Personnel Administrators, representing all 28 Jesuit institutions of higher education in the U.S.
For the event, students write, edit, rehearse and perform poetry and stories about their connections to a theme, such as "the power of self-love" or "reclaiming ourselves." Many give voice to complex social identities, lived experiences and cultural backgrounds, often telling personal stories of injustice and struggle, resistance and empowerment.
A panel of students helps select participants based on draft submissions, faculty and staff serve as writing or performance guides, and a professional artist both mentors participants and serves as emcee.
"The emcee and the production elements – lights, music, a stage – create a rock star environment" amid an atmosphere of goodwill, a faculty member wrote in her nomination.
She said "Diversity Monologues" is "distinctive on our campus: It advances our mission, and it inspires a stirring sense of community identity and commitment to social change." Another faculty member added that the program is "the most powerfully transformative, mission-centered program on our campus."
The next "Diversity Monologues," set for spring 2022, will be the 12th annual, according to staff at the Unity Multicultural Education Center, which organizes the event.
Meanwhile, Gonzaga received four of five stars from Campus Pride Index on its National Listing of LGBTQ Friendly Colleges and Universities and earning recognition as part of its Best of the Best Colleges and Universities for LGBTQ students.
Among 36 religious schools on the index, GU was spotlighted as one of 10 living up to the group's LGBTQ-inclusive values.
To be considered, campus administrators responded to an 80-question survey about institutional policies and procedures, complete with supporting evidence. In GU's case, that included its Diversity Statement and background on initiatives such as the Lincoln LGBTQ+ Resource Center and the new Lincoln LGBTQ+ Rights Clinic at the law school, established in 2020.
The Campus Pride Index was launched in 2007 as a national benchmarking tool for colleges and universities "to create safer, more inclusive campus communities." Campus Pride's philosophy is that every student "has the right to a safe learning environment where they can learn, live and grow academically and socially." It believes every school has the responsibility to make their campus "more inclusive, welcoming and respectful for people who are LGBTQ and ally."
Explore More
Recording of the 2020 Diversity Monologues
Student Reflection on the 2019 Diversity Monologues
Unity Multicultural Education Center Programming