Diversity Monologues 2019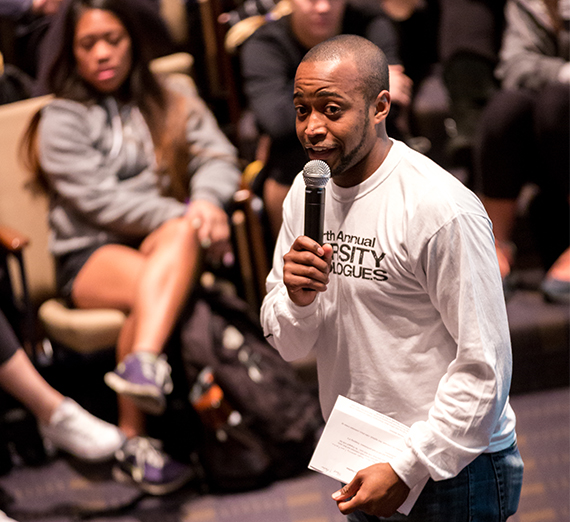 ---
The ninth annual Diversity Monologues was held March 27, 2019. The monologues are an event put on by the Unity Multicultural Education Center (UMEC) and look to celebrate the creativity of GU students who are passionate about diversity and inclusion. This program offers students a space to utilize the power of their voice to share their experiences. Students wrote and performed monologues from the prompt, which asked:
What identity/identities do you want to reclaim, continuing the work on the topic of intersectionality?
Below is a reflection from a student who attended this year's program.
Reclaiming OURselves: This was the theme of this year's Diversity Monologues. Telling the stories that are too often overlooked. Taking back the narratives that have been stolen.
This was the second Diversity Monologues I have attended and the ninth annual that Gonzaga has hosted. It was great to see the Hemmingson Ballroom completely full of faces ready to listen. You could truly feel the energy in the room of curious students, faculty, staff, and community members.
Sometimes it was uncomfortable, sometimes things were hard to hear. But as Nikkita Oliver, our guest emcee, reminded us at the beginning of the program, we needed to get comfortable with being uncomfortable. To take the stories that the students shared and be with them. To be present. To have their stories spark a seed in us. Instead of trying to scribble down notes or write down what each of them were saying I tried to just be there, in the moment, fully listening, fully present.
Nikkita Oliver exemplified this for everyone before with her spoken word, her poetry, honest and vulnerable about her upbringing, about her life experiences. She really helped bring out the energy in the crowd.
Many of the monologues addressed their journey with identity, family history, and the struggles of being at Gonzaga [as an under-represented student]. But still, each of them were unique in their own way, telling their own, personal story. This program reminds me that I am small, that my experience isn't everyone's experience. That it's not my story to tell, that it's not my turn to talk, but to listen.
Thank you to all the performers who were so brave in telling their stories. Telling the stories that are hard to speak, hard to share. I saw the passion, the hurt, and the fight in each of their eyes. This program inspires me to continue to have hard conversations surrounding our campus climate, to be a better ally, and continue to educate myself.
Emma Hayden ('20)
UMEC Programming Intern
Sociology, Criminal Justice
Pronouns: she, her, hers