Community Engagement Director Ayers Honored for Leadership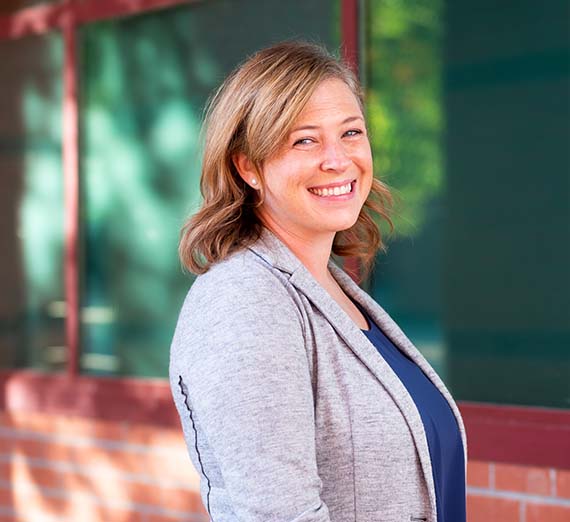 ---
SPOKANE, Wash. — Molly Ayers, senior director of the Center for Community Engagement at Gonzaga University, received the 2021 Ignatian Medal for Outstanding Achievement in Jesuit Student Affairs at a virtual awards ceremony Friday, Sept. 17.
The honor comes from the Jesuit Association of Student Personnel Administrators, representing all 28 Jesuit institutions of higher education in the U.S.
Ayers' work in leading Gonzaga to launch Opportunity Northeast in 2020 was highlighted in nomination letters. The initiative, described as a partnership "that embodies the Ignatian practice of accompaniment" by one nominator because it is designed as mutually beneficial rather than one-way, focuses on improving outcomes for children, youth and families in Northeast Spokane through health and wellness, educational access and other resources.
Dozens of people – both from the university and neighborhoods – are involved throughout the year, and 10 GU students recently completed a summer of work in the program.
Alongside the impact of Opportunity Northeast, nominators cited Ayers' inclusive and servant-style of leadership and its impact on students involved not only in the neighborhood program but in all facets of the Center for Community Engagement's outreach. The center supports the university's community-engaged learning program, youth mentoring and tutoring initiatives, service immersions, the Zag Volunteer program and more.
"The work you have done to support students in the Ignatian tradition of cura personalis is admirable," the Jesuit organization bestowing the award noted. "Cura personalis," a critical feature of the Jesuit way of proceeding, means caring for development of the entire individual – mind, body and spirit.
Ayers, a GU graduate who returned to campus in her current role more than six years ago, also is leading Gonzaga University's partnership with Catholic Charities of Eastern Washington on a 73-unit affordable housing community that will open this fall.
Explore more about Gonzaga's Center for Community Engagement.