Learning Exchanges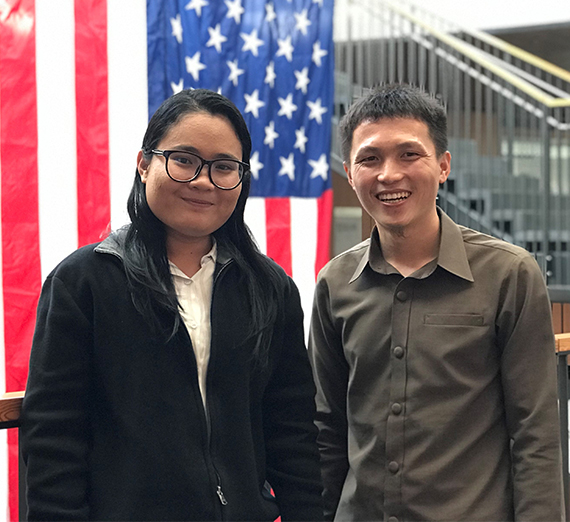 ---
A hallmark of a Gonzaga education is the connection to real people in real communities through service-learning. Through the Center for Community Engagement (CCE), students select from a wide array of options to fit their interests, studies and skills. Most often, their participation takes place in the local Spokane area, and they are on the receiving end of the learning. To exchange lessons and best practices with people around the globe who are also interested in community service is a rare experience, and even rarer is the chance to be the guide.

Professional Fellows Vang Lee from Laos and "Heng" Tol Chhourkimheng from Cambodia came to Gonzaga through the Young Southeast Asian Leaders Initiative, a program of the Association of Southeast Asian Nations. The two wrapped up their three weeks in Spokane by asking five students to share what they have learned and experienced about leadership through CCE programs.

Three of the students work with the Community Engaged Learning program, which is the liaison between students, professors and community agencies providing service-learning opportunities. Several of them have also helped with GU's Reality Camp, an opportunity for first-year students to embark on a week of service immersion prior to the start of the school year, or with other immersion experiences like Justice in January, Mission:Possible trips, or the Ignatian Family Teach-In for Justice.

Lee, an English teacher and deputy director at a small non-governmental organization in Laos, serves students from public schools and provides sports and creative activities as a means to foster confidence, teamwork and leadership.

Chhourkimheng, who goes by Heng for short, is a project coordinator for World Vision's One Goal Project in Cambodia, which seeks to prevent gang participation and substance abuse. Working with youth 12-18 years of age, she is finishing a project related to the way school grading practices can impact students.

What she wanted from her fellowship in the U.S. was to "learn from the conversations about strategy and solutions to deal with the challenges we face in our professional work," Heng said.

When she asked about behavioral management in the classroom setting, talking with an American student majoring in education was a welcome opportunity. Anna Pfluger ('19) shared what she had learned about classroom management: "The best teachers are the ones who build relationships with their kids. Students like to learn from people they think care about them as a person. The first week of classes, you don't teach – you spend it building a classroom community." She also shared about the restorative strategies to help students learn empathetic skills.

Lee said he valued seeing AmeriCorps teams, programs with kids and youth in the community, especially the program that connects Gonzaga students with younger students at Shaw Middle School. "That really helps the (middle school) kids to get to know to be confident, being with new people," he said. "We are not having that yet. In Laos, we usually just put the same aged kids together, but sometimes it's not really helping them to see what the elder people are doing and how they work."

Lee also said he was inspired by the leadership training the Gonzaga students receive. "I am thinking about going back and doing a project with the students at my center. I have 26 student leaders and they have never trained. They are great students because they have passion, but they have never learned about leadership."
Zags in leadership were happy to share how their training and experiences have benefitted them.
Morgan Smith ('19, communications, English and social justice) said, "In the three steps of leadership, you first have basic responsibilities, then continue to work, and move up to take on more responsibility over time. CCE is a really supportive place to try taking on new leadership with the knowledge that if you don't succeed you're still able to learn and grow."

Communications major Francis Argueta ('19) was a mentor in the Spark program at Shaw Middle School for two years before becoming a leader there and then applying for a leader position in the high school program.

Students chimed in that there is training for all student leaders at the beginning of the academic year, plus CCE provides additional training specific to community engagement.
Emma VanderWeyst ('20, political science) shared that one big opportunity to learn is in new programs (like Zag Volunteer Corps or Sparks) that don't have a precedent to follow. "I didn't realize how much leaders did behind the scenes to make these types of experiences go well," she said.

In Mission: Possible, student leaders like Hawa Elias ('19, economics and international relations) meet with an adviser every couple of weeks to discuss ideas, work on them and bring them back again for input.

"There is freedom to go try things with the support of the program coordinator who will step with support," added Smith.

Lee was inquisitive about how CCE programs are assessed, too: Some have internal review processes and others receive feedback from external partners, and students often provide input through surveys.

The students were quick to share the gifts they've gained from being leaders.

"We do training in how to guide reflection about how participants are feeling about the program. That's really useful, and a good reminder to stop and check yourself," said Elias.
"I'd say defining your authentic leadership voice, using your strengths – what you're already good at as an asset to your leadership – and not putting yourself in a box or expecting to look like another leader is important," shared Smith.
For VanderWeyst, it was team-building activities and strategies to build relationships. For Argueta, it is "understanding why you choose to do this work, why you're passionate about it, so that later when you're stressed, you can think back on that."

The Association of Southeast Asian Nations fellowship program is advertised through embassies and administered in the U.S. by the University of Montana. There were 16 participants from five Asian countries in the fall 2018 cohort. They were paired with community engagement programs in Montana, Idaho, Utah and Washington. Two other fellows were placed in Spokane, working at World Relief.

"We greatly enjoyed hosting Lee and Heng," said Molly Ayers, CCE director. "The work they are doing in their home counties is inspiring and, in sharing their work, has provided new ways of thinking about how our programs are engaging with youth in Spokane. We plan to stay connected and look forward to learning more about the ways they implement new initiatives and projects into their current programs."