Chief Justice Mike McGrath receives 2021 Law Medal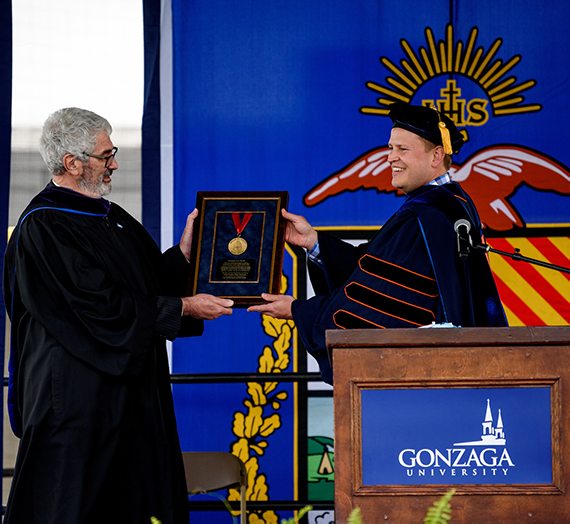 ---
As part of the May 2021 commencement exercises, Gonzaga University School of Law awarded its highest honor, the Gonzaga Law Medal, to Mike McGrath, a member of the Class of 1975 and currently the honorable Chief Justice of the Montana Supreme Court. The Gonzaga Law Medal recognizes a lifetime of extraordinary achievement, and Chief Justice McGrath shows no signs of slowing down in his service to the public or the practice.
McGrath's lifetime of public service began in the U.S. Air Force in 1970 and continued after he earned his J.D from Gonzaga Law in 1975. After graduation, he was selected to be a Reginald Heber Smith Community Lawyer in Reno, NV, as part of the fellowship program created by the Legal Services Corporation to honor Smith, author of the 1919 book Justice and the Poor.
He returned to Montana to serve as an Assistant Attorney General until 1982, when he was elected to be the County Attorney for Lewis and Clark County. In his 18 years as a prosecutor, McGrath focused on family violence issues, including domestic abuse and sexual assault of children. He served as the County's chief legal officer until 2000, when he was elected to be Montana's Attorney General. As AG, McGrath led Montana in addressing its growing methamphetamine problem in a groundbreaking way: as a medical issue, not just a criminal issue. He also championed Montana's environmental health and worked to preserve the state's well-being for future generations.
In 2008, McGrath ran for and won a seat on the Montana Supreme Court. Under the premise that justice delayed is justice denied, he ran on a platform to clear the backlog of cases before the court, some of which had waited more than a year for a decision. By the time of his second campaign in 2016, cases were being decided in an average of 100 days of being filed. He also increased the frequency of oral arguments before the Montana Supreme Court.
As a son of Butte with an innate understanding of the profound impact of money-laden politics, McGrath wrote the majority opinion upholding the Montana Corrupt Practices Act of 1912, which was passed as a ballot initiative in response to the influence of floods of corporate money on state elections. This decision was later reversed by the U.S. Supreme Court under Citizens United v. Federal Election Commission, 558 U.S. 310 (2010).
McGrath understood the need for judges to face the electorate in their work and sees it as a way to keep justices accountable. He also extols the value of community outreach and participation. The Montana State Bar's Annual Meeting in 2015 included an oral argument in a multi-million dollar insurance dispute over a 6,000-gallon gasoline spill in Polson, MT. McGrath, along with colleagues Justice James Shea and Justice Laurie McKinnon, met with Missoula high school students who had observed the argument and discussed the appeals process with them, providing a rich educational experience.
In addition to his active life of service, McGrath is a devoted husband to his wife Joy and a loving father to his sons Chris and Pat. He is also a doting grandfather to three grandchildren.