Increasing Access to Justice for LGBTQ+ Persons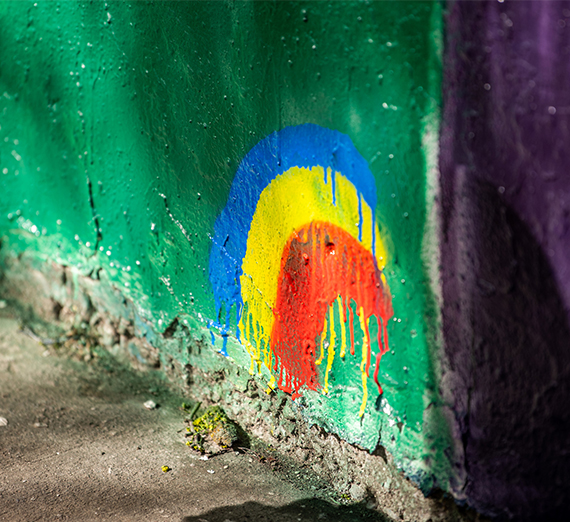 ---
Over the past year, more than 20 second and third-year law students have served as clinical interns with the Gonzaga University School of Law Lincoln LGBTQ+ Rights Clinic, providing crucial legal assistance to underserved clients.
Launched in February 2020, the clinic was developed in partnership with the Center for Civil and Human Rights (CCHR) and is supported by a significant donation from Joe Lincoln, an alumnus ('88; BS Electrical Engineering) and Regent of Gonzaga University. The establishment of the clinic is a continuation of the Law School's 45-year tradition of clinic-based programming, designed to provide both learning opportunities for students and services to community members seeking assistance with a wide variety of legal matters.
Meaningful Opportunities to Engage
Throughout their time in the Lincoln LGBTQ+ Rights Clinic, students have the opportunity to handle all phases of representation, from interviewing clients to appearing in court hearings under the direction of a full-time faculty member. Currently, the clinic's docket includes cases related to discrimination and anti-harassment protections. In addition to the hands-on nature of clinical work, students have the opportunity to conduct relevant legal research on policies related to LGBTQ+ rights. Thus far, the clinic's policy work has encompassed:
The use of "gay panic" and "trans panic" defenses in criminal cases;
The standards that apply to Washington prisons and jails for medical treatment of transgender people;
The practice of conversion therapy and steps needed to abolish it;
Strategies to undo the harm caused by the now-repealed "Don't Ask, Don't Tell" military policy; and
Gender testing of students as a condition to participating in sports.
Clinical interns have also drafted and submitted comments to the federal Housing and Urban Development agency, opposing the proposed regulation "Making Admission or Placement Determinations Based on Sex in Facilities Under Community Planning and Development Housing Program," which would allow homeless shelters to require transgender people to be housed according to their sex assigned at birth.
Providing Accessible Services
Just prior to establishing the Lincoln LGBTQ+ Rights Clinic, Gonzaga Law's dedication to community engagement in conjunction with providing valuable educational opportunities related to LGBTQ+ rights led to the creation of the Name and Gender Change ID Clinic in 2019. Organized by CCHR in partnership with Spokane, Wash., nonprofit Odyssey Youth Movement, this monthly clinic is open to the public and provides transgender and nonbinary community members with information on how to update their state and federal identifications with their correct name and gender marker. Twenty-four law students have volunteered in the Name and Gender Change ID Clinic and assisted nearly 50 clients thus far.
Gonzaga Law student volunteers discussing a case at a Name and Gender Change ID Clinic open session.
Increasing accessibility to legal services is a critical part of Gonzaga Law's mission. In order to do so, all of the Name and Gender Change ID Clinic services are free of charge. To assist more transgender and nonbinary individuals throughout the state, a virtual clinic was held in April and provided support to individuals from five counties across Washington.
Learn more about the Lincoln LGBTQ+ Rights Clinic and the Name and Gender Change ID Clinic on the Gonzaga Law website.
About Gonzaga Law School's Center for Civil and Human Rights
The Center for Civil and Human Rights at Gonzaga Law seeks to provide students, scholars, and community leaders with opportunities to explore and address issues relating to civil and human rights through research, education, and community engagement.
School of Law
Juris Doctor