Law School Announces New Carl Maxey Social Justice Scholarship Program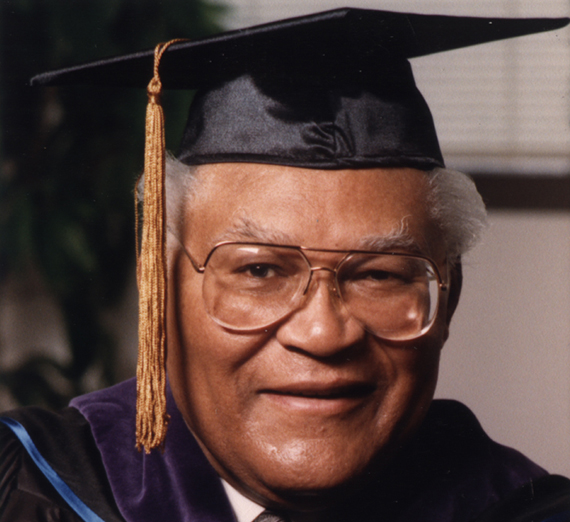 ---
Students applying to Gonzaga University School of Law for the 2021-2022 academic year will be able to apply to the school's newest full-tuition scholarship program, the Carl Maxey Social Justice Scholarship Program.
Named in honor of Gonzaga Law graduate and Spokane attorney Carl Maxey, the program provides a unique opportunity for exceptional students to further their commitment to social justice and become leaders in the legal profession. The program is specifically designed to provide financial assistance to students from diverse backgrounds, defined broadly to include race, ethnicity, national origin, gender, age, sexual orientation, disability status, gender identity and expression, immigration status, honorably discharged veteran or military status, and socioeconomic background.
If selected for the program, students are required to complete 240 hours of attorney-supervised pro bono legal work, take a minimum of 14 credit hours of advanced course work and perform a minimum of 50 hours of public service, in addition to other requirements. The primary focus of these efforts is that of social justice through the service of others.
Carl Maxey earned a deserved reputation as an exceptional trial lawyer, a skilled counselor, and a nationally recognized civil rights leader. Orphaned at age 2 and growing up in a predominantly white community, Maxey's firsthand experiences of racism and inequality were the seeds that fueled his passion for social justice. He attended Gonzaga Prep and, later, the University of Oregon. After graduating from Gonzaga School of Law in 1951, Maxey became the first African American man in Eastern Washington to pass the bar examination and become an attorney.
During the Freedom Summer of 1964, Maxey volunteered in Mississippi to help African Americans register to vote, freed Black activists from jail, and marched alongside Dr. Martin Luther King Jr. In addition, he helped members of the NAACP, specifically handling hundreds of pro bono cases. He was appointed by five different U.S. presidents to chair the Washington State Advisory Commission to the U.S. Commission on Civil Rights. He had a singular impact on the advancement of equal rights in Spokane and throughout Washington state.
"As the namesake of the program, Carl Maxey reflects a clear tie to Gonzaga Law School and outwardly manifests the institution's commitment to social justice, including racial justice," said Jacob Rooksby, dean of Gonzaga School of Law. "As a predominantly white institution and profession, we are long overdue in breaking down structural barriers to the pursuit of a legal education for students of color. We view this program as a first step, not the last step."
To apply, students should submit an application for admission to Gonzaga School of Law as well as an essay of a maximum of 400 words addressing how they would contribute to the mission of the program. Submissions will be reviewed by a committee of staff, faculty and other law school representatives. The priority deadline for applications is Feb. 15. More details regarding the program can be found here.
School of Law
Juris Doctor