Career Moves and Positive Pursuits in the Spring '21 Magazine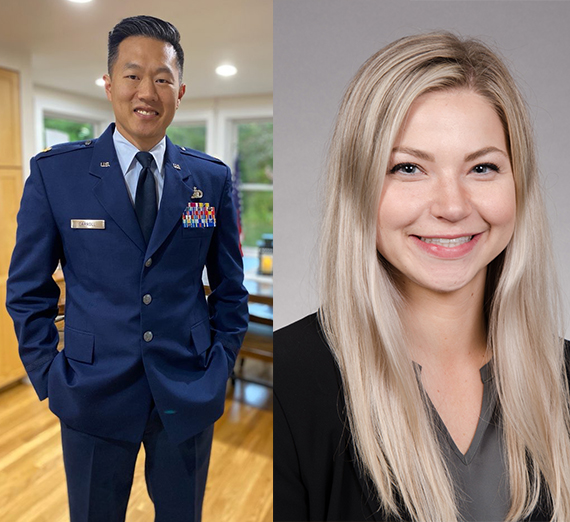 ---
Congrats to all the Zags who shared their recent career news for the Spring 21 issue of Gonzaga Magazine.
'57 John Henry Jr. was elected to the Stanford Research Institute Alumni Association Hall of Fame.
'71 Linda Carroll wrote and published "Thomas Jefferson's Italian and Italian- Related Books in the History of Universal Personal Rights."
'01 Rachael (Smith) Banks is director of the Oregon Health Authority's Public Health Division, where she has served since 2002, advocating for health equity and helping to reduce STDs, HIV, hepatitis C and drug overdoses.
'04 Quinn Dalan was appointed by Gov. Jay Inslee to the Washington State Women's Commission.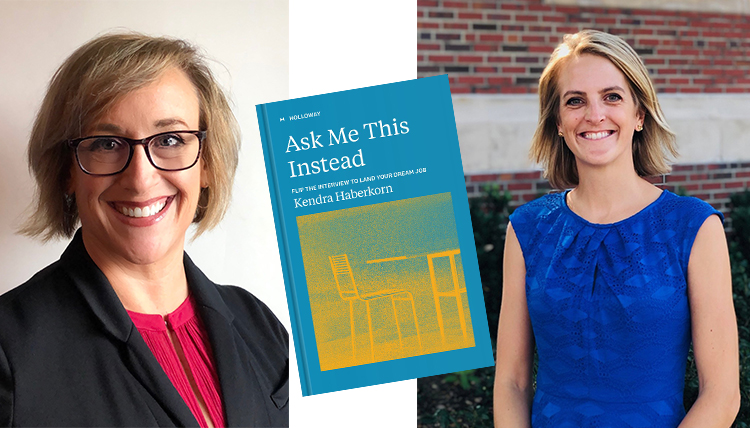 '04 Kendra Haberkorn published "Ask Me This Instead: Flip the Interview to Land Your Dream Job" (pictured middle).
'94 Molly O'Hara is a financial adviser with Edward Jones (above left).
'07 Amy Brown is beginning a doctoral program in leadership development at the University of Florida (above right).
'09 M.A. Michaela Thompson is executive director of Touchmark, a retirement community in Spokane.
'14 Angela Craig recently published "Online Jesus." She was inspired by her experiences as pastor for Pursuit Church Live, the first social media church in the Assembly of God fellowship.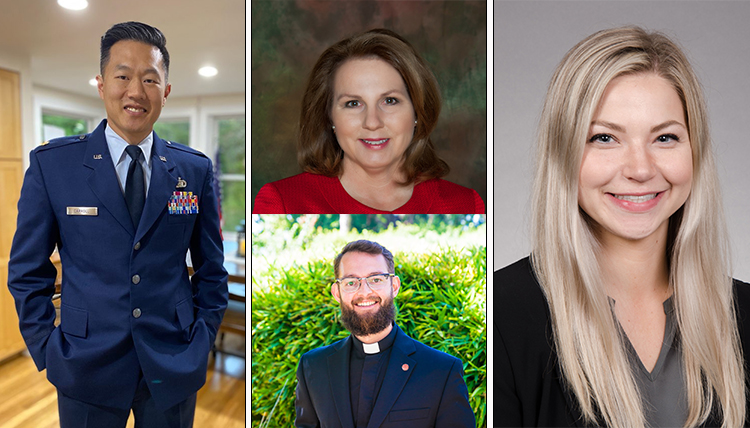 '10 Josh Carroll is lieutenant colonel in the Air Force Reserve. He is a traditional reservist serving as the senior intelligence office at Westover Air Reserve Base in Chicopee, Mass (above far left).
'10 Candace Mumm, Spokane City Councilwoman, is secretary of the Association of Washington Cities' Executive Board, which represents all 281 Washington cities and towns before the state legislature, the state executive branch and other regulatory agencies (pictured top middle).
'15 Collin Price, S.J., professed first vows as a member of the Society of Jesus on Aug. 8 (pictured bottom middle).
'15 Hallie Lebon joined MultiCare Health System after completing a master's in health administration. She leads Urgent Care and Occupational Medicine clinics in central King County (above far right).
'19 Christina Borst opened Front Range Family Psychiatry, LLC, in Choteau, Mont., to serve mental health needs of children and adults in rural Montana.
Share YOUR news with us for a future issue.
Alumni
Careers & Outcomes
Alumni
Gonzaga Magazine