Wings, Awards & Accomplishments in Gonzaga Magazine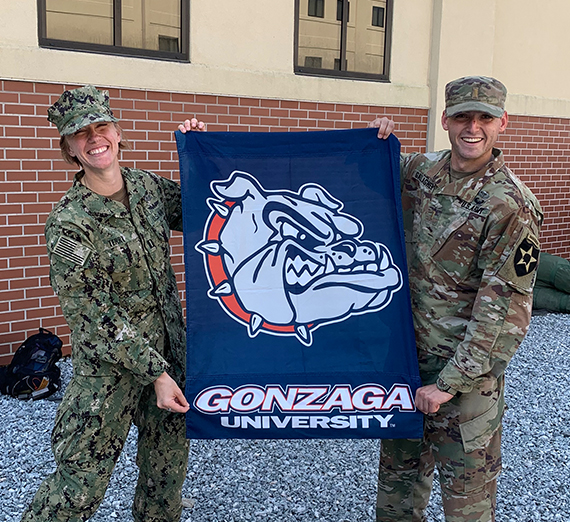 ---
Airborne!
('14) Lt. Jennifer (Wheeler) Terry, U.S. Navy and ('18) 2nd Lt. Sean Gallagher, U.S. Army were happy to discover they were fellow Zags when they met at the Army Basic Airborne course and graduated in Fort Benning, Ga. Terry and Gallagher shared a picture shortly after receiving their Airborne wings.
Awards & Recognition
(above left, Elsa Sjunneson-Henry; right, Mindi Morin)
('78) Ellen Doyle Mizener co-led the winning design team in the 2019 U.S. National Exhibit for the Prague Quadrennial, a design competition and global event often described as the World's Fair for performance designers. In response to the theme, "porous borders," Mizener's team created an exhibition space that wove together stories of designers from their shared past, with words cast upon a metal column, five Vedic elements and a collection of recorded voices speaking in different languages.
('89) Mindi Morin, an educator at Bellarmine Preparatory School, Tacoma was recognized for her efforts as a yearbook adviser who goes the extra mile to generate campus enthusiasm and school pride.
('05) Rob Grabow debuted his first short film, "Method," which he wrote, directed and starred in, and received Best Screenplay recognition at the Chelsea Film Festival, an international event in New York that presents a wide range of features focusing on global issues. Grabow said he was "bouncing off the walls," when word of his award came. Making "Method" was a gamble in every sense, but he found that it resonated with an audience in meaningful ways.
('08) Elsa Sjunneson-Henry received a 2019 Hugo Award for Best Semiprozine (non-professional periodical publication devoted to science fiction or fantasy) as a result of her work on Fireside Magazine. During her time at GU, Sjunneson-Henry raised awareness for FACE AIDS and has since expanded her activism to encompass varied forms of disability. Her written work includes an article for CNN on the anti-vaccine movement and an online series about blindness in media. She has also spoken to members of Congress and universities about disability inclusion.
('09) Andy Lundquist, who has taught at Holy Names Academy for 11 years, led a student social justice committee to help raise awareness about sexual harassment. His fourth Design for Change project earned his team an invitation to the 2019 Children's Global Summit in Vatican City, where students and project leaders celebrated social justice efforts around the world and had a private meeting with the Pope. Lundquist says, "I cannot begin to express what an honor it is to work with these students and create space for the causes they are passionate about."
Business Ventures & Career Moves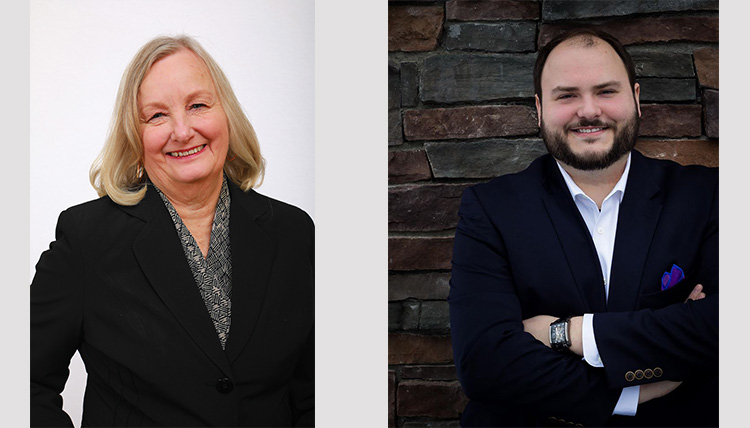 (above left, Sherry Paulsen Schwab; right, Daniel George)
('68) Sherry (Paulsen) Schwab is the 2020 president of the Building Industry Association of Washington, making her the Association's third female president in 70 years. She represents home builders across Washington and addresses major challenges in the housing industry.
Following her diagnosis with MS, ('79) Michelle Selby transformed her massage business into an intercontinental effort known as the Healing Center Ministries. Conducting her ministry from a wheelchair and running Bible studies in her former massage therapy office, she has connected with 27 countries and is promoting ABBA (All Babies Born Alive) centers in Africa.
('87 MSTax) Debra Donaghy became an independent director for ThermoGenesis Holdings, Inc., where she serves on the company's Board of Directors and Audit Committee.
('94) Mark Del Monte was named CEO and executive vice president of the American Academy of Pediatrics after holding various other roles over the past 14 years. Prior to joining the AAP, he served the AIDS Alliance for Children, Youth & Families as director of policy and government affairs.
('96) Jon Boyum, M.D., performs thoracic surgery with the assistance of the da Vinci surgical system at MultiCare Deaconess Hospital in Spokane where he provides minimally invasive esophageal or lung cancer treatments.
('97 J.D.) Marjorie McCanta High accepted a new position at Northwest Justice Project in Seattle as an enhanced volunteer assistance project attorney. She also graduated from the University of Washington -last June with her M.A. in public administration.
('99) Matthew Colley was appointed to the Catholic Charities of Oregon Board of Directors. He serves as a business and litigation attorney at Black Helterline LLP, and lives in Portland, Ore., with his wife Jessica (Hochstein '00).
('01) Andrew Mencke is one of McMillen Jacobs Associates' nine new underground division principals. He is the firm's civil and architectural design practice lead.
('03) Brian Lay is a business development consultant at U.S. Bank where he has served for 15 years. He has covered eight branch locations and received three-time recognition with the Annual Legends of Possible award.
('08) Crystal Lederhos Smith received her Ph.D. in prevention science from Washington State University, with research addressing substance abuse. She currently works at the Washington State University Elson S. Floyd College of Medicine as a clinical research supervisor.
('09) Daniel George was hired as the state director of Alaska, serving under Congressman Don Young, dean of the U.S. House of Representatives.
(above left, Ashley Arehart; right, Kimberly Karden)
('10 M.A. COML) Kimberly Harden, Ed.D., founder and CEO of Harden Consulting Group LLC, and professor of communication at Seattle University, was a keynote speaker at the Be on the RISE Diversity & Inclusion Summit, which took place at Spokane Community College in September.
('11) Kristin Maple received her Ph.D. in clinical psychology in August 2019 from the University of Wisconsin-Milwaukee. She is currently completing her postdoctoral residency at the Minneapolis VA Hospital, specializing in clinical neuropsychology.
('14) Joshua Phillips, a former professional soccer player who played varsity soccer at GU, is now the owner and president of Spawn Fly Fish. While working in Olympia, Wash., he shared on Instagram a million-view video of two unlikely passengers, sea lions, on board a fishing boat.
('15 M.S.N.) Ashley Arehart of Doernbecher Children's Hospital was the March of Dimes Nurse Leader of the Year in 2019 for the Oregon and Southwest Washington regions. She was among a dozen caregivers selected from more than 300 nominations.
Publications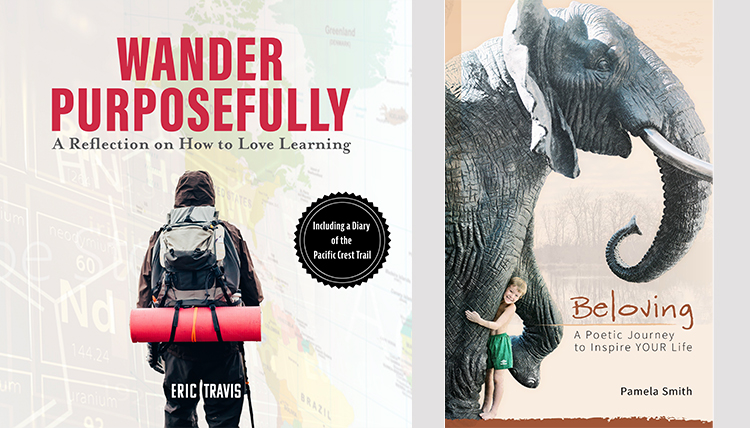 ('66) Robert Roberg published "The Gospel of El Shaddai," a Gospel harmony, at Academia.com, where he serves as an editor. Roberg says readers from 95 countries have interacted with the text, with thousands of downloads.
('73) Pamela Smith published "Beloving," a collection of poems, stories and photographs reflecting on her family, spirituality, 17 years of living and traveling through Africa and Vietnam, and memories of Italy from her and her sons' ('09 David and '12 Patrick) Gonzaga-in-Florence studies. She lives on a farm and nature sanctuary in Maryland.
In "Back on Track: Sound Transit's Fight to Save Light Rail," a WSU Press publication, ('77) Bob Wodnik recounts the early history and near collapse of Sound Transit's multi-billion-dollar light rail. The book focuses on the year 2001, when CEO Joni Earl stepped in and transformed the overbudget light rail project with profound leadership and diplomacy. Wodnik is a former Puget Sound reporter and columnist.
('12) Meredith Noble, founder and CEO of SenecaWorks, published "How to Write a Grant: Become a Grant Writing Unicorn." The guide supports a series of online grant writing courses at learngrantwriting.org.
('15 BS, '18 M.B.A.) Eric Travis published his first audiobook, "Wander Purposefully," following the conclusion of his 156-day journey along the Pacific Crest Trail. He listened to audiobooks for the entirety of the trek, finishing 71 of them as research for his own audiobook. "Wander Purposefully" primarily focuses on his original concept of absorbent learning to create a practical lifestyle beneficial to learners, their communities and the world at large.
Have news to share with your Gonzaga family?