Medicine, Books and Awards: Alumni in winter '20 magazine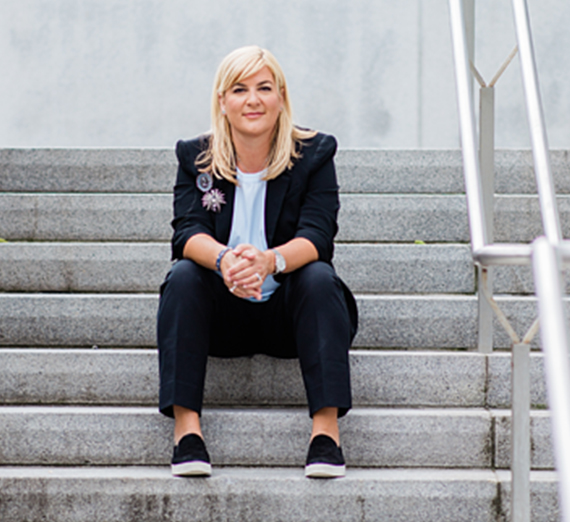 ---
Alumni updates from the Winter 2020 issue of Gonzaga Magazine.
Business Ventures & Career Moves
('55) Patrick Kenney of Pat Kenney Realty LLC has been an active real estate broker for 65 years.
('97) Rachelle (Knowles) Anderson was appointed to Position 12 on the Spokane County Superior Court bench by Gov. Jay Inslee.
('04 M.A. ORGL) Andrew Miller is CEO and partner of Spinach Bus Ventures, a venture capital firm he founded with four high school classmates from Skagit Valley, Wash. Spinach Bus Ventures recently purchased a 30-acre, local farm known as Tulip Town, one of Skagit Valley's two remaining bulb farms.
('97) Michael Petrogeorge is vice president of legal and general counsel for Management and Training Corp. He was previously a shareholder at Parsons Behle & Latimer for 19 years.

Pictured: David Brandi, Kyle Hazelwood, and Michael Petrogeorge
Awards
('68) Mary Doherty received the Fr. Jack Morris, S.J. Memorial Award for her community service and commitment to JVC Northwest's core values. The award also commemorates 50 years since Doherty's year as a Jesuit Corps member in Alaska. Learn more about her JVC journey.
('74) Charles Harrington received the 2018 Judicial Excellence Award from the Tucson Defense Bar and the Arizona Association of Defense Counsel.
('83) Vianne Timmons, the University of Regina's first female president and vice-chancellor, received the Lifetime Achievement Award from the YWCA's Nutrien Women of Distinction Awards. Her leadership has brought increasing enrollment, research funding and student diversity to the University of Regina.
('91, '95 M.B.A.) Molly Murphy received the 2019 National Association of Electrical Distributors' Women in Industry Trailblazer Award. Murphy serves as senior vice president of sales for Eaton's North American electrical sector. She reflects in an industry journal article that her favorite parts of the industry are the impact that it has – in providing power to hospitals and the people she works with. Read more about her in Ted Magazine.
Medicine
('03) Kyle Hazelwood works at Inland Orthopaedic Surgery and Sports Medicine Clinic in Pullman, Wash., and as a team physician at Washington State University. He received surgical training while serving in the military and studied at Loyola University Stritch School of Medicine. Hazelwood performs hip arthroscopies, a complex and previously uncommon procedure that has become more available in recent years.
('05) Kristine (Smith) Jennings received spot No.15 in South Bend, Indiana's Michiana Forty under 40, a program that recognizes the region's most talented leaders and professionals under the age of 40. Jennings is a Memorial Family Medicine Residency program director who wants to increase her training program's gender and racial diversity. "Having providers that 'look like you' can be a powerful tool in reaching many of our patients," Jennings says.
('11) Molly (Garrity) Adams joined the MD Anderson Cancer Center's Strategic Communications team as a senior communications specialist, where she manages social media and trains physicians in social media best practices.
('71) Patrick Rooney, D.D.S. is a civilian volunteer dentist in a continuation of the humanitarian initiative, Enduring Promise. During one trip, he and other medical professionals performed 600 general surgeries aboard the U.S. Navy hospital ship USNS Comfort and treated more than 8,000 dental patients.
>>From the Vault: "Now Say 'Ah' "
With his experience as a Navy hospital corpsman during the Vietnam era, Patrick Rooney jumped at the chance to serve when the American Dental Association put out the call for volunteers. As one of only five dentists selected, Rooney served in a contingent of sailors, Marines and civilians whose goal was to provide medical care to impoverished west Pacific countries and also support local doctors. (Gonzaga Magazine, Winter 2017)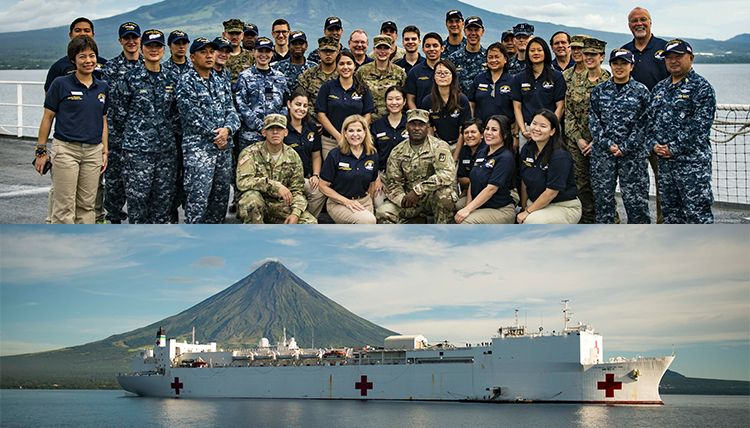 Music
Composer ('94) Bill Whitley released his new album, "Then Elephant Speaks," in August 2019. His work has been described by PARMA Recordings LLC as "a journey through melancholic original compositions, atmospheric remixes, the cycles of discovery, and an eventual sense of return." After graduating from GU, Whitley earned his Master of Music in composition from the University of Idaho and his Ph.D. in composition from the University of Oregon. He teaches at Chemeketa Community College in Salem, Ore.
Publications
('59, '61) Donald Sharpes published his 26th book in June: "America Imperiled, Trump and the Restoration of National Values" (2019). Sharpes is a professor at Arizona State University's Emeritus College, a senior visiting fellow at Cambridge University and the author of 230 articles in the social and behavioral sciences, humanities and teacher education.
('77) Mark Hartley's first novel, "Pasta Al Dente," is a coming of age story about growing up Catholic amid the social and cultural influences of the '60s. Hartley has taught at St. John Vianney Catholic School in Spokane Valley for 27 years. Twice-published author ('95) Philip Green recounts the triumphs and traumas of the hospital emergency department in "Trauma Room Two" (2015) and "People of the ER" (2017). Green is a board-certified emergency medicine physician in Walla Walla, Wash.
('13) Valerie Jacobsen became a first-time author with her debut book, "The Overnight Freelancer: Go From 9-to-5 to Self-Employed Now!" (2019). In this publication, Jacobsen offers a five-step guide to help readers transition from traditional employment to freelance entrepreneurialism. Jacobsen has been a self-employed writer since 2016.