Living in Community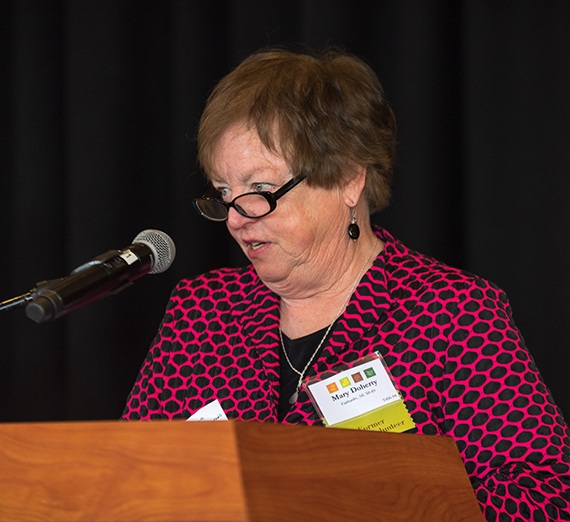 ---
Community manifests itself unexpectedly, sometimes calling a person to action in ways that may not feel like service, except in hindsight. That's what Mary Doherty ('68) discovered after a year with Jesuit Volunteer Corps as an English teacher in Fairbanks, Alaska. Community, she says, means much more than a year of formal service like the one she completed after graduating from Gonzaga.
As an undergraduate student, Doherty couldn't shake an ingrained feeling of obligation. The only daughter in a family of boys, it seemed unfair that her brothers were expected to serve their country during the Vietnam War, yet no equivalent was expected of her. JVC Co-founder Fr. Jack Morris, S.J. approached her during a campus visit and encouraged her to serve as a Jesuit Volunteer. Seeking adventure and opportunity equal to both men and women, Doherty followed his advice.
Fifty years later, Doherty received the Fr. Jack Morris, S.J. Memorial Award at JVC Northwest's annual benefit in Seattle. Award recipients "are former Jesuit volunteers who have demonstrated a lifetime commitment to working for the common good and bringing about peace and justice," according to the organization's website. When retiring Executive Director Jeanne Haster invited her to receive the award, Doherty said the idea was hard to grasp.
"It totally knocked me over, because I've known every person who ever got the Jack Morris Award, and they're all people I admire so much … And then I realized part of this is because my service was exactly 50 years ago, and I've been involved with JVC Northwest ever since."
JVC's core values – simple living, spirituality, social and ecological justice, and community – have guided Doherty personally and professionally. The value of community, however, has stood out most prominently for her and her family.
"The Corps exists to serve people on the margins through local, non-profit agency placements - but also to transform young adults' lives by living in community, grounded in the core values," Doherty said. "In living together as an intentional community, all kinds of things about how you're going to live your adult life surface. [Volunteers] learn how important it is that everyone in that community be heard and be honored and understood."
Doherty worked at Yakima Valley College for three decades, where she gave extra focus to returning, female students. Inspired by her time advising high school seniors with their college applications in Alaska, Doherty eventually worked in administration and as a dean in other Washington and Oregon colleges. She found her passion serving branch campuses, especially its lower-income, adult students who viewed education as their ticket out of poverty, for themselves and their children.
While working in community colleges, Doherty also founded a drop-in center for Latina women, served on the JVC Northwest Board for multiple terms, chaired Yakima's Catholic hospital and school boards, supported state and community programs for people with disabilities, and helped start with her family a series of monthly potlucks known today as "JVC support communities." These potlucks gather local Jesuit Volunteers in faith and support, where families like Doherty's connect with them through their struggles, joys and life transitions. What started as small parties in the Dohertys' backyard now takes place in JVC communities across five states.
"I believe that JVC Northwest is part of a larger community, so I've always had a big focus on the community around us, as well," Doherty said. "If you know what young people need and listen really well, you can help with those next steps."
Leading classroom conversations about diversity in Alaska during the Civil Rights Movement, hosting monthly potlucks, guiding returning women students in community colleges, and offering community meals and beds to Jesuit Volunteers during their trips to the Olympic Peninsula, Doherty understands that communities often form in unexpected ways. She encourages prospective Jesuit Volunteers to consider service in their own lives after Gonzaga.
"It's with you forever," Doherty said. "This year could be an investment in your life, to transform who you are and how you will be for all the rest of those years."