For Others: '05 Grad is Giving Back in Every Way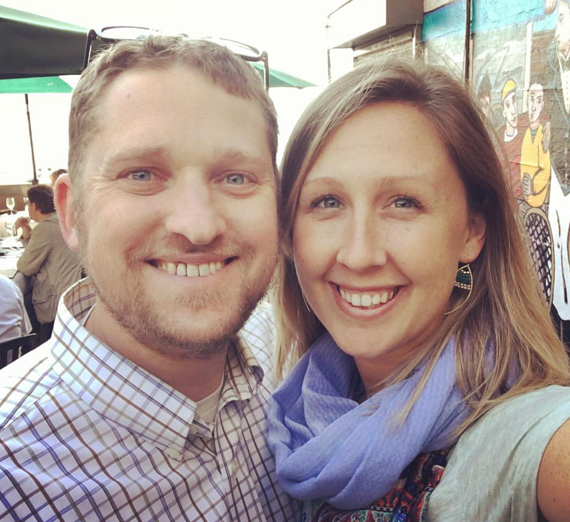 ---
Sitting at a table with a homeless woman, Gonzaga University political science student David Uhl ('05) considered his life's path. He was serving dinner as part of a service-learning course. It wasn't a typical soup-kitchen serving line; instead, volunteers like Uhl took food out to the tables like waiters in a restaurant and then sat down to engage with the guests. That night, the woman sitting across from Uhl was sharing her life's story — she'd experienced trauma in her childhood after being abused by her parents and she ran away. After that, she got into drugs, through which she'd contracted several diseases. Looking at her, Uhl thought she was in her late 20s or early 30s.
"She'd only just found some stability," he recalled. "She'd been in recovery for a little bit, but hearing what she'd been through leading up to that moment was just heartbreaking."
He would never forget her. It became clear to Uhl that his calling was working with people whose struggles were similar to the woman he served that night. Thanks to the support Uhl received from Gonzaga donor-funded scholarships, he was able to finish his degree and then join the Jesuit Volunteer Corps. Later, Uhl began working with Recovery Café, a non-profit community offering support for people traumatized by homelessness, addiction and other mental health challenges.
"I asked myself how God was calling me to respond to people suffering," said Uhl. "How could I be in community with them so we could be stronger together for the long run? It reminded me of a class I took at GU from Dr. Brunell in which she brought up the concept of 'social capital,'" Uhl explained, "which is the idea that through community, strong relationships, trust and cooperation we become our best selves and inspire others to be their best selves, too." At Recovery Café, this principle is at the core of their network of care and community.
Today, Uhl's primary role at Recovery Café is to communicate with communities in need of what a Recovery Café can offer, which is a place and community focused on providing support and resources. The first Recovery Café opened in Seattle in 2004, and has since replicated its model in Everett, Tacoma, Vancouver and Spokane, Washington, as well as in San Jose, California.
"The vision for the future is to have a Recovery Café in every community that needs one," said Uhl, who's passion for his work is evident in his voice when he shares stories of the people Recovery Cafés have helped. "Whenever we open a new one, I go visit and meet with the people—their stories are both heartbreaking and inspiring. Some have committed crimes or lost custody of children, and with the support we can offer, they find the resources they need to get sober, out of jail, into stable housing and get their children back. To hear them say 'I'm better than this,' and then start living that reality—it's humbling."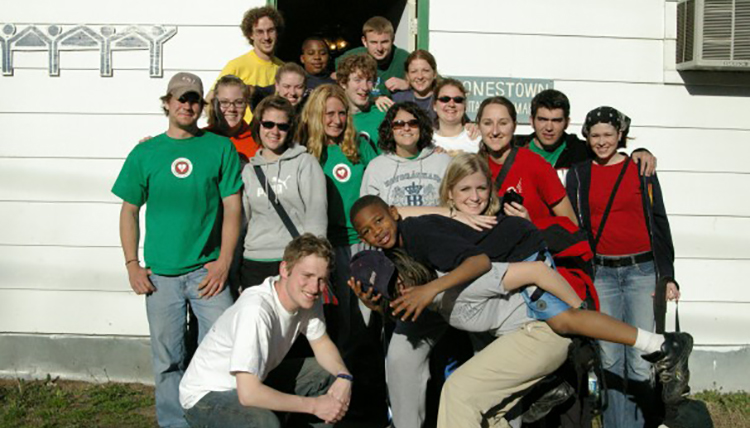 Also humbling to Uhl (pictured above, bottom left, with fellow Mission:Possible participants in Jonestown, Mississippi, during his time as a Gonzaga student) was the support he received during his time as a student, which made it possible for him to commit his time to volunteering and serving others. Recognizing early on the positive impact that his scholarships had, Uhl was inspired to give back to the University, becoming a loyal donor to Gonzaga since 2002 — three years before his own graduation.
"I really want GU to be a place where all people can come, regardless of their financial situation," he shared. "Plus, alumni support is one measure of a university and I want my degree to maintain its value. In the end, it's the opportunity to support growth and to help others become their best selves. GU helps people find what their passion is, and when we all give back more people can experience that."
Looking forward to the future, Uhl is excited to be part of Recovery Café's growth, for the good it can do in communities around the world, and for how it builds on his education.
"This is a great place for me to build on the foundation I developed at GU," he said. At the top of Dr. Brunnell's website, it says, 'Making the world a better place, one GU grad at a time,' and that's what alumni like David Uhl are doing. "We're helping our world thrive and being our best."