Building Community: Brian Estes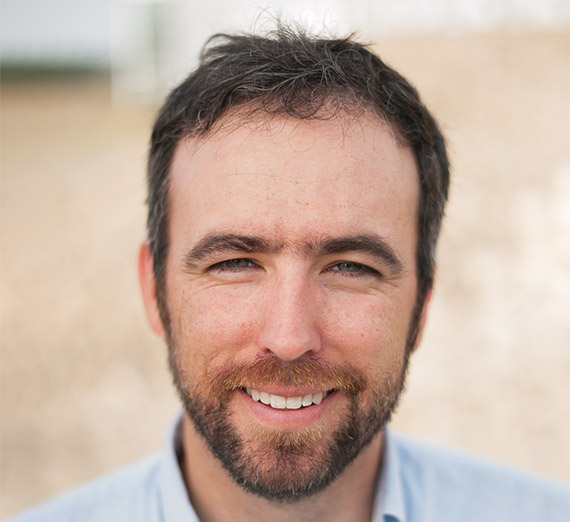 ---
Brian Estes
Getting Our Hands Into the Earth
At Gonzaga, Brian Estes ('07) considered one core question: What affects the well-being of individuals and communities? He studied the issue in the Department of Psychology. Today, he uses a new learning lab: urban farming.
"Major values and ways of understanding are based upon the food we eat."
After graduation, Estes spent seven months in Central America. "As I was traveling I got this idea to do something with food, something hands-on," he said. "I knew there were budding community gardens back in Spokane."
So Estes contacted the folks at Catholic Charities' Vinegar Flats Community Farm. He asked them to create a Jesuit Volunteer Corps position. This move, he admits, "flew in the face of anything reasonable." But it worked. He became a JVC assistant at the garden, which is overseen by St. Margaret's Shelter.
Growing up in the Tri-Cities, Estes had little sense of history or place. But Gonzaga's Jesuit traditions and Spokane's cultural identity attracted him.
"What I'm doing right now isn't just happening because this is a great place to live," he said. "Instead, the work I'm doing is responding to the community. The production of food is so based on place and the realities driving the community."
Estes is program coordinator for the farm in Vinegar Flats, an area in southwest Spokane. Part of his work is to grow ways to promote sane eating. His program, Fresh Bucks, ensures that anyone spending $5 in food stamps at an Eastern Washington farmers' market receives another $2 for fresh fruit and vegetables. Catholic Charities pays 70 percent of the $2, and the markets cover the rest.
"We're really trying to make farmers' markets a grocery opportunity," Estes said, "and not just a novelty or something to do once or twice a year."