Building Bridges, Not Changing the World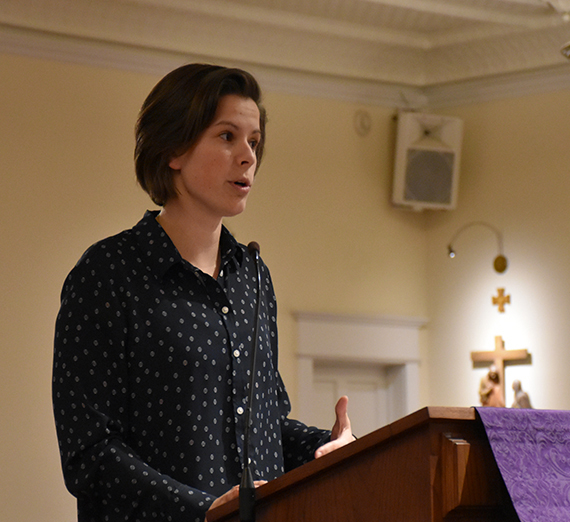 ---
Meredith McKay ('15) returned to Gonzaga in 2018 after completing her master's in theology at Villanova. She is a coordinator in the Office of Mission & Ministry, and gave this message to 2019 participants of the Mission: Possible alternative spring break service-learning experiences.
I'm going to start off by saying something that might seem a little harsh. It's easy to give yourself a pat on the back and think, "Wow, I'm doing such a great thing. I'm sacrificing my break to do service. I'm going to go change the world!" But the reality is that you're most likely not making a massive difference in the community you're entering. What you're going to do is build a bridge.
While I was in the Jesuit Volunteer Corps, I lived in Camden, NJ, which has a pretty negative reputation of being one of the deadliest and poorest cities in the United States. The neighborhood my community lived in, North Camden, is one of the poorest in the city, and it's connected by the Benjamin Franklin Bridge to one of the wealthiest neighborhoods in Philadelphia.
Part of my job was driving a twelve-passenger van every day over that bridge, taking seven kids from Camden to and from school at a Catholic College prep school for kids who otherwise wouldn't be able to afford a private education. We were together about two hours every day, so not only did we all get really close, but I also had a lot of time to think about bridge metaphors...
On any given day in the van, we'd run through some pretty normal high school topics: Who had a crush, how the basketball team was doing, the food at lunch. Most of the kids had already been riding to school together in this van before I got there, so they'd say "the van is family," meaning, "you can trust us with this." Over the year, this refrain led to discussion about the times students at school got stopped by police because they were tall black boys mistaken for adults, or about the drug deals that happened outside their house, or the fight they got in with their parents. We talked about politics, racism and sexism. We talked about Camden, and the struggle they all felt about whether they should leave because they could or stay and try and transform their community. They'd ask me questions about faith and God and I'd do my best to answer them and ask questions right back.
In that van, I was not fixing problems or changing the world. What I was doing was building a bridge. I was getting to know my students as individuals, and letting them get to know me. I was learning about systemic issues of injustice through their eyes and as they affected them and making sure I took their perspectives to heart when I thought about how I might go on to work for justice in the future.
When I started a master's program at Villanova, I signed up to be the "adult" advisor of the program at Villanova where undergrad students volunteer as tutors in a maximum security men's prison outside Philadelphia. Walking in the first day, I was mostly preoccupied with actually making myself look like an adult – as a 22-year-old supervising a bunch of college students, there wasn't a lot of differentiation. I saw this guy in the classroom point at me and say, "That's my tutor – dibs on her."
That was my introduction to Marvin. We worked on studying for his GED and we talked about our lives throughout the time we worked together. I've asked Marvin permission to tell you a little about his story and because his plan is to become a motivational speaker when he gets out of prison, he was really stoked about this.
Marvin grew up in Philadelphia in a really tough home situation. His escape was football and he was an amazing player – so amazing that the public school system let his failing grades slide so he could keep playing. As a junior, he was functionally illiterate but getting scholarship offers. Then, due to an injury, a football career was wrecked, he fell in with a bad crowd, and was in prison by age 19. He briefly got out only to end up back again within a year. In his first bid, Marvin was combative and just wanted to prove himself, but in his second bid, he started trying to do some things differently, like going to classes.
He had spent 6,000 hours in the prison school by the time I met him, and he went from being functionally illiterate to a junior in high school reading level. He was most of the way done with his GED. And most importantly, he had found some people to hold him accountable and tell him he was more than his past and that he was loved. So he's doing his best to pay it forward. He got training to be a peer counselor, and he takes a lot of pride in that. Marvin is 52 now, and he should be out this year.
You might be wondering what Marvin and his motivational speaking aspirations have to do with building bridges, or maybe you've guessed: By encountering Marvin as a full human being, I built a bridge to him, and by letting him get to know me as a full human being, he built the bridge right back.
But building that bridge, just like with my students in Camden, wasn't just about getting to know each other. It was about learning the path that Marvin had been put on from birth as a black man in Philly that made the likelihood incredibly high that he would spend at least some time incarcerated. It was about learning from all the guys in prison about the ways the system had failed them, and while none of them would claim that they shouldn't have been punished for crimes they committed, they all had trouble with the fact that if they had been white, their experience in the justice system would've been different.
By supervising a program in a prison, I was doing something sort of tangible, but I wasn't changing the world. We weren't changing the systemic injustices that factored into any of the guys being incarcerated. But because we built a bridge, we could take everything we learned back across that bridge with us and have it inform the rest of our lives. Some of my students went on from volunteering at prison to engage in activism against the current cash bail problem in Philadelphia that keeps people in jail for minor crimes simply because they can't afford the bail. I have students who have committed to anti-racist work in urban schools because they met the real people affected by the school-to-prison pipeline. These students might have only had a very mild impact on the guys they tutored, but because they built a bridge, they couldn't help but take that experience with them and let it influence how they moved forward.
Your experience with Mission: Possible is not just an adornment for your vita. Having this experience with the poor and vulnerable sets your agenda. I hope that you are able to de-center yourself and your own experience to fully engage with the community you are entering and fully encounter the people you meet. I hope that you embrace the opportunity to be more authentic with each other and the people you'll meet. I hope that, regardless of your own religious background, you embrace spirituality as a way to own your own experience and to own what moves you. I hope that you build community as authentically as you can by recognizing that you are entering an already existing community, that was sacred and beautiful long before you showed up.
You might not be changing the world this week – most likely not. But that's okay, because it's far more important that you spend time building that bridge so you can bring what you learn back here, and commit to working for justice within Gonzaga's community and beyond.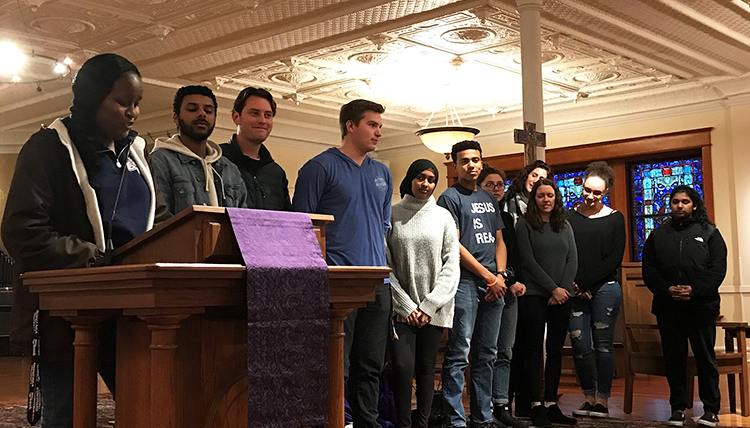 Students shown here traveled to Montgomery, Ala. in 2019 to experience and learn more about the civil rights legacy of Dr. Martin Luther King, Jr.