"Magis," translated from Latin, literally means "more" or "better." The Jesuit motto "Ad majorem Dei gloriam" means the "greater glory of God."
Gonzaga students strive for the Magis in and out of the classroom. This year, members of the faculty and staff nominated 21 students who then submitted resumes and applications as part of the award selection process. Congrats to them all, and especially to these six amazing leaders who received the university's highest honors at the 30th Annual Magis Awards.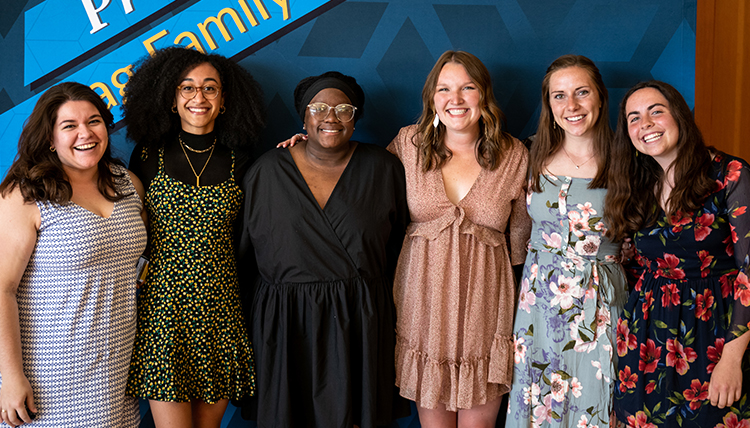 Left to right: Isabelle Picciotti, August Corppetts, Fese Elango, Taylor Sipila, Paulina Thurmann and Makaela Schlesinger
University Ignatian Award: Paulina Thurmann
This award is presented to one who has modeled the values of Ignatian Spirituality, with significant commitment to leadership and selfless service. In keeping with the ideals set forth by St. Ignatius Loyola, this award recognizes those who have dedicated their spirit to serving others and making a difference in the lives of all people.
A nominator wrote: "Paulina works tirelessly, volunteers her time when she doesn't have any, and finds ways to love people who need some. It would not be out of the ordinary to walk through Hemmingson and see her deep in conversation with someone, offering them baked good she made the night before."
Thurman found her home in the Office of Mission & Ministry programs, participating in campus retreats, annual immersion trips, peaceful protests, and sustainable gardening and cooking sessions with Campus Kitchens. She also pioneered two projects, Meals in the Margins in 2020 and Project Toxic Masculinity. Additionally, she's been an active member in the Christian Life Communities, and helped to develop "Humanize Spokane," focused on serving and humanizing those experiencing homelessness in Spokane.
Thurman will spend a year of service with the Jesuit Volunteer Corps in Philadelphia.
Sue Weitz Spirit of Gonzaga Award: Fese Elango
Named for a long-standing Vice President for Student Life, this award recognizes those whose time at Gonzaga has focused on building bridges among constituents and working to unify the student body.
Elango's nominator wrote: "During an academic year especially fraught with racial tensions and a highly politicized public health crisis, Fese has led the student body with an admirable balance of strength and vulnerability."
Throughout all four years, Elango was a leader with the Black Student Union and Gonzaga Student Body Association. While the director of Diversity and Inclusion for GSBA, she was a student voice on university councils and committees committed to advancing inclusive efforts on campus. Later as GSBA president, she collaborated with students, staff and faculty broadly to foster those efforts.
Elango hopes to pursue a career in public health, addressing the mental and behavioral health of adolescents primarily in low-income areas.
Gonzaga Award for Solidarity in Action: August Corppetts
This award recognizes a senior who has engaged in the work of solidarity through advocacy and activism, fostering a just, equitable and inclusive learning environment.
Corppetts is an Act Six Scholar, one of eight in her cohort chosen for holistic accomplishments.
She was monumental in the creation of the Critical Race and Ethnic Studies minor at Gonzaga, and has brought attention to issues of racial and social injustice on campus through intergroup dialogue and being a social justice peer educator. She has also held roles in the Black Student Union, the Undergraduate Office of Admission and Center for Cura Personalis.
In the Spokane community, Corppetts led a camp called Transformations at the YWCA to empower young Black women. She led and designed trainings on microaggressions, natural hair and how to navigate the college process. Last summer, she was a liaison at John R. Rogers High School, where she connected with more than 60 graduates to assess their preparedness for their post-grad plans.
Corppetts hopes to have a career centered on diversity, inclusion and mental health.
St. Aloysius Award for Faith & Service Award: Isabelle Picciotti
St. Aloysius Gonzaga was a 16th century Italian Jesuit who bravely gave his life ministering to plague victims in Rome. This award recognizes an individual whose life of faith is visible in a commitment to justice, ministry, compassion and service.
Picciotti explored different perspectives through her international studies degree and involvement in the rowing team, academic clubs, interfaith education and as a resident assistant.
Her nominator wrote: "She constantly looks for gaps in our systems and identifies where we can provide assistance and compassion." As examples, she advocated for better health and safety measures to protect the campus community during the COVID-19 pandemic, and helped coordinate a program for Gonzaga students to read virtually to students at Logan Elementary, providing temporary relief to teachers navigating a virtual classroom.
Picciotti plans to work in advocacy and policy reform.
Philomothea Lindberg Loyalty Award: Mikaela Schlesinger
This award recognizes academic achievement, student leadership and service to the university.
Schlesinger came to GU hoping to study medicine, but recognized that one's health is affected by many factors beyond health care, such as socioeconomics, culture and the environment, which became the focus of her college experience. She joined the Gonzaga Environmental Organization and has devoted countless hours to creating events to educate others about recycling and global climate change. She also represented the student body on the CREATE committee and helped to create the Rethink Waste group. Her impact expanded to national efforts as a member of a group from Jesuit institutions that lobbies legislators for Native rights, petitioning against pipelines and dams.
In addition to sustainability programs, Schlesinger participated in the Center for Community Engagement's volunteer work with Campus Kids and Horizon Hospice.
Schlesinger hopes to research the effects of vector-borne diseases, and work with communities most affected and create policy in the Global North to mitigate the climate crisis.
Carl Lindberg Loyalty Award: Taylor Sipila
This award recognizes academic achievement, student leadership and service to the university.
Sipila has integrated her classroom lessons and leadership roles on campus to explore social justice, diversity, equity and inclusion. She was a mentor for elementary and middle school students, and championed a "Zags for Black Lives" solidarity campaign to support local Black-owned businesses and raise awareness of racial injustice on our campus. She also helped to address food insecurity and led a to a student effort to establish a food pantry on campus.
Sipila wrote: "I have found a deep desire inside of me to advocate for justice in all that I do and continually act intentionally with equity in mind. My time at GU has challenged me. It's challenged me to envision a world that embodies the mission statement beyond the campus confines. This place has allowed me to dream big and marvel at the potential of this world. Although, I have faced the realization of just how broken the world is and have been praying that the world would look a little bit more like God intended. I believe that the best is yet to come."
Read more stories of graduates in our 2021 story collection.
Academics
Diversity & Inclusion
Faith & Mission
Service & Community Impact