An ROTC Running Reunion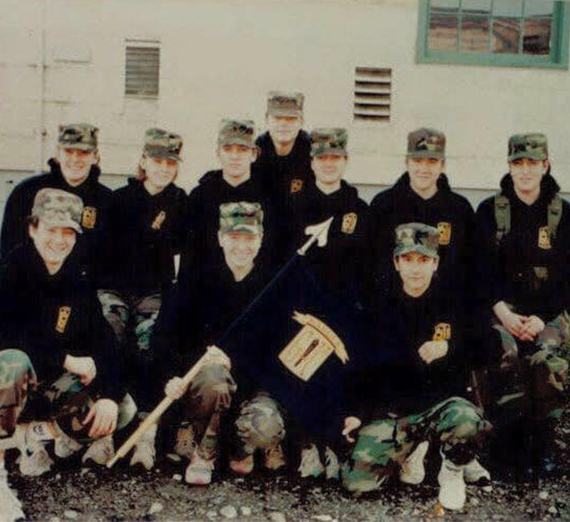 ---
In the '90s, an all-women's group of Gonzaga ROTC students known as the Green Team trained and competed together as participants in the Ranger Challenge. The Ranger Challenge throws competitors into a series of grueling events, such as rope bridge-building and disassembling and reassembling M-16 rifles. The Green Team was the only all-women's group among GU's four teams to compete.
In September 2019, nine members from the '93-'96 Green Teams reunited to participate in the 175km Klondike Road Relay, which starts in Skagway, Alaska and ends in Whitehorse, Canada. The team has stayed in touch through Facebook, where Krystal (Gates) Karais ('94) originally shared information about the relay a year ago. The ROTC and Green Team alumnae traveled nationally and globally to relive the experience of competing together as a team.
"People [were] just so excited to get away and to spend some time together as a team again," said Gina (Warren) Corcoran ('96). "In five or 10 or 15 years, we won't remember how fast we ran. But we'll remember how much fun we had."
As it turned out, the latest issue of Gonzaga Magazine arrived in the mail just before Jeanne Wallace was prepping to run her leg of the race. Fellow runner Angela Randall ('93) emailed the magazine editor, saying, "No joke … it was exactly the encouragement she needed!"
Kudos to these women and the rest of their team, including Krystal (Gates) Karais, Elizabeth (Stossel) Fassler, Betsy (Parry) Frazier, Heather Carlisle, Heather Bellusci and Holli Bellusci, Christine (Carlisle) Jones and Janelle (Stephens) Lee.