Storytellers, Leaders, Movers & Shakers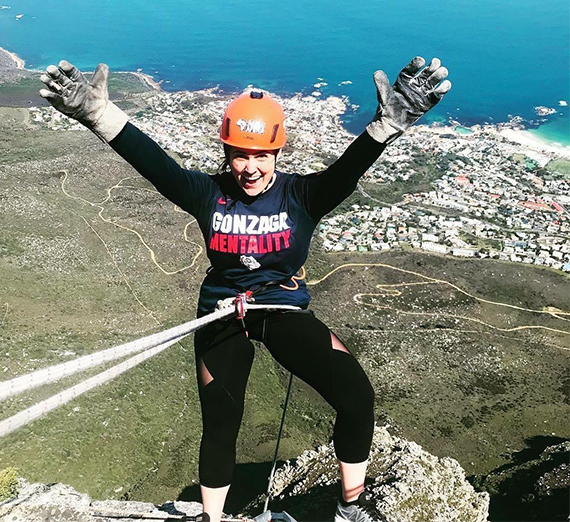 ---
Shown above: '09 Marissa Clark cheered for GU while rappelling down the face of Table Mountain, which overlooks Cape Town, South Africa, and is the highest commercial abseiling point in the world.
Telling Stories
'11 Carol Lopez (above left) recently published her first book, "Muck Off: The Starting Point to Your Happily Ever After." This book helps readers become leaders and transform their lives by clearing out the "muck" – self-doubt and inner conflict – and solidifying their compassion, confidence, discipline and values. Lopez shares this snippet from the chapter "Embracing Leadership":
"When you restore people, you restore leadership capability. One must know him- or herself to be confident in leading others. Leaders who work on themselves excel at embracing leadership. All of your life experiences have influenced you in some way. That influence shows up in your leadership."
"It is imperative for leaders to be thirsty for self-improvement, not power. The people skills necessary to be a good leader include empathy, compassion, humility, and self-awareness. When you lack life experience, you may find it difficult to have empathy for someone. The great thing about millennial leaders is their energy and eagerness to make a difference."
In his new book, "Austin in the Great War," '66 Robert Johnson (above right) gives a voice to his father's experiences as a WWI soldier in the 12th Balloon Company. From the author's web site:
I'd asked to see "The Sands of Iwo Jima." Austin flinched, grew ashen, grimaced with pain, turned and walked off. He didn't explain further, just walked away, head down. I didn't ask to see another war movie, sensing there was a whole encyclopedia of woe buried deep in his soul.

It was 1949 and I was nine. ... It was not until decades later that the memory of Austin's silent withdrawal drove me to investigate further the "why" of it. Why had my innocent request reopened a wound? Was it that bad "over there?"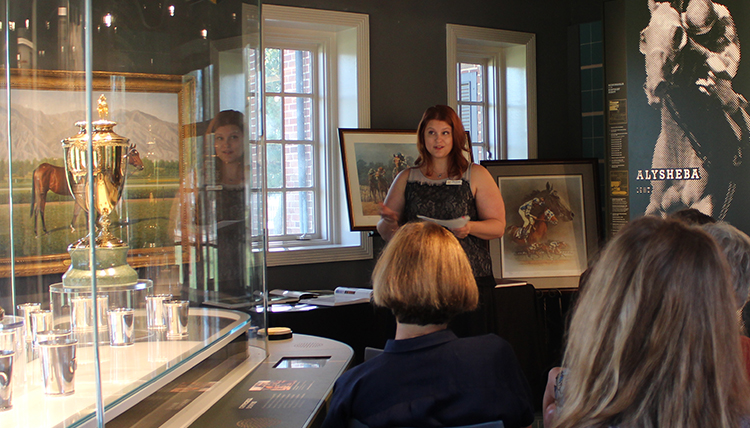 '06 Jenni Opalinski (above) is curator of the Historic Waco Foundation. She previously worked at the Museum of the Southwest in Midland, Texas, where she oversaw development of the Turner Legacy Galleries. At the 2017 Mountain-Plains Museum Association awards, this exhibition received first place for exhibition technology and Opalinski won first place for a book she co-authored: "Museum of the Southwest: Selections from the Permanent Collection."
Taking the Lead
'74 Gail Heck-Sweeney received the Society of Women Engineers 2018 Global Leadership Award for worldwide service, leadership, mentorship and innovation in engineering and business. Heck-Sweeney, who served HP, Agilent and Keysight for 40 years, has pursued several development, management and manufacturing roles in the U.S., Europe and Asia.
'74 Carolyn Kelly, former president and COO of the Seattle Times, was elected chair of AAA Washington's board of trustees. Kelly and fellow businesswomen form half of the trustees representing AAA Washington.
'03 Todd MacManus has been named president and CEO of First Bank in Alaska.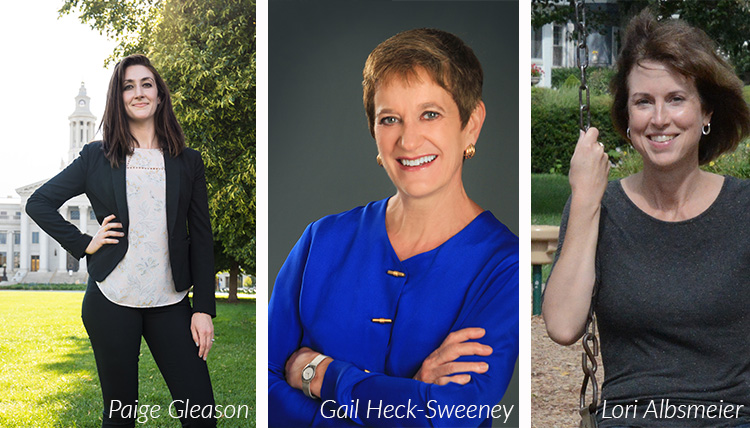 Law & Order
'92 (J.D.) Daniel Keppler was promoted to principal at the Garvey Schubert Barer, P.C. office in Portland.
'98 (J.D.) David Thorn was elected to Division III of Cochise County Superior Court in Southeastern Arizona.
'04 (J.D.) Julian Aguon, who founded his own law firm at 28, was appointed by Barack Obama to a team of 21 leaders from 16 Asia-Pacific countries and territories to address pressing issues and create positive change in those regions. At an Obama Foundation workshop, the former president recognized Aguon for his defense of indigenous rights in Guam.
'07 (J.D.) Donald Richter was appointed to Pacific and Wahkiakum County Superior Court in December, after working as the Pacific County chief deputy prosecutor.
'13 (J.D.) Paige Gleason is a founding attorney at Colorado Legal Group, a new divorce and family law firm in Denver.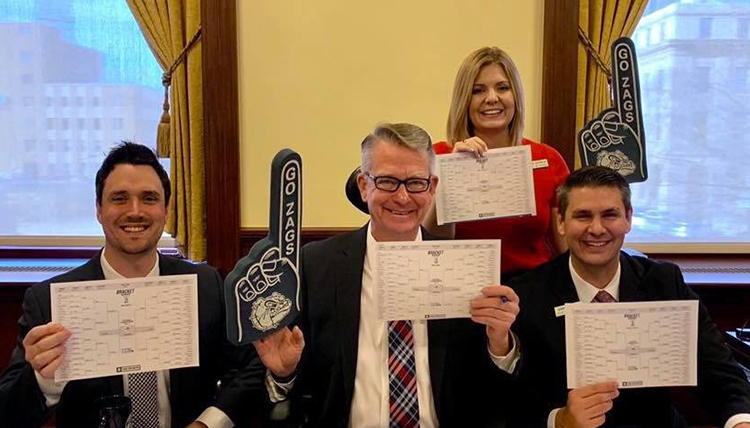 Idaho Gov.-elect Brad Little has hired several Gonzaga alumni to his staff: '08 Sam Eaton as director of policy and counsel focusing on natural resource policy; '08 Greg Wilson as an education-focused senior policy adviser; and '14 Marissa Morrison as press secretary. Here, they show their 2019 March Madness brackets.
Young Movers & Shakers
'15 Uriah Mitchell is providing speech language pathology services in Wasilla, Alaska.
'16 Maria Fernanda Gomez Gonzalez serves the Western Association for College Admission Counseling as a member of the Inter-Association Committee.
'17 Brady Meltzer (M.A.) joined Submittable – a Bozeman, Mont., technology startup – as vice president of sales. With a second office in New York, Submittable is a submission management
platform serving clients like Nike, AT&T and National Geographic.
'18 Austin Brownfield graduated at age 20 and was recognized in November as the youngest Marine Corps officer currently in service.

Science, Service and Spirits
'06 Colin Terry earned his Ph.D. from Michigan State in Educational Psychology and Educational Technology. Terry researched ways media-distracted behaviors affect education inside and outside the classroom. He celebrates this life step with his wife, '06 Meagan (Brncick). Terry is associate dean of students at the Colorado School of Mines.
'08 Joseph Lynch and his research team have discovered the role of a transporter protein in pushing scent molecules from flower cells across the plasma membrane. These findings were published in 2017, in Science Magazine and Science News.

'10 Lori Albsmeier was hired as program director for Big Brothers Big Sisters, Sheboygan County, Wisconsin. Albsmeier first joined the program as a Lunch Buddy volunteer. She is excited to support her community's youth by helping to design and implement the mentoring program's goals.
'13 Christopher Chapman graduated from Oregon Health and Science University with a degree in medicine and is embarking on his Emergency Medicine residency at Dartmouth University.
'13 Scott Stallman and his parents are brewing local, artisan spirits at Mutiny Bay Distillery on Whidbey Island, Wash.