Business with a Flare: Todd Finkle Makes His Mark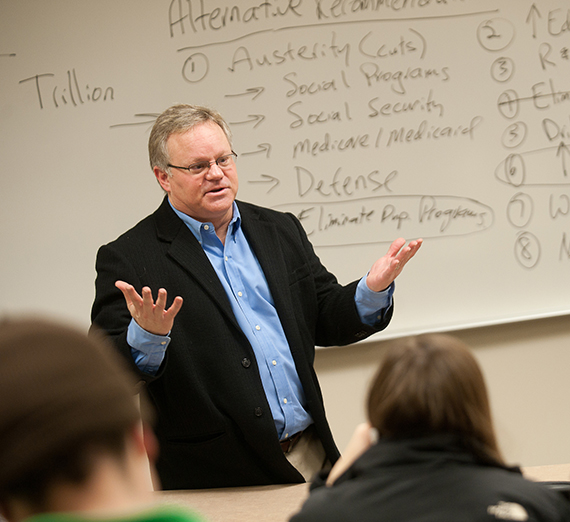 ---
There are business professors, and there is Todd Finkle.
While his position technically resides within the School of Business Administration, Finkle believes what he specializes in, entrepreneurship, is a separate field entirely.
"When I came here back in 2010, there were only two entrepreneurship classes and the Hogan program," he said. "There was a class called Creating New Ventures and another called Social Entrepreneurship. Creating New Ventures only had about six or eight people and while Social Entrepreneurship was popular, it was only offered once a year."
Finkle, now the Pigott Professor of Entrepreneurship, noticed the considerable absence of students in this area and set out to create an entire concentration open not only to business students, but the entire university.
This became Entrepreneurship and Innovation.
"Every organization, whether they realize it or not, needs entrepreneurs," Finkle said. "They are ambitious, they are positive, and they are the people who can create things."
Finkle completed an undergrad degree in biochemistry, so he understands the ways in which thinking differs subject to subject, and person to person. This, he said, is the key to succeeding.
Success for Finkle has been found in the business world, in his personal happiness, and, according to numerous former students, in his teaching.
"His energy is contagious," said Jennifer Stuchell, a former student of Finkle's who graduated in 2013. "His authenticity makes you feel comfortable being creative and thinking outside of the box."
Not only does he push students toward broader thinking, he does so with the realization that each student requires unique guidance.
Read this story on another of Finkle's students, Conner Longoria:
"I cater specifically to the needs of the students," Finkle said. "I understand that every student is different, and I give them the freedom and the flexibility to do what they are passionate about. Most importantly, I learned that money is not the answer, and I pass that along to my students."
This knack for personal connection stems from experience. At 23, Finkle was a marketing representative for Xerox, one of the best places to work at the time, and he received a large salary and a company car. There was only one problem: He was miserable.
"Everyday that I woke up and had to go to work, I didn't want to go," he said.
Finkle turned to self-help books but discovered it's hard to find something when you don't know what you're looking for. Now, he knows he was searching for happiness, something he found again in music. This perhaps led Finkle to a unique perspective that has made him the professor he is today.
Finkle encompasses the very nature of entrepreneurship – he is business, with a flare of creativity.
The School of Business Administration celebrates its centennial in 2021.
Academics
School of Business Administration
Business Administration
Hogan Entrepreneurial Leadership Program
News Center